Images via Harlen Foley
In one of the most unique desert races of the year, Adam Householder conquered the 2023 Toyo Tires Desert Challenge presented by Monster Energy, the highlight race of the second weekend of this year's edition of King of the Hammers. Householder's #24 T1 Unlimited Truck completed two laps of the grueling Johnson Valley course in 3:19:43, charging from the fifth starting spot, completing the first lap behind only Dale Dondel, and matching his time on the second as Dondel took a DNF to score a decisive victory of nearly six minutes.
Dustin Grabowski and Ray Griffith completed the overall Unlimited podium in their T2 Spec trucks, separated by just over 90 seconds for the class victory. Tim Herbst and JP Gomez completed both the overall top five and the T1 class podium, while Troy Herbst made it podiums in two classes for the Herbst family with third place in T2 and sixth overall.
Defending winner Adam Ray Lunn took the B1 victory at 16th overall to complete the Unlimited class winners. It was a less successful race for defending T1 and T2 class winners Kyle Jergensen and Christopher Polvoorde, respectively. Both qualified first in class, but Polvoorde struggled on the second lap to drop from fifth overall to the outside of the top 20 in class. Unfortunately, Jergensen didn't even get that far, failing to complete a lap.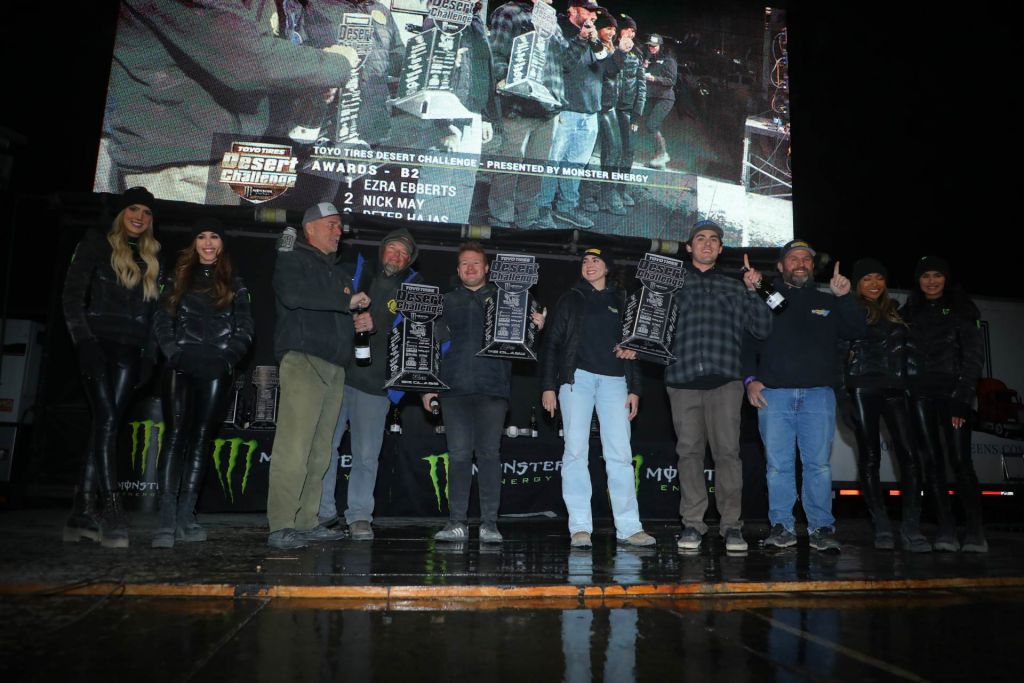 In the Limited race, second place qualifier Ezra Ebberts bested the B2 Class 10 and overall fields with a time of 3:53:15, coming in just 1:20 ahead of B3 class winner Branden Sims. B3 UTVs completed the rest of the overall top five, with Sims, Doug Mittag, and Brayden Baker completing the Desert UTV Open podium and Vito Ranuio atop the Desert UTV Pro Mod standings. Top Desert UTV Stock honors went to Dustin Jones, who was eighth among the B3 field.
This year's Toyo Tires Desert Challenge presented by Monster Energy served as the opening round of the inaugural Unlimited Off-Road Racing Triple Crown, a joint promotion between King of the Hammers, the Mint 400, and the California 300 to put the best desert racers in the world to the test. With names like Grabowski, Mittag, and Ranuio among those set to run for the championship, the event set the stage for an exciting championship battle all year long. Triple Crown points will be released in the coming days.
King of the Hammers week continues today with the opening round of the 2023 Great American Shortcourse season. Live streaming from Johnson Valley of all of today's events can be found here.