The pace of the 2020 Dakar Rally shows no signs of letting up for Red Bull Off-Road Team USA. The team has come charging out of the blocks following the rest day, winning both opening stages of the rally's second week.
Stage 8 saw Mitch Guthrie Jr. (USA) and co-driver Ola Floene (NOR) with the quickest side-by-side stage time of their debut Dakar. The duo set the tempo across the 477-kilometre loop stage around the Wadi Al-Dawasir bivouac.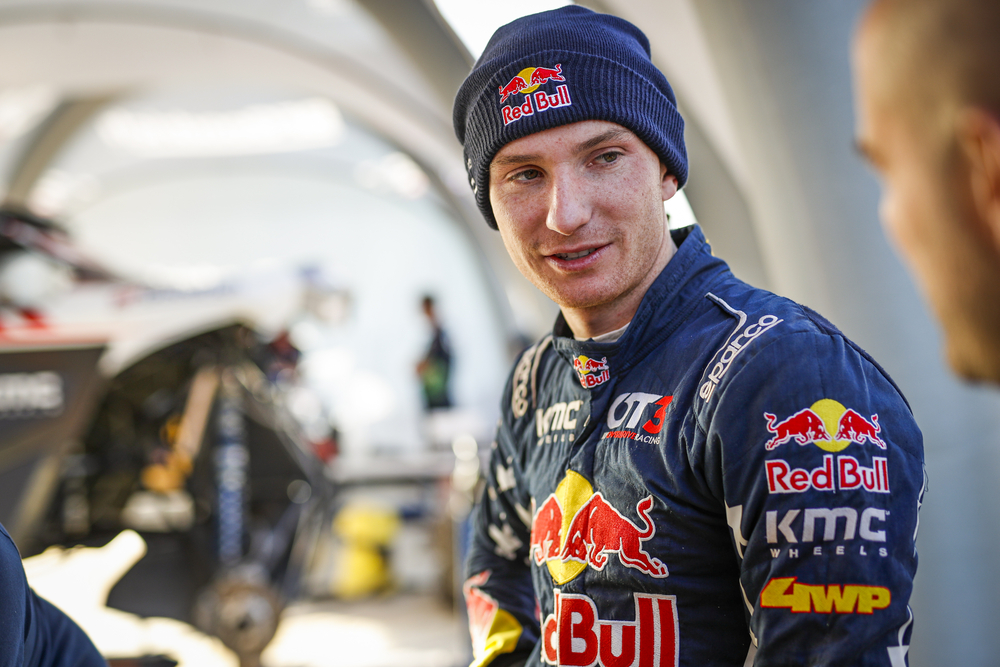 "Stage wins are a great way to pick up moral in the team so to get this result today is great. The team has been working so hard since we got here." – Mitch Guthrie Jr.
Guthrie Jr.'s result is the fourth stage win for the OT3 by Overdrive at the 2020 Dakar in Saudi Arabia. Today's victory was very much a team affair given the selfless overnight act by the squad's mentor crew of Cyril Despres (FRA) and Mike Horn (SUI). Guthrie Jr. was forced to retire from Stage 7 due to mechanical failure. Despres donated his own engine so Guthrie Jr. could continue his race in the Dakar Experience class.
"This is why Mike and myself are in this team. We not here to put on a show of coaching, we are here to do the real thing. Our first priority is to help these young guys reach the finish line at this Dakar and we'll do all we can to make sure this happens." – Cyril Despres
Despres' 20th Dakar may have come to an premature end, but not before he made history. The five-time Dakar winner is now the only competitor in all Dakar win stages across three categories (bike, car and side-by-side). Horn can also look back on a successful Dakar debut, reading pacenotes for he and Despres' win on Stage 5.
"To see Mitch arrive back at the bivouac with the biggest smile on his face after winning Stage 8 is fantastic. Cyril and myself are sharing in these moments of joy and glory." – Mike Horn
Blade Hildebrand (USA) and co-driver Francois Cazalet (FRA) have also played their part in the team's success so far at this Dakar. Hildebrand put a tough first week in Saudi Arabia behind him to win Stage 7 with a clear run. Hildebrand's performance on the 546-kilometre timed special stage between Riyadh and Wadi Al-Dawasir was one of pure speed putting his closest opponent 11 minutes behind his mark.
After a frustrating Stage 8, Hildebrand is now targeting more stage wins on the four days of racing that remain at the 2020 Dakar.
"I know the guys are going to do a great job again on the car tonight. I'm looking forward to tomorrow." – Blade Hildebrand
On Stage 9 all five Dakar categories will head east across Saudi Arabia to Haradh. A monster distance of 891 kilometres must be travelled, including a 415-kilometre special stage.
The 2020 Dakar finishes on Friday, January 17 in Al-Qiddiya.
Keep up-to-date with the entire Red Bull Desert Wings convoy on Red Bull Motorsports' social media: Red Bull Motorsport Instagram / Facebook / Twitter / Desert Wings Instagram