LAS VEGAS, NV (July 22, 2021): Best In The Desert is proud to announce that together with Method Race Wheels, a brand synonymous with off-road racing and high performance products, will broadcast live coverage of V2R Time Trials to be held on August 11, 2021 from 9 a.m. to 4 p.m PST aired on Best In the Desert's website and YouTube channel.
To qualify for the longest single-day off-road race in the United States is no easy feat and live coverage has never been done before. The Maxxis Tires "Casey Folks' Vegas to Reno Presented by Fox will be unprecedented in terms of its scope both leading up to the event and during the race, as it celebrates its 25th anniversary.
With nine classes qualifying for all-important start positions including, for the first time ever, the UTV Pro Turbo, UTV Pro Open, and Open Pro Motorcycle classes, the action will be fast and furious. Off-road racing insider and veteran announcer Jack Korpela will serve as host and commentator of the broadcast, sharing announcing duties with Best In the Desert's own Bryan Folks.
An all-new five-and-a-half-mile course has been set up south of Jean Dry Lake for time trials, promising a true test for all competitors. A full seven hours of live coverage will be provided via static and drone cameras located at key points along the course. Special features and background stories on off-road racing will fill in gaps between racing classes.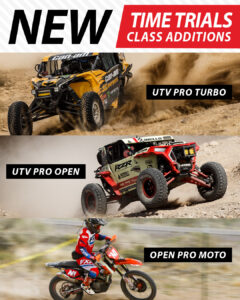 "We are excited to see the action from the Time Trials broadcasted live," commented Method Race Wheels founding partner Colbey Groom. "The Live Stream broadcast infrastructure that Best In The Desert has put together will not only showcase the talent and skill of off-road racing's top competitors but also bring the action to fan's screens, live. The fact that UTVs will be included in the time trials is a real bonus and perfect timing considering just how far this segment of the sport has come. Method Race Wheels has been closely connected to the sport of off-road racing from the start. We can't wait to see all the great action on Wednesday, August 11."
"We've been working towards hosting a live stream broadcast of V2R Time Trials for some time now," stated Best In the Desert CMO Bryan Folks. "We have a very specific vision for how we want our Live Stream Broadcast to be presented and we are confident we have the right people involved to deliver a great show. Together with Method Race Wheels we believe we have all the ingredients necessary to host such a show. The Maxxis Tires 'Casey Folks' Vegas to Reno Presented by Fox race is our flagship event. The race itself promises to be the best ever and with this year being the 25th Anniversary of the event this is a great way to kick it off."
In addition to the support of Method Race Wheels, one of the leaders of the UTV segment, Shock Therapy has stepped up to sponsor the UTV qualifying segment of the event. Shock Therapy's owner Justin Smith will assist in announcing duties of that all important segment while also qualifying in the UTV Pro Turbo class.
Following Wednesday's Time Trials, Best In the Desert will host Registration, Tech and Contingency along with its Event Expo on Thursday August 12, 2021 at the Boulder Station Hotel and Casino in Las Vegas. Racing action starts bright and early at 5:30 a.m. on Friday August 13, 2021. Best In The Desert will be providing extensive live coverage of the race itself through its Facebook page.
Companies and race teams interested in sponsoring a portion of the V2R Time Trials Live Stream broadcast or simply wishing to advertise their products and services can contact BITD Marketing Director Scot Harden at marketing@bitd.com or calling 951-491-1819.
More race information and registration can be found here.