Another amazing year of super-tight racing at the "Great American Offroad Series" has come to a close and Best In The Desert has named 2021 Series Champions in 40 different highly-competitive classes.
The 2021 Series Championship winners, along with the Maxxis Triple Crown title holders and other award winners will be honored at the Year-End Series Awards on Dec. 11, 2021, at Palace Station in Las Vegas, NV.
In the hotly-contested Trick Truck Class, Brenthel Racing's Kyle Jergensen brought home the glory as series champ by a scant four points over defending Trick Truck Class Champs Kevin Thompson and Harley Letner. 2021 marked Jergensen's first full year racing Trick Truck and he was never out of the hunt for overall wins since the start of the year at the Parker 425. It came down to the wire at the season-ending Cal City Desert Challenge where Jergensen wrapped up his first Trick Truck Class overall win and clinched the series championship. Following Jergensen and the Concrete Motorsports team came Bill Apgood, BJ Baldwin, and Steve Olliges as the top five overall points finishers.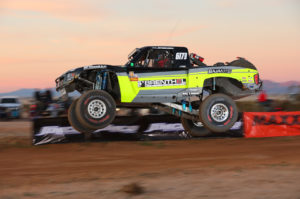 In Class 6100, Dustin Grabowski turned an impressive series of performances throughout the year into his first Class 6100 Series Championship, topping Ray Griffith by 27 points. Fusion Racing's Jerry Herling, Patrick Whitt, and Joseph Herling rounded out the top five in class.
Class 1500 was dominated by Best In The Desert veteran Sam Berri who took home the class win with a whopping 394 points followed by Michael Frye with 212. Joe David, James Dean, and Morgan Langley rounded out the top five in that class.
In the highly competitive Class 6200, Nick Carolan took home the series championship over Conner McMullen while in Class 1000, Brett Jeffers won the series championships. Other car classes of note include Class 6000 won by Greg Bragg, Class 7200 taken by RJ Merritt, and Class 5000 won by Troy Grabowski.
In the UTV competition, Ryan Piplic took top honors in the UTV Turbo Class by just three points over Dustin Jones followed by Mitch Guthrie Jr., Vito Ranuio, and Randy Romo proving once again how close UTV racing can be and how it's become the dominant class in the sport. In the UTV Unlimited Class, Michael Isom defended his 2020 series championship by a scant 10 points over Jim Beaver. Michael McFayden, Chris Blais, and Nicholas Shearer rounded out the top five in class. The UTV Pro NA Series Championship title went to Josh Row while the UTV Rally Class went to Jack Olliges.
In the Motorcycle/Quad Competition, Hayden Hintz and Trevor Hunter defended their 2020 Open Pro MC Series title finishing 14 points ahead of the Jeff Trulove team. Factory Beta Riders Joe Wasson, Zane Roberts, and Nic Garvin rounded out the top five places. The highly competitive Women's Series Title went to the Kimberley Loppnow-led team followed by Ashlee Gage and Rachel Stout after a great performance from female racers in all the 2021 events.
The Maxxis Triple Crown and the incredible bonus money that goes along with it went to the following competitors:
Motorcycle/Quad – Hayden Hintz
Car/Truck Limited – Dustin Grabowski
Car/Truck Unlimited – Kyle Jergensen
UTV – Mitch Guthrie Jr.
These racers proved hard to beat as they earned top podium places at the Parker 425, Parker 250, Vegas to Reno, and the Cal City Desert Challenge. For their racing efforts this year the Maxxis Tires Triple Crown will award a combined payout of $168,000.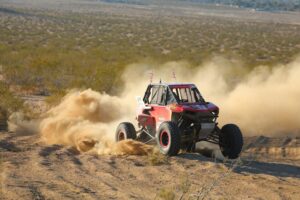 In the youth competition, Travis Sallee won the UTV Y 1000/RS1 Stock Series Championship while Jacob Williamson won the UTV Y 170 Modified Class Championship. Other series class champions included Dexter Warren, Dylan Finley, Cameron Leaming, Chase Mankin, and Ryan Chapman. These young racers are proving that there is a bright future ahead for the off-road sport and many of these competitors will move into adult classes for the 2022 series.
UTV Rookie of the Year went to Michael McFayden followed by Angie Mitchell, Cameron Rohn, Keaton Koonce, and Nolan Hendley.  These racers have proved that they can compete against the very best even though they don't have the same experience as other drivers.
"We are super proud that 2021 turned out the way it did and we cannot wait to get started in 2022. Next year will feature an all new TV and Live Stream venue that we believe will separate Best In The Desert from the rest of the pack. We are excited to feature our sponsors, racers, and race teams in a way that has never been done," said Co-Owner/CMO Bryan Folks. "We are very grateful for all of our sponsor partners, racers, and race teams and we cannot wait to show appreciation by upping the game next year. Congratulations to all of the racers and race teams that earned Best In The Desert Championships. We could not be more proud of your efforts and more grateful for your commitment."
"Year one down, many to go, and I couldn't have imagined 2021 turning out any better than it did," stated first-year Race Director Jeff Phillips. "The racing throughout the year was phenomenal. We had races with record turnout despite all the issues in the world today, and I saw more smiles at the finish lines than I could have ever dreamed of! I would like to take this time to also thank all of those who made this year so special, the Team BITD staff, the amazing volunteers, all the folks at the BLM, the States, Counties, and City/Towns who were all so helpful. THANK YOU ALL FOR YOUR HOURS OF DEDICATION AND HARD WORK! See you all in 2022!"
Best In The Desert has seen exponential growth in the past years with record registration numbers and event attendance. The association is excited to celebrate the incredible accomplishments of their top racers at the awards ceremony and see what they do in 2022!