He's only been racing for a few years now, but Cayden MacCachren has done plenty to live up to the legacy created by his father, Off-Road Motorsports Hall of Famer Rob MacCachren. After plenty of successes in everything from WORCS to SCORE to the California 300, the younger MacCachren was a well-deserved pick to join the all-new Polaris Factory Racing team for the 2023 SCORE World Desert Championship, partnering with Austin Weiland and Brock Heger in a trio of Polaris RZR Pro R Factory machines for a full campaign.
The car made its racing debut at the San Felipe 250 earlier this month, and MacCachren led for much of the race before eventually bringing home a fourth place result. We caught up with the rising star to talk about that first race, the capabilities of the RZR Pro R Factory, the factory support behind his new program, and his future as a Polaris athlete—both for the rest of this year and beyond:
First things first: congratulations on the strong start to the season with a top five in San Felipe. What were your overall impressions of your first event with Polaris Factory Racing?
This whole thing started for me almost a year ago now, hearing about this team starting and trying to get on the team the whole last year—trying to make sure that we were in the best place to be able to get on. Ultimately, last year getting asked to be a part of the team, and from that point getting to San Felipe, was definitely a lot of work. We have quite a few really high-level, talented people working on this team for us, and all of those people have really been putting the time in.
Ultimately, getting to San Felipe was a breath of fresh air for a lot of us. When we were down there, the opportunity to do this, for me—the overall impression, as you say—is awesome. We got down there, we all pre-ran together, Austin, Brock, and I. We got to build camaraderie, have dinner, breakfast, lunch with the team, and we were able to have some of the sponsors down there to see the cars, some of them for the first time. Ultimately, the whole first impression, I guess you could say, at a race was pretty awesome.
What was it like to get the call to drive with the team in 2023? With Polaris' factory involvement, how does this program compare behind the scenes to any team you've raced with so far?
To kind of start at the beginning, I only started racing at the beginning of 2019. Obviously with my dad, I've been around it the whole time, but when I first started racing it was in a Polaris in the WORCS series. I did that for about two years, just that, and then my big break came with the Jagged X team in the beginning of 2021 with Polaris. We ended up winning the San Felipe 250 with them in 2021, and from then on I was just about to continue building my relationship with Polaris, and that ultimately turned into being in a spot to get the opportunity to be on this team.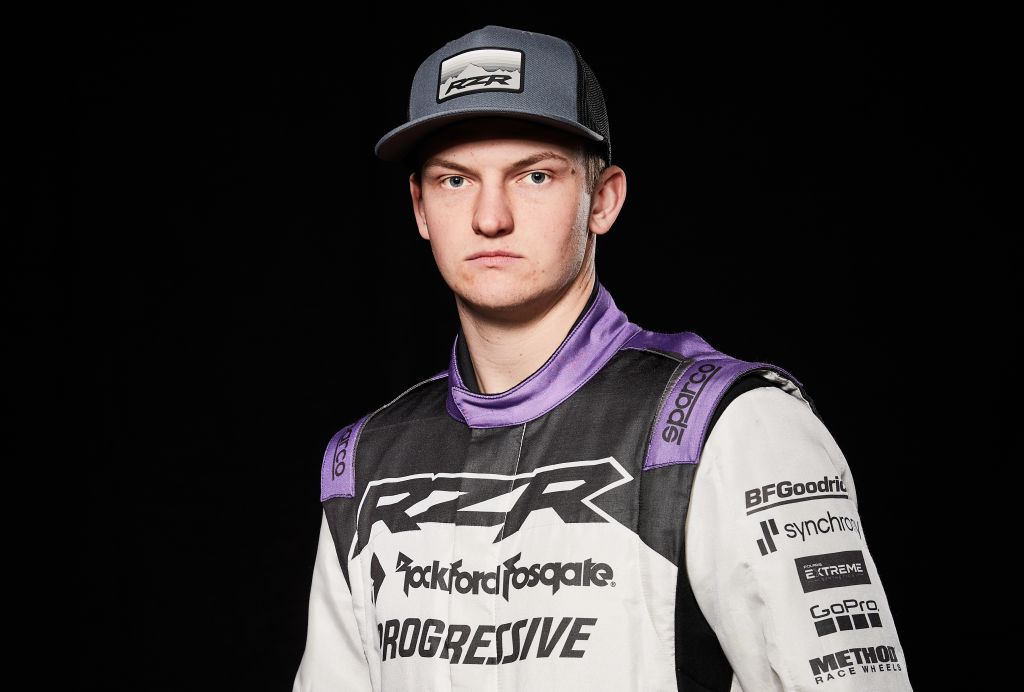 The RZR Pro R Factory has been heralded as a huge step forward for UTV racing. How does this build compare to UTVs you've raced before?
Honestly, before this team, I didn't have much of an opportunity to drive a RZR Pro R. This car came out at the end of 2021, we saw Mitch Guthrie race the Mint and Wayne Matlock race the Baja 1000 in 2021, both with successes of their own. I didn't get a chance to drive a Pro R, even a stock one, or a Turbo R until just a couple months ago. When I did, it was a stock vehicle, completely stock off the showroom floor, except I think it maybe had a spare tire carrier on it.
That blew my socks off. Knowing that a consumer can just come in—I've driven all these different UTVs, Polaris models, but I've also driven my dad's Trophy Truck, so I've experienced all these different levels of the sport. But driving that stock car, I can't believe that a regular person can go get something that's that capable in the desert. It blows across the whoops as fast as a truck, and a lot of times in the tight stuff, it's faster. So the team starting with a base of that vehicle, and Polaris putting all the time and effort into getting that vehicle to the showroom floor as good as it is, is pretty amazing to me.
You've also got a pair of new teammates with you in the RZR Pro R Factory in Austin Weiland and Brock Heger—how have those relationships grown in your short time together, and how do you all help each other go faster and make the RZR Pro R Factory better?
I'd say that basically having two of the best people in our sport right now as teammates is pretty awesome! I've raced against Austin a lot against Jagged X in a Turbo S over the past two years. Racing against him, we were always trying to beat him—he was always the guy to beat. It was the same with Brock, last year I was able to get some opportunities to drive a Spec Trophy Truck down in the SCORE series, and that's where Brock was racing most of his desert race stuff. I saw both of those guys, Austin and Brock, as the people to beat, and I think they saw me the same way. So ultimately, putting us all together on the same team, we're taking the best pieces of each of us and molding it into something that benefits the team.
Austin's incredibly smart with vehicles, most of the stuff that's on the car Austin knows a ton of stuff about. Brock's pure talent, that guy can get in a shopping cart and wheel it! And I think bringing both of those things and my strengths, between us three, will bring the team a great program.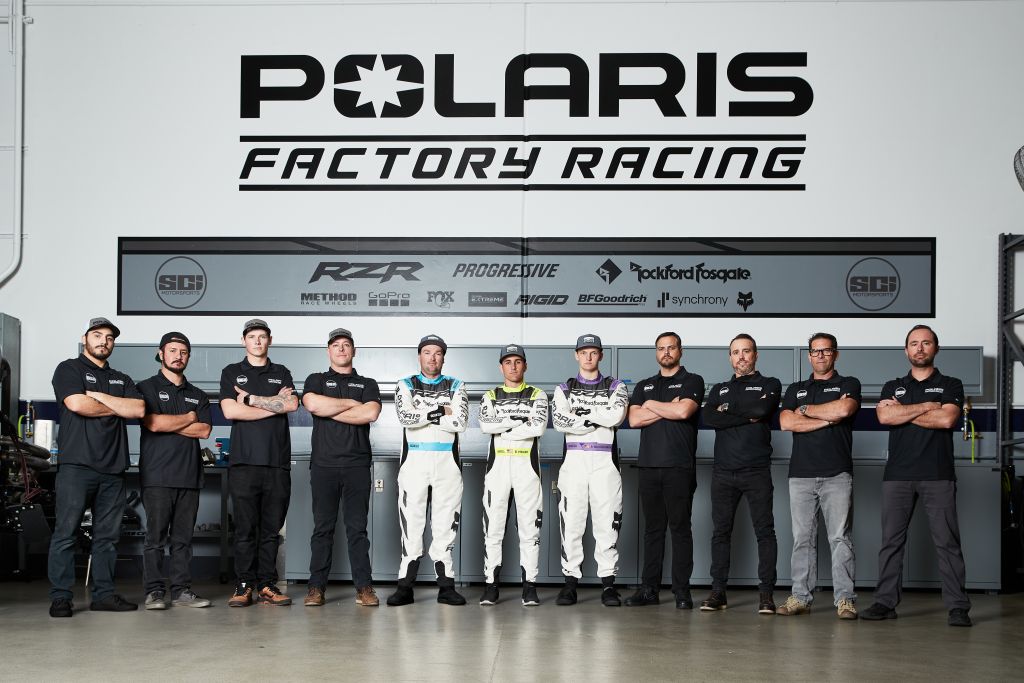 On to San Felipe. You had an eventful race to say the least, but you spent a lot of time up front as a part of it. Walk us through the details of your race a little bit—what were some of the challenges you faced on race day, and how did you work past them?
Obviously, there were some difficulties, but overall it was a huge success. We put three vehicles in the top ten! I started, I believe, fifth—I have some good experience down in San Felipe with the Jagged X team and Baja in general, and I felt like my strategy was the one that was going to put me in the best scenario to win. That's what I tried to follow the whole time. Right off the start, Mile 1, we were basically able to carry a fast pre-run race. Just logging miles, not worrying about who goes around us or who we pass.
Around Mile 25, we were already first on the road, and we weren't pushing that hard, so I knew our pace was very good with this new car. Obviously, I hadn't raced it before, so you go into a race not knowing where it stacks up compared to your competitors. When we got to Mile 25, it's a silly story and kind of a bummer, but my dad was broken on the side of the road with issues with his Trophy Truck that obviously started in front of us. So I came by, and he was on the side of the road telling me I was first on the road, and that was the first I knew of it!
Right after that, I had my two teammates, Austin and Brock, zoom by me. Both of those guys started behind me, Brock a little further back than Austin. But at that point, about Mile 30, we were 1-2-3 on the road. Which, man. There aren't a lot of teams in general in off-road racing or desert racing that have ever done that. Even though I was third and wanted to be leading, I thought it was pretty cool! We were like that from Mile 30 to about Mile 70 when Austin had some issues.
We kept chugging along, and Craig got up there with us, so I was able to go back and forth with Craig a little bit. It was pretty cool, (because) he's technically my boss. I was trying to get him on the good lines, and that was a battle that ultimately wouldn't end until the finish line! We were able to work our way down to the main pit at Mile 120. I rolled into the pit right behind Craig, we were actually in the pit at the same time. We left that pit and were able to get back around Craig, again battling back and forth.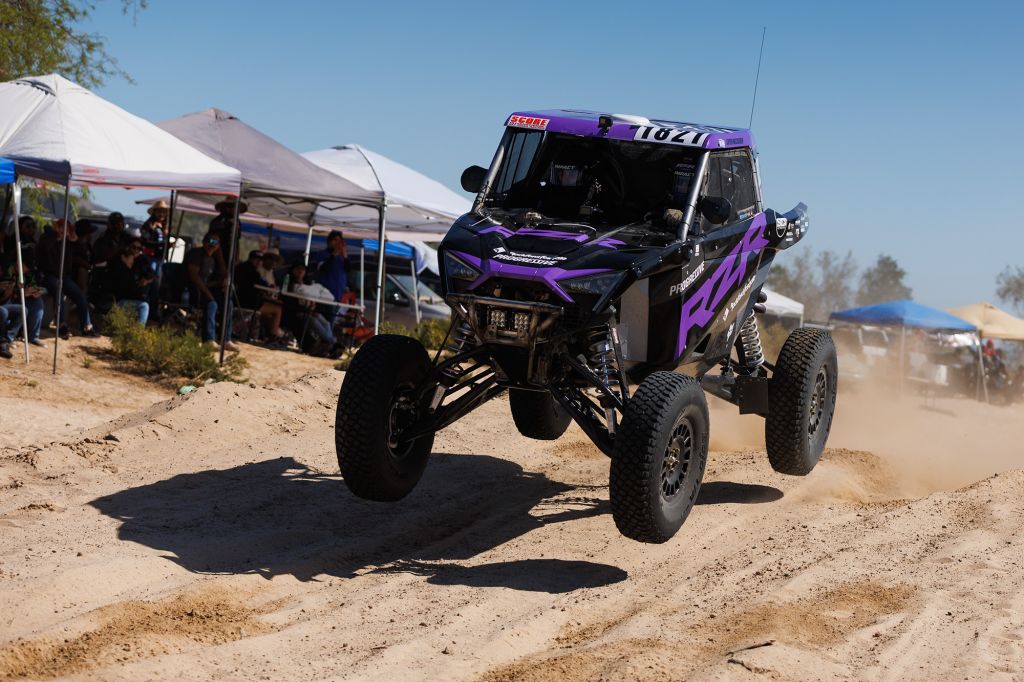 At that point, I think Branden Sims was the only car ahead of us, I think we were second on the road. I had gotten around Sims, I didn't see him and don't know exactly where it was, but I think it was around Mile 145 or 150. I don't know if he had some issues or what. Then we came into Morelia Junction, which was about Mile 165, still cruising with our pace that I had set at the beginning. We were trying to run a fast pre-run pace, try not to put a tire wrong, and cruise along, and hope that would put us to a victory.
At about Mile 165, Sims went by me, he seemed to want to go a little faster and carry some more pace than I was willing to do. Unfortunately, about 20 miles later, he had an accident—I believe he rolled his vehicle. We went slow by him and made sure he was OK, he was already out with his suit down and he was telling me thumbs up. I'm sure he was hoping that I was going to go—if he couldn't win, I'm sure he was hoping that one of his Polaris teammates was going to win!
Past him, we were back first on the road and got to our next pit at about Mile 210. The team had me in and out of there very quick, but not quick enough to not let Craig Scanlon back by! From there, I believe we had about 50 miles to the finish. I knew that if I wanted to win the race, I had to pass Craig and put about four minutes on him. I told my co-rider, basically the whole beginning of the day we'd been very conservative, but from 210 to the finish at 260 we were going to go as fast as we needed to do to win, and that's what we did.
We went back up and were about to get around Craig, he was able to get back by us again, and finally we were able to pass him for the last time. At that point, I kind of put my head down and wanted to put those four minutes on him. Obviously, that's super hard to do—one, we only had 40 miles to do it, and two, Craig was the one behind me, and he's no slouch. We put our heads down and tried to make it to the finish line as smoothly as possible, but we had some issues about three miles from the finish. It looked like we had put the time on Craig to be able to win the race, but that's neither here nor there. To finish first, you first must finish.
Ultimately, for Craig to win, and for all four cars to be in the top 10, that's pretty astounding to me. Yes, I'm bummed that I wasn't able to win, but out of us four, if it's not me winning, it's definitely Craig—sorry to those other two! (laughs) Craig's a big reason why I'm even on the team, so I'm a big fan of Craig.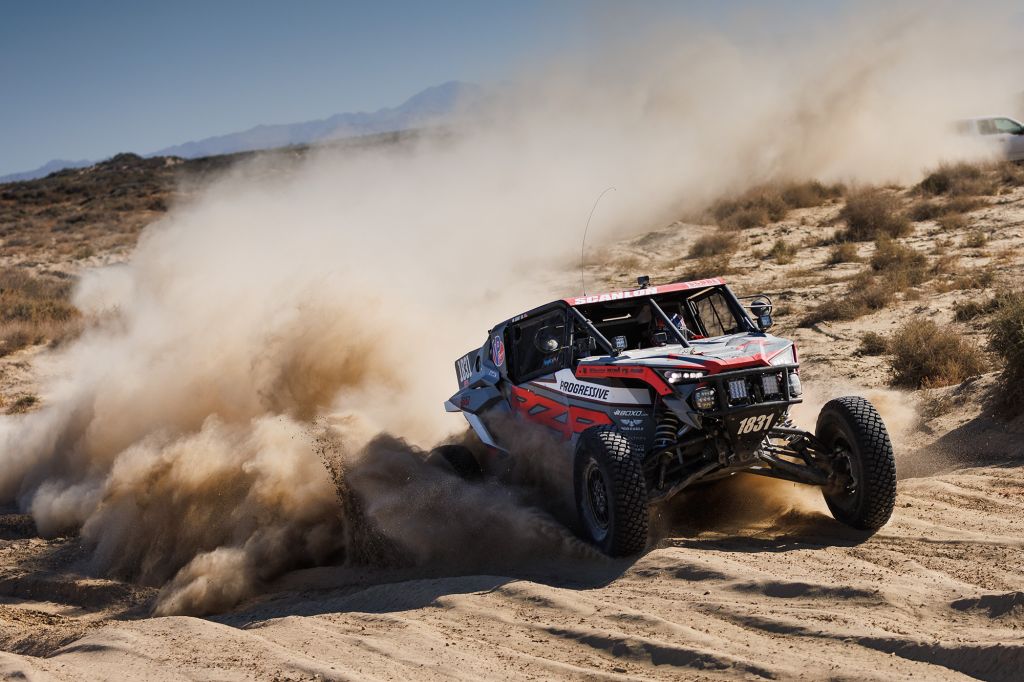 Your teammate, and team boss, Craig Scanlon ended up taking the victory, but the whole team scored top 10 results. How important were the results of that opening race for the new team as a whole? Is there a little extra fuel in the fire for the rest of the season knowing the boss beat you guys in the opener?
Oh, yeah, of course! The whole week Craig was saying that he has no chance, and he's not going to win, because he wants to see us win. But ultimately, he's the wise one. Nothing about his age! But he's wise, and I knew that he had a shot. He's a real tough competitor, and it does put more fire under us to try and beat him and to try and beat everybody else in the class. As soon as I crossed the finish line in San Felipe, I was thinking about the Baja 500, and I wished it was the next weekend. I want to go back out there and get another shot, and show everybody what this RZR Pro R Factory—the purple one, that's mine!—can do.
Overall, putting four cars in the top 10 is great, especially in the SCORE series. It's a series where you need to continue with good results like that to stay in contention for the championship. We're all very much in contention for the SCORE overall UTV championship, which is very important to us. Another thing it does is, the start order for the Baja 500 is based off the finishing order of San Felipe. So we're all going into the Baja 500 starting in the top 10, obviously all of us chasing Craig, which will obviously be very exciting and eventful.
So it's nothing to hang our heads over, not being able to pull off a win at San Felipe for myself and my personal team. We've gotta look at it as a really good result our first time out. These are brand new cars, they were built in the last three months, and nobody was totally sure of how they would do in a race setting. It's just completely different from testing and anything else you'll do with the car. So ultimately, to go to the roughest race in our genre of motorsport, and to go put four cars in the top 10—all with very good chances to win at any time in the race—is very exciting to me.
You've got the rest of the SCORE campaign and Vegas to Reno planned for the rest of the year. How are you feeling about your prospects for a good finish in SCORE points, and how close do you feel like you are to taking your first win as part of the team? 
With the support of factory Polaris, all the engineers at Polaris, and every other company you see on the side of that car, we're going to have ample opportunity to go testing. A lot of teams aren't able to test super often. We're going to be able to do that before the 500, put more test miles on each of these cars, and throughout the year. We're always going to have some of the best minds, whether it be Johnny Nelson, who's very well versed in off-road racing, or a host of other people. Everybody's putting their minds together for the Baja 500 on how to make that car the best it can be for the 500. After the 500, the car will be the best it can be for Vegas to Reno, and so on, ultimately ending at the 1000. We have a huge opportunity.
In my mind, one of our four cars will win every race this year, is how I feel about it. The amount of effort that's gone into this team, not only from the engineers and bosses but also from us drivers, we're putting the work in. As soon as we got home Monday from San Felipe, we're thinking about how we can better ourselves mentally and physically for the 500. So I feel great about the rest of the year! I think we'll have ample opportunities for success.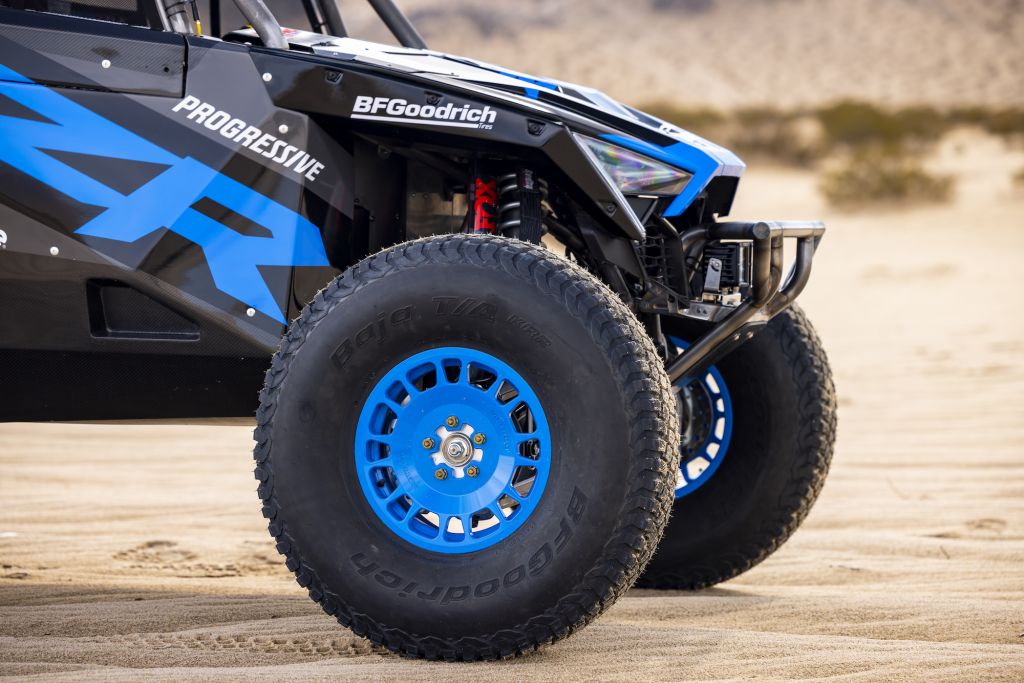 Finally, let's talk about some of your partnerships, because many of the brands on this program are ones that are very familiar to the MacCachren family. It has to feel like home a bit to work with some of those brands, right? How crucial has it been to have the support you've had with this new team?
Yeah, of course! We have BFGoodrich, who my dad has been with for probably over 35 years now. He has over 200 race wins on their tires, and as soon as I started racing, I was on BFG. There's no other option for me—I wouldn't want to race on any other tire. It's been proven in the SCORE series that it's the best tire. For all these other brands, you need the people behind those companies wanting to win just as badly as you do. All those people on the side of the car, they want to win. They're putting their best foot forward to try to give us the best opportunity to put their products on the top of the box.
It does feel like home in a sense with those people, and it's huge to have the big-time support from companies like BFG, Fox Shocks, Fox Racing, Method, Rockford Fosgate, and Rigid. They're ultimately testing the products that they're going to sell on the market, and they're putting the best foot forward for us.
And of course, having an anchor like Polaris for the factory race team and all these partners has to be huge. How big has their support been to you thus far?
I've been with Polaris for four years, and I see myself as a lifelong Polaris guy. That's what I want to be. The brand has done a ton for me. Someone like me, a lot of people ask, "why aren't you in a Trophy Truck?" I want to be in a Polaris! It's the future of the sport—it is the sport—and over the last 10 or 15 years, Polaris has brought a ton of eyes to our sport. The UTV, and specifically Polaris being a leader in that aspect, has brought a ton of opportunity for guys at every level of our sport to improve their racing programs. So I want to be a Polaris guy. That's what I am, and that's what I want to be for a long time.