Race Registration Opens Tuesday, November 10th at 10:00am PST for the 2021 BFGoodrich Tires Mint 400
Registration opens Tuesday, November 10th at 10am PST and will determine start order and qualifying start positions
Entry fees reduced in eleven classes and new payment plan option will allow racers to reserve their spots
Independent courses for Car/Trucks, Motorcycles and Youth races will allow all racers to compete for full mileage.
Car/Truck Course to feature 40% new racecourse and Motorcycle Course to feature 55% new single track racecourse.
Qualifying to be held in Primm, NV and will be open to the public.
November 4th, 2020 – San Diego, CA – The Mint 400 announced today that The Great American Off-Road Race has received the green flag to roar back into Las Vegas on Wednesday, March 3rd through Sunday, March 7th in 2021. The storied race will officially open racer registration on Tuesday, November 10th at 10:00am PST on this page. The Mint 400 has named Off-Road Racer the official race registration provider for the event, utilizing their brand new purpose built software for off-road racing events.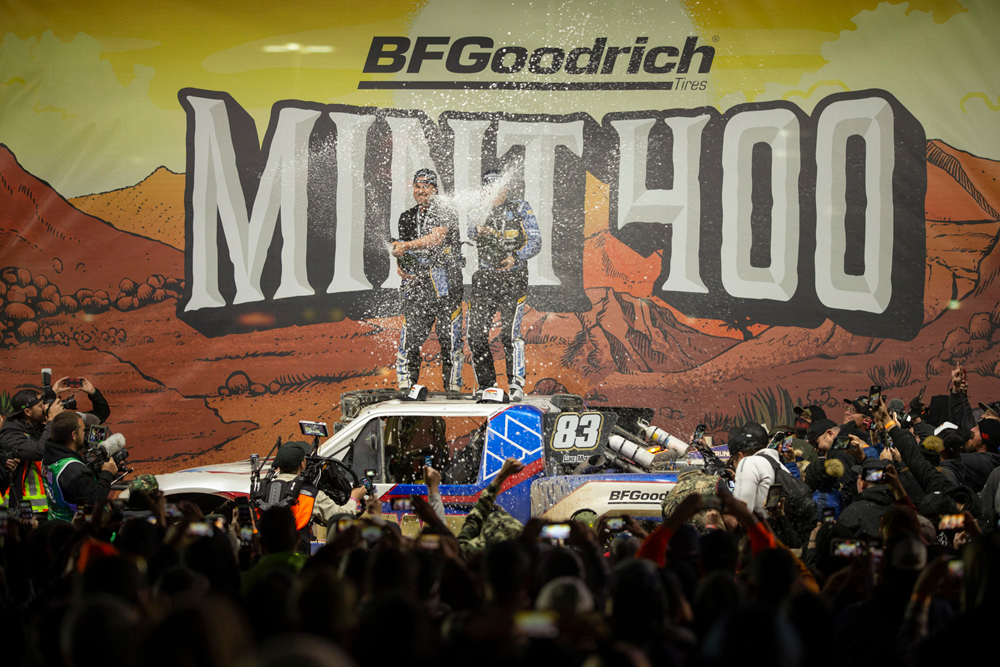 Details regarding the new registration process can be found on this page and racers can get a head start on their registration by first creating an Off-Road Racer Profile today. By creating an Off-Road Racer Profile ahead of time, racers will simply login, select their class, enter their race number, add their co-drivers and successfully reserve their spot at The Great American Off-Road Race. All other information needed to race will have been collected via their Off-Road Racer Profile. The order in which racers register for their class will determine their starting position, and/or qualifying start position, rather than by random draw. Complete details on the process can be found on this page.
The Mint 400 organization launched new entry fee pricing, several new classes, as well as a payment plan designed to help racers weather the winter and prepare to race next spring. Eleven classes have seen drops in their entry fees, Class 9 Challenger has been added to the class list, and the Baja Truck & 6100 Truck classes have been merged into one " Unlimited Truck SPEC" class. New this year, racers will have the option to either pay the registration fee in full up front, or pay 25% down, 25% on January 8th, and the final 50% balance on February 5th. The process is completely automated, and gives budget conscious racers the time to secure a good starting position without coming completely out of pocket prior to the holiday season.
"Six months ago we announced a lot of new and exciting changes to the Mint for 2021," said Mint 400 CEO, Matt Martelli. "It's now time to dust off those race cars and start thinking about what needs to happen between now and March 3rd. We have approval from the BLM, we're finalizing all our deals with the hotels in Vegas, and we're confident that four months from now we will once again be gathering to watch the best off-road racers in the sport come together to compete at the highest level. We also made some adjustments to our fee structure to continue to support grass roots racers. Off-Road racing started in the garages of America, that will always be a part of the DNA of this great race."
"We are really excited about the new race registration software," said Mint 400 Event Director, Kilian Hamlin. "We rolled this out at the UTV World Championship and it worked flawlessly. What's great about it is it allows the racers to be in complete control of their entries. If you go to register.offroadracer.com and make a profile now, entry next Tuesday will be a breeze. The information on your Off-Road Racer Profile is tied to any future race entry. Now, there's no need to enter the same information over and over (and over) again or get all of your teammates information from them ahead of time – all their information required to race is pulled from their Off-Road Racer Profile as well and will be automatically tied to your teams entry. This also makes any changes to your race entry a snap. You can logon anytime and update your information."
The Mint 400 also confirmed today that next year's race will feature independent car/truck and motorcycle courses, a separate dedicated Youth course, and a brand new qualifying course in Primm. This will allow ALL racers to get their fill of the treacherous and challenging Nevada desert while allowing Mint 400 staff to keep racers organized by vehicle size. The new format will also mean that racing will take place from approximately 8am to 9pm and avoid the challenges of early morning and late night race operations.
"Coming off a successful 2020 event, we sat down as a team and reviewed all of our race operations and we're confident this new format is going to add a ton of value to our racers and help solve a lot of the challenges we faced," said Mint 400 COO, Joshua Martelli. "First and foremost by moving qualifying to Primm we make it easier on racers traveling into Vegas, and it allows us to cover it better on the Livestream. Then by running independent courses for cars & trucks, bikes, and youth we don't have the "overlapping class" challenges and everyone can get the miles they want to race. If that wasn't cool enough we're adding more than 40% new course to the Car/Truck race and 55% new single track course to the Motorcycle race, which is incredible. This is really going to be a special Mint 400."
A detailed schedule, COVID 19 guidelines, and other important information are forthcoming. For now, all of the marquee Mint 400 festivities will remain in the same position as previous years, including the wildly popular Mint 400 parade, and Tech and Contingency Off-Road Festival, which will take place on Thursday and Friday of race week. The week of festivities will culminate with two days of thrilling off-road racing on Friday, March 5th, and Saturday, March 6th, with pre-race events beginning earlier that week.
The Martelli Brothers and their dedicated group of volunteers, support staff and Mad Media TV crew, have successfully grown The Mint 400 into the largest and most important off-road race in the sport. The event attracts over 45,000 spectators to Las Vegas for the parade, parties, two-day off-road festival, and two-day race. The race features over 500 race teams from over thirty different states and fourteen different countries, competing on a 100-mile loop that extends from the edge of Las Vegas to the California state line at Primm. With five massive spectator areas (and more being developed for 2021), The Mint 400 puts fans safely in front of high-speed off-road racing action for two exciting days.
More information regarding racer and spectator details will be released in the coming months.
See you in Las Vegas March 3rd-7th, 2021!