The Portuguese gravel roads evolve quickly pass after pass requiring very accurate strategies
The soft-compound Scorpion SA tyres will be the first for the versatility they demonstrated last season
Testoni: "Day by day the starting order could hold many surprises for the overall classification"
Milan, 8 May 2022 – The hostile and changeable Portuguese gravel roads host the second gravel rally of a world championship that, at the fifth race of the season, is still in search of its definitive leader. The test in Portugal will be dominated by alternating slippery surfaces on the first passages and sharp ones on the second, requiring careful management of the tyres.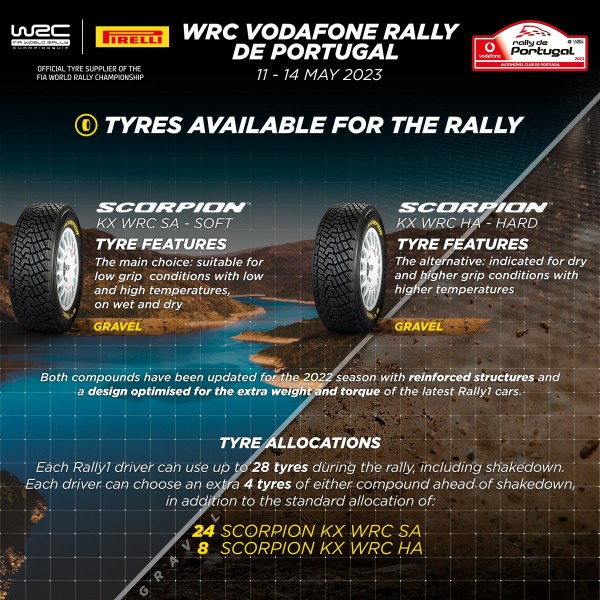 TYRES IN PORTUGAL
In particular, the Rally Portugal presents itself as one of the toughest races in the championship because of:
The presence of fast, technical dirt roads with an initially soft, sandy surface that offers poor grip
The rocky surfaces dotted with sharp stones that emerge after the first few passes and make life difficult for those who start behind, as well as the possible formation of deep ruts in the roadway
The rain factor, potentially always lurking, can make surfaces slippery, marked by mud and bogs.
For these reasons, tyres must be versatile in order to offer performance, grip and durability, and support varied strategies that will often involve changes in approach between the first and second passages of the stages.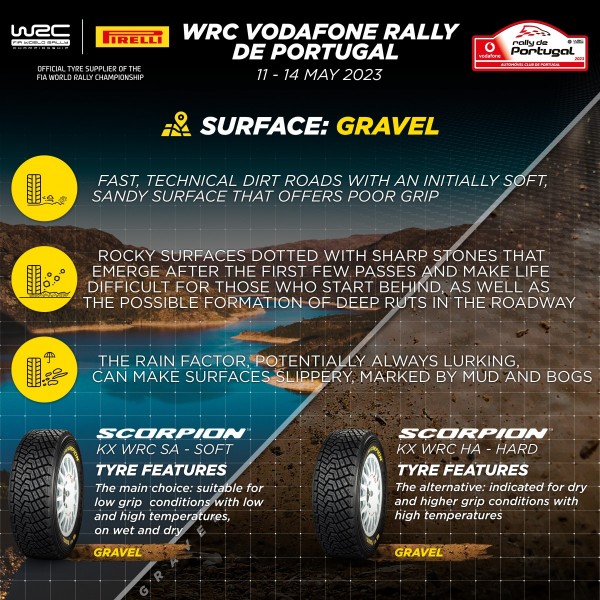 THE TYRES AVAILABLE IN PORTUGAL ARE:
Scorpion KX WRC: Pirelli's gravel tyre, developed for the top category, is available for Rally1 cars in two compounds, both in evolution 2022, which features reinforced structures and an optimised design. For Portugal, the SA soft compound version, which guarantees optimum grip even on slippery surfaces, is the first. The HA hard-compound version, which offers greater durability and resistance to more abrasive surfaces with more grip, is the option.
The regulations provide for an allocation of 24 and eight tyres respectively for prime and option, to which four must be added for the shakedown, in the compound chosen by the crew.
Scorpion K: the gravel tyres for WRC2 and WRC3 are also available in hard and soft compounds, with many of the same characteristics as the KXs for the Rally1 cars. In Portugal, Rally2 cars have K4B (hard) and K6B (soft) tyres, while Rally3 cars have K4A (hard) and K6A (soft).
For these car categories, the allocations are 22 and 8 tyres for the prime and option respectively, to which must be added a set for the shakedown.
PIRELLI QUOTE
Terenzio Testoni, rally activity manager: "In last year's edition, especially on Friday, the Rally Portugal was confirmed as one of the most challenging races of the world championship and such as to require a careful management of the tyres by the crews, both when choosing the equipment stage by stage and while driving. An advantage will be gained by those who know how to get the best out of the combination of the soft tyres, which last year proved to be very versatile throughout the championship, and the hard tyres suitable for tackling the hard and rocky base of the roads. So watch out for the starting order, which day by day may hold surprises for the overall classification.