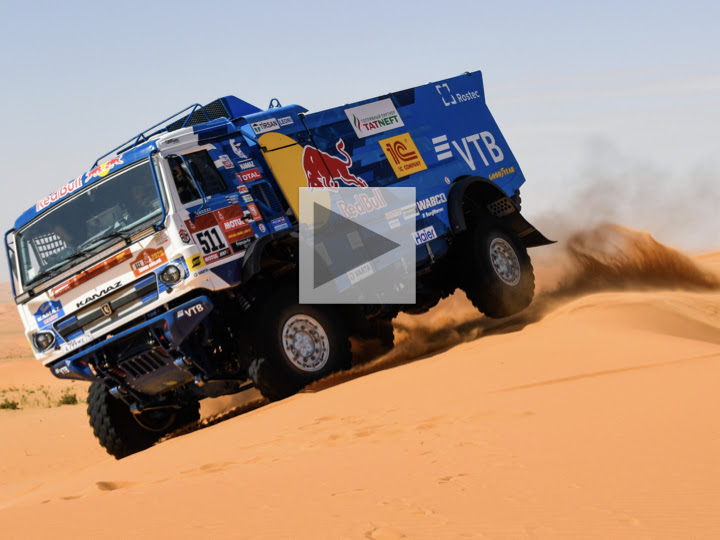 It's the calm before the storm of the second week at the 2020 Dakar Rally as the convoy enjoys its midpoint Rest Day in Riyadh. Already on the opening six stages of the rally there has been no shortage of drama.

The Rest Day is an opportunity for Dakar competitors to work on their strategies for the final week of racing. With more than 4,000 kilometres still to travel between Riyadh and the finish line there's still plenty of action to unfold on the race track.
The Rest Day also allows the crews of mechanics and engineers to get race vehicles in tiptop condition for the challenges that lie ahead.
On Sunday racing will resume in Saudi Arabia. Can those currently controlling the leaderboard maintain their dominance over the desert dunes still to come?
The six stages during the Dakar's second week will be contested over mostly sandy terrain, with the mighty dunes of Saudi Arabia's Empty Quarter still to be negotiated. There's also the Shubaytah marathon stage on the menu.

The glory of the finish line in Qiddiya is still a long way off and there's still plenty to overcome before the first Middle Eastern Dakar concludes.
Scroll down for the latest standings, images and quotes from the rally…

The 2020 Dakar finishes on Friday, January 17 in Al-Qiddiya. Keep up-to-date with the entire Red Bull Desert Wings convoy on Red Bull Motorsports' social media: Red Bull Motorsport Instagram / Facebook / Twitter / Desert Wings Instagram

2020 Dakar Rally Car Race (after Stage 6)
Carlos Sainz (ESP)/Lucas Cruz (ESP) MINI Buggy 23h33m05s
Nasser Al-Attiyah (QAT)/Mathieu Baumel (FRA) Toyota +07m46s
Stéphane Peterhansel (FRA)/Paulo Fiuza (PRT) MINI Buggy +16m18s
Yazeed Al Rajhi (SAU)/Konstantin Zhiltsov (RUS) Toyota +36m46s
Orlando Terranova (ARG)/Bernardo Graue (ARG) MINI Rally +32m05s
Giniel De Villiers (ZAF)/Alex Haro (ESP) Toyota +55m39s
Kuba Przygonski (POL)/Timo Gottschalk (GER) MINI Rally +08h25m18s
2020 Dakar Rally Bike Race (after Stage 6)
Ricky Brabec (USA) Honda 23h43m47s
Pablo Quintanilla (CHI) Husqvarna +20m56s
Toby Price (AUT) KTM +25m39s
Jose Ignacio Cornejo (CHI) Honda +25m41s
Joan Barreda (ESP) Honda +32m58s
Matthias Walkner (AUT) KTM +33m39s
Luciano Benavides (ARG) KTM +39m02s
Laia Sanz (ESP) Gas Gas +02h36m21s
CS Santosh (IND) Hero +05h48m52s
Mohammed Balooshi (UAE) Husqvarna +07h34m10s
2020 Dakar Rally Side-by-side Race (after Stage 6)
Chaleco Lopez/Juan Pablo Latrach Vinagre (CHI) (CHI) Can-Am 28h52m26s
Casey Currie (USA)/Sean Berriman (USA) Can-Am +09m48s
Sergei Kariakin (RUS)/Anton Vlasiuk (RUS) Can-Am +30m24s
Jose Antonio Hinojo Lopez (ESP)/Diego Ortega Gil (ESP) Can-Am +36m31s
Mitch Guthrie Jr. (USA)/Ola Floene (NOR) OT3 +47m49s
Cyril Despres (FRA)/Mike Horn (SUI) OT3 – Dakar Experience
Blade Hildebrand (USA)/Francois Cazalet (FRA) OT3 – Dakar Experience
2020 Dakar Rally Truck (after Stage 6)
Andrey Karginov (RUS) Kamaz 25h06m20s
Anton Shibalov (RUS) Kamaz +19m14s
Siarhei Viazovich (BLR) Maz +36m30s
Ales Loprais (CZE) Praga +01h51m13s
Martin Macik (CZE) Iveco +01h59m27s
Dmitry Sotnikov (RUS) Kamaz +02h28m16s
2020 Dakar Rally Quad Race Top 3 (after Stage 6)
Ignacio Casale (CHI) Yamaha 30h11m37s
Simon Vitse (FRA) Yamaha +35m12s
Rafal Sonik (POL) Yamaha +01h07m17s