The 2023 Sonora Rally Was Ready for the Prologue with a Full Spread of Speed
Velocity was the number one ingredient on the track today at the 9th iteration of the Sonora Rally. Squealing into action down the drag strip at Autodromo Cerro Colorado; a truly North American tradition for gearheads and speed freaks. And while the tarmac ended in a quarter mile, the pure joy of the off-road world was only starting to open up to pilots past the fence. They kept it up on some wideset ranchland before a sharp 90-degree turn (surely marked danger) into the great beyond. As the homesteads grew smaller in the distance, the prominent figures of Sonora's other curious cacti, the organ piped cardon, quickly filled the view jutting up through a precarious field of "jumping" cholla. While beautiful, with a sort of soft appearance from a safe distance, these charlatans pull you in for a closer look only to leap onto your socks, shirt or worse… The barbs stick fast and expand at the tip making it a painful and tedious removal process. Maybe this was the real reason athletes keep throttles open or a foot on the floor through most of the 10-kilometer course. But those tiny gremlins weren't even the most threatening part of the heat; some would call it loose – gravel and stones sifted into powdery silt – but others just called it nasty. If it wasn't for the generous visibility, the vibrant pace might have dulled a bit in the bright sparkly cloud that veiled everything within range of the roost.
A natural launch pad conveniently placed at the beginning of the dirt made for the sort of jump even a Trophy Truck could respect. Our all-stars took full advantage to ascend into the sky where they belong, starting with Quads then RallyGp, Rally2 and Rally3 in reverse order. They were followed by the Cars in the correct sequence, and again in reverse for the National classes. There was little in the way of obstacles, therefore most made it to the finish line without error. Only two in the Motos and two in the UTV/Car classes saw any setbacks, which won't offer any advantages at the early start Monday morning. And these penalties were incurred simply from rally comp operator error. But ferocious riders like Matt Ransom (#502, Off Piste Adventure, National Enduro) don't let a few technical penalties stop him from overtaking hordes of competitors when the real racing takes place. In National UTV, Jorge Cano with his co-driver Abelardo Ruanova (#606, Jorge Cano Racing, National UTV) likewise don't throw in the towel just because they'll be sweeping from the back. That's rally-raid. It tries to beat down, then gives a swift kick while you try to get back up. But rally racers don't cower at a little roughhousing. The amount they take over several days of battling, you'd even think they liked it.
"It was a nice stage for the prologue. Quite slippery for 10 kms with a lot of loose gravel on the top so as the first car on the stage we were making 'the line'. So, we will pay a few seconds for that, but it's not too bad. It was important to do a good stage and to now start the rally properly tomorrow with 170 kilometers." – Sébastien Loeb #200, Bahrain Raid Xtreme in T1+
Even Le Patron suffered from some minor miscalculations, running out of gas before the bivouac. But luckily, this didn't affect his timing and friendly foe, Nasser Al-Attiyah (#201, Toyota Gazoo Racing, T1+) kindly offered help to Loeb and co-pilot Mathieu Baumel (#200, Bahrain Raid Xtreme, T1+) back to base. For those who had flawless performances, it was an all-out sprint to ASS. And those who reached the rear-end of the route first were gifted pole position and a tiny taste of glory to satiate them until the morning. A young monarch of the desert, Sara Price, this time with navigator Jeremy Gray (#605, Price Racing, National UTV Mod), has been dominating the local off-road scene since she moved from motocross to Trophy Trucks to side-by-sides. Today was merely evidence of her finesse at the wheel. Or of her lead foot. Whatever it was that brought her across the line ahead of the 11 other contestants might be what takes her to the top of the podium. But let's not get ahead of ourselves. We're yet to start the official timer, and anything can happen in five days… Especially in the desolate wastelands of Mexico.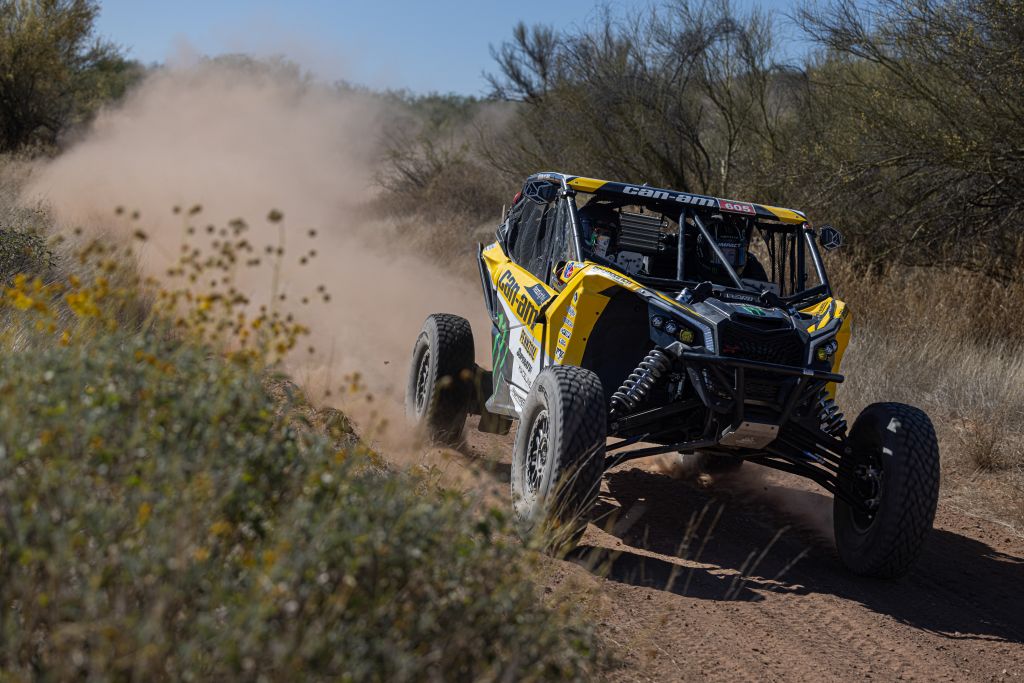 "Today was great! We just wanted a solid run, and to have more seat time in the Can-Am. We were just trying to find our flow and ultimately be in a good position to kick-off this rally, and we did just that! We have an incredible crew down here, and the team is ready to start Stage 1 at P1." – Sara Price #605, Price Racing
Bikes maintained a fast flow themselves. And those riders who excel on the limiter found their elbows brushing up against Sara's in the proverbial Winner's Circle. A madman in Hare & Hounds and other such off-pavement American past-times, Brendan Crow (#513, Privateer, National Enduro) wasn't trying to place. He'd barely had time to prep, let alone gun for prime spots on the scoreboard. But when you're fast, sometimes you just can't help yourself. Precisely the reason why his factory buddy, Skyler Howes (#10, Husqvarna Factory Racing, RallyGP) convinced Crow to compete at last October's Sonora Rally; Howes needed someone who could push him all the way to the finish line, which is precisely what he did. But the quiet Crow wasn't the only motorcyclist to outdo himself. Matt Sutherland (#501, Privateer, Malle Moto) a fixture at the event, is back after enduring an injury on his last effort at this race. On one of the latter specials, by some misfortune he sustained a deep laceration in the upper, inner thigh taking him out of the contention for a second time. The first was a broken leg. But in reality, fortune had been shining on him all along, his gash missing an artery by mere centimeters. And resilient as ever, Sutherland is back and ready to let the charm of thirds grant him that coveted Finisher medal, in Malle Moto no less. We're rooting for you, Matt.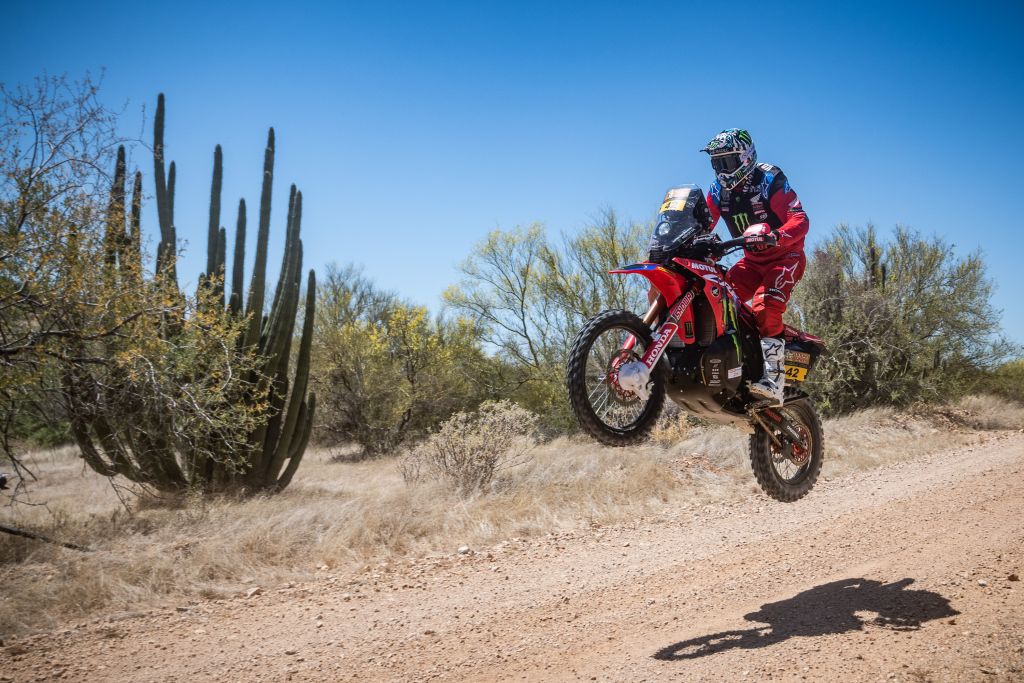 "I didn't commit to race until about two to three weeks ago, so I went from having nearly seven months to prep last year to three weeks this year – one of which was spent working in Florida." – Brendan Crow #513, Privateer in National Enduro
Day Zero of the 2023 Sonora Rally has blessed the world with an action-packed send-off to what's expected to be an excellent display of talent, if not the basic blood, sweat and tears in buckets. The Mercury is rising this week, so aside from elements on the ground, in the lineup and from their inner monologues, the temperature will certainly contribute to a painful fight to the finish. And with multiple networks in several regions all over the globe, us fans will be eating up every bit of it. Forget the taste. Tomorrow begins a rally-raid feast!
For more info, make your way to https://sonorarally.com/. And to follow along with the race, stay tuned @SonoraRally on Instagram, Twitter, and Facebook, plus, download the Sportity App for schedule, news updates, press releases, results, and more. Event code: SonoraRally2023
For news from the World Rally-Raid Championship, visit their website: https://www.worldrallyraidchampionship.com/en/. Watch Stage One of the third round of the W2RC here. Media inquiries can email media@sonorarally.com for more information or to be added to the press contact list for updates, news, and more.
W2RC
Ø Today, two youngbloods broke the rules from "behind bars". First was Bradley Cox, a Rally2 rider and son of the legendary Dakar ex KTM official rider Alfie, who signed the scratch (5:26) in front of vet Toby Price (5:28) and Luciano Benavides (5:33). Tosha Shareina was the fourth time of the day (5:34), and this 27-year-old RallyGP rider accomplished it on his first outing racing an HRC bike. Ruben Faria, ex rider who became Reds manager, was right: this kid could be the help his four officials need in Sonora!
Ø Winner of the last round of the world rally-raid championship in Abu Dhabi, Yazeed Al Rajhi (Overdrive Racing) kept his momentum winning the Prologue (5:18) by merely a second over Nasser Al Attiyah (Toyota Gazoo Racing). Guerlain Chicherit (5:22) and Sebastien Loeb (5:29) were behind him in their Prodrive beasts. This week is sure to be a game of Cat and Mouse, with Toyota and the brit' Prodrive chasing down the nimble Frenchman to either restore a title or take one for the first time.
Ø In the Prologue, Bradley Cox made a statement by clocking the fastest time ahead of Toby Price and Luciano Benavides on a hot and slippery one-kilometer drag strip followed by nine kilometers off-road. Only the RallyGP riders can choose their starting order for the next day, and the top 10 all chose places from the top five seats onwards. Toby Price chose to start in sixth place, ahead of Ricky Brabec, Luciano Benavides, and other contenders. Ruben Faria may have downplayed the significance of this choice, but the Prologue arguably plays a big role in the overall competition. In the Rally2 category, Bradley Cox dominated ahead of two returning competitors, while Laisvydas Kancius beat Rodolfo Guillioli in the quad race.
KEY NOTES
Ø Prologue, Autodromo Cerro Colorado; Liaison > 43 km & Special > 10 km | 90% Dirt; 10% Tarmac
Ø Tomorrow, racers can expect more loose dirt and gravel, with bone-dry arroyos weaving through the route. This loop will be the true test of man and machine in Mexico, bringing in more of the state's mysteries to the light: cacti forests, cholla land mines, wildlife and an unforgiving sun.
Ø Autodromo Cerro Colorado is a racetrack located in the city of Hermosillo, in the state of Sonora, Mexico. It was inaugurated in 2009 and has a length of 4.1 kilometers. The track is known for its challenging layout, with many curves and elevation changes. One notable event that took place at Autodromo Cerro Colorado was the NASCAR Mexico Series race in 2011, which was won by driver Ruben Garcia Jr. The track has also hosted other motorsports events, such as the Copa Notiauto and the Mikel's Trucks Series. In 2019, the Autodromo Cerro Colorado underwent some renovations and upgrades to improve its facilities, including the installation of new grandstands and the expansion of the pit lane. Overall, Autodromo Cerro Colorado is an important motorsports venue in Mexico and has attracted many talented drivers over the years.
Ø The cacti that resemble organ pipes in Sonora, Mexico, are usually referred to as the Mexican giant cardon (Pachycereus pringlei). They are known for their tall and columnar shape and can reach heights of up to 60 feet (18 meters). However, there are also other cacti in the region that may resemble organ pipes but do not have a trunk or are not as tall as the giant cardon. One such cactus is the senita cactus (Lophocereus schottii), which is also found in Sonora, Mexico. This cactus typically grows to be around 10-20 feet (3-6 meters) tall and has a branched structure that resembles an organ pipe. However, unlike the giant cardon, the senita cactus does not have a distinct trunk and its branches arise from the base of the plant. Another cactus that may resemble an organ pipe but does not have a trunk is the Totem Pole cactus (Pachycereus schottii monstrosus). This cactus is a mutation of the Mexican fencepost cactus and is found in the Sonoran Desert of Arizona and Mexico. The totem pole cactus is columnar in shape, but its branches are so tightly packed together that it doesn't have a discernible trunk.
It's worth noting that there are many different species of cacti in the Sonoran Desert, and some may have a similar shape to organ pipes but have other distinguishing features. If you're interested in learning more about cacti in this region, it's a good idea to consult with a local expert or guidebook.
QUOTES:
Nasser Al-Attiyah #201, Toyota Hilux, T1+: "Today we finished the prologue. This was 10 kilometers, and really, we did a good job. It was not easy. But this is the start, and now we will try to find out the time of the Prologue so we can choose the position for tomorrow. Nothing [bad] happened for us, but we did find that Loeb stopped after the stage, I think he had no fuel. We tried to help him reach the bivouac, which is the spirit of the [race]."
Jose "Nacho" Ignacio Cornejo #11, Monster Energy Honda Team, RallyGP: "This Prologue was a session where I felt good riding my Honda CRF 450 Rally. I made a few mistakes that cost me some time. But nothing has been decided yet. The race starts tomorrow, and we will have five days in the desert, so I'm sure we will do our best stage by stage."
Yazeed Al Rajhi #202, Overdrive Racing, T1+: "That was a flat-out Prologue. Everything went perfectly for us. It's a great way to start the Sonora Rally. We are looking forward to winning this one too!"
Bradley Cox #21, BAS World KTM Racing, Rally2: "I'm super happy with how today went. To win the overall is unbelievable. It's a great start to the rally, and I will just take it one day at a time."
NATIONALS TOP FIVE STAGE RESULTS
If you would like to view the Provisional Results for the W2RC, use the Sportity app with codes: FIAsonorarally2023 / FIMsonorarally2023
ENDURO
#513 Brendan Crow (USA), Privateer – 0:05:47
#527 Jorge Escobedo (ESP), Freedom Rally Racing – 0:06:19
#525 Ash Thixton (ZWE), Freedom Rally Racing – 0:06:21
#515 Digby Norris (GBR), Triple F Racing – 0:06:49
#526 Francisco Alvarez (COL), Freedom Rally Racing – 0:06:51
MALLE MOTO
#501 Matt Sutherland (AUS), Privateer – 0:06:35
#521 Benjamin Myers (USA), Privateer – 0:07:47
#508 Matthew Glade (CAN), RMS – 0:08:39
#520 Alexander Kachaev (RUS), Privateer – 0:08:53
#514 Vladimir Malyarevich (BEL), Privateer – 0:11:14
MALLE MOTO ADVENTURE
#528 Ben Howard (USA), Privateer – 0:09:47
UTV PRO
#605 Sara Price (USA) and Jeremy Gray (USA), Price Racing – 0:05:40
#604 Daniel Gonzalez Reina (MEX) and Jorge Hernandez Calva (MEX), Baja-Son Motorsports, Polaris Mexico – 0:06:35
#611 Craig Lumsden (USA) and Andrew Farmer (USA), TrophyLite – 0:07:50
#610 Zach Lumsden (USA) and Shannon Moham (USA), TrophyLite – 0:08:18
NAT UTV
#612 Carlos Castro (MEX) and Carlos Sachs (MEX), BBR – 0:06:16
#608 Jim Price (USA) and Sienna (USA), Price Racing – 0:06:50
#609 Camelia Liparoti (ITA) and Tony Albano (USA), Avid UTV/CAT Racing – 0:07:07
#607 Brock Harper (USA) and Steven Geist (USA), Privateer – 0:08:23
#606 Jorge Cano (MEX) and Abelardo Ruanova (MEX), Privateer – 3:25:54
NAT 2WD
#601 Erick Pucilek (USA) and Mike Shirley (USA), Privateer – 0:06:46
NAT 4X4
#602 Luis Perocarpi (USA) and Mark Wells (USA), Privateer – 1:17:27