Stage 4, another loop around Puerto Peñasco, featured a 248 km special. Tomorrow, the 139 km finale will take the field to San Luis Colorado, on the border with the United States.
In the motorbike category, Toby Price (Red Bull KTM Factory Racing) took the stage ahead of Luciano Benavides (Husqvarna Factory Racing). No sweat for Daniel Sanders (Red Bull GasGas Factory Racing), who finished third today and defended his lead in the overall standings. Price inched closer to second place in the championship standings.
In the car category, Guerlain Chicherit (GCK Motorsport) withdrew from the lead when his vehicle gave up the ghost, leaving Nasser Al Attiyah (Toyota Gazoo Racing) to grab the stage win ahead of Yazeed Al Rajhi (Overdrive Racing) and stretch his lead in the overall standings to 7′22″ over the Saudi.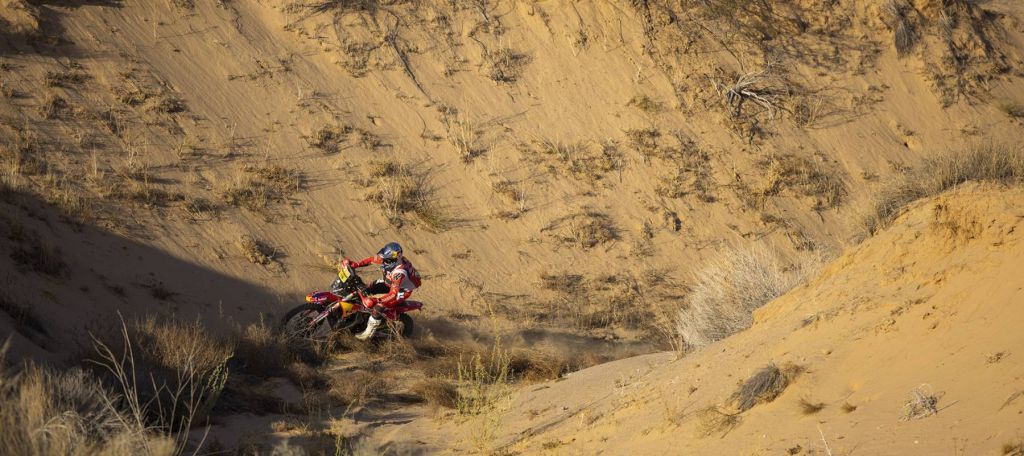 FIM: Price wins, Sanders stays on top
Daniel Sanders was the first to hit the road for the third day in a row. The man from Oz again stayed clear of his pursuers, bagging a shade over five minutes of bonus time as a reward for opening the road. Toby Price, who started in fourth position, was the fastest of the day, even overtaking Ricky Brabec (Monster Energy Honda), who had a three-minute head start. From then on, the Australian pocketed 47″ of bonus time for being the third rider on the track. He won the stage by 52″ over Luciano Benavides, who matched the pace of the stage winner in raw time. Sanders finished third at 1′40″ thanks to a 5′09″ haul of bonuses. At the finish line, "Chucky" kept his cool and only lost 48″ in the overall standings to the younger Benavides, who is now 14′25″ behind in the ranking. Toby Price closed in on the second step of the podium, now 39″ behind Luciano. If the world championship leader manages to surge to second place tomorrow, he will rake in 20 points instead of the 16 points on offer for third place. His closest rival in the W2RC, Adrien Van Beveren (Monster Energy Honda), is fifth in the Sonora Rally going into the final stage, over five minutes behind Price.
In Rally2, Romain Dumontier (HT Rally Raid Husqvarna Racing) came in eleventh overall. The Frenchman again trounced the opposition, 4′05″ ahead of Jacob Argubright (Duust Diverse Racing) and 4′54″ ahead of Paolo Lucci (BAS World KTM Racing). In the general standings, "Dudu" has 16′ in hand over Argubright and more than half an hour over Lucci, who climbed onto the provisional podium this evening.
In Rally3, the Italian Massimo Camurri again stamped his authority on the race and extended his lead in the general standings to almost an hour and a half over his two opponents. The leader of the provisional standings, Laisvydas Kancius, beat Rodolfo Guillioli by a tad over ten minutes in the quad race. The Lithuanian and current championship leader has a 44′32″ margin in the overall.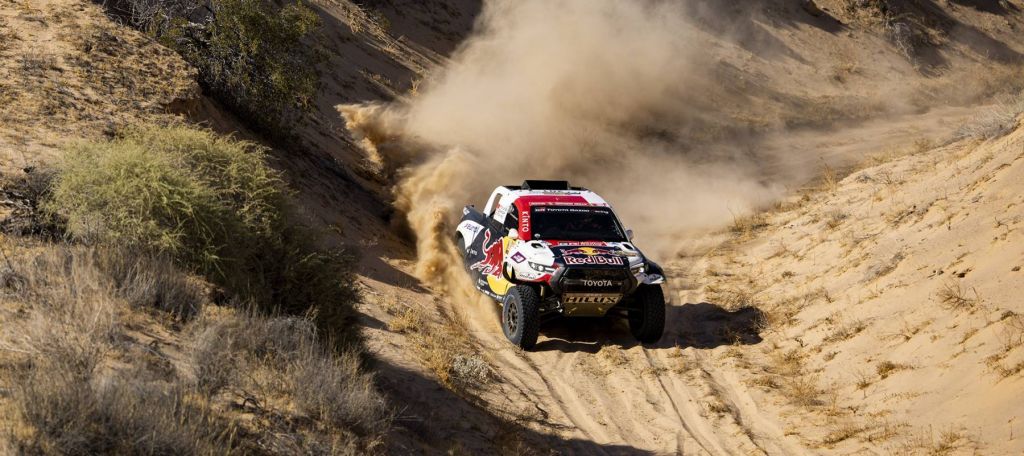 FIA: Chicherit out of juice as Al Attiyah turns the screws
The Prodrive team pinned its hopes on Guerlain Chicherit after Sébastien Loeb (BRX) withdrew yesterday. The Frenchman led the special until kilometer 159, when he had to contact his support crew and ask them to come and extract him due to an electrical failure. By that point of the race, Chicherit was just a few seconds away from second place overall in the virtual classification. Yazeed Al Rajhi, first on the road, never really felt the pressure. Neither did Nasser Al Attiyah, who started third and claimed the stage win by 4′31″ over the Saudi, 6′44″ over Denis Krotov, and 7′48″ over his teammate Sebastián Halpern (X-raid Mini JCW). The Qatari widened his overall lead on Yazeed Al Rajhi by 7′22″ and all but wrapped up his maiden victory on Mexican soil. The two Minis of Halpern and Krotov are 12′54″ and 20′57″ behind, respectively.
In T3, the Red Bull clan found strength in numbers and placed their five vehicles at the summit of the stage. Mattias Ekström (South Racing Can-Am) had seemed poised to avert this after spending most of the day in second place, right behind Mitch Guthrie Junior (Red Bull Off-Road Junior Team USA). Guthrie and Ekström got lost at the end of the stage, but the Swede lost nearly ten minutes more than the American, dropping to sixth place in the stage at 11′13″. Guthrie put 3′25″ into Seth Quintero, 3′42″ into Cristina Gutiérrez, 4′08″ into "Chaleco" López, and 4′14″ into Austin Jones, enough to shake up the overall standings, where Guthrie now leads Ekström by 1′09″ and Gutiérrez by 3′22″. Everything will be decided tomorrow in the last special of the race!
In T4, Rokas Baciuška (Red Bull Can-Am Factory) bagged his fifth consecutive win and now has 1 h 46′10″ in hand over Rebecca Busi (FN Speed);
Tomorrow, the ninth edition of the Sonora Rally will tackle deep sand tracks and cross some dune bars before finishing in San Luis Colorado, on the doorstep of Arizona. It will be a special moment for the whole organizing team, which worked their socks off to double the size of the caravan from one edition to the next by rolling out the red carpet for the elite of rally raids.
Darren Skilton, Sonora Rally Race co-founder and organizer: "Tomorrow, the race is heading back to where it all began. It's a town that has supported the rally since the beginning, and the idea [was] doing a big event. We're happy to have the opportunity to bring the W2RC there, and we have a lot of fans and friends there. We want to bring the first edition of the W2RC in Mexico to a close in a successful and safe manner."