Stage 7 was marked by a crash that claimed the life of Paulo Gonçalves, who was taking part in his 13th Dakar. The victories of Kevin Benavides (motorbikes) and Carlos Sainz (cars) take second place, leaving the centre stage to a memorial to Team Hero's Portuguese rider to be held during the daily briefing with all competitors present.
The essentials
The Dakar mourns Paulo Gonçalves, one of the most experienced and beloved champions of the rally-raid family. The runner-up of the 2015 edition and 2013 cross-country rallies world champion crashed 276 km into a special that was ultimately won by his former teammate Kevin Benavides, who tried in vain to assist the Portuguese rider together with Toby Price, the first competitor to reach the scene of the accident. It was a nice tribute on the part of the Argentinian biker, who beat Joan Barreda and Matthias Walkner to claim his first stage win in 2020 after falling out of contention for the overall. Ricky Brabec remains in control of the general classification. In the quad category, Ignacio Casale also defended his lead in spite of Frenchman Simon Vitse's second stage win in a row. The car race again boiled down to a three-way fight featuring Carlos Sainz, Nasser Al-Attiyah and Stéphane Peterhansel, with the Spanish leader of the general classification taking the spoils in Wadi Al-Dawasir thanks to a rock-solid performance. "Chaleco" López surrendered the lead in the SSV category to American Casey Currie, who finished second right behind Blade Hildebrand, now racing under Dakar Experience rules. Finally, Andrey Karginov won the battle of the juggernauts by a slim margin over teammate Dmitry Sotnikov and strengthened his grip on the overall.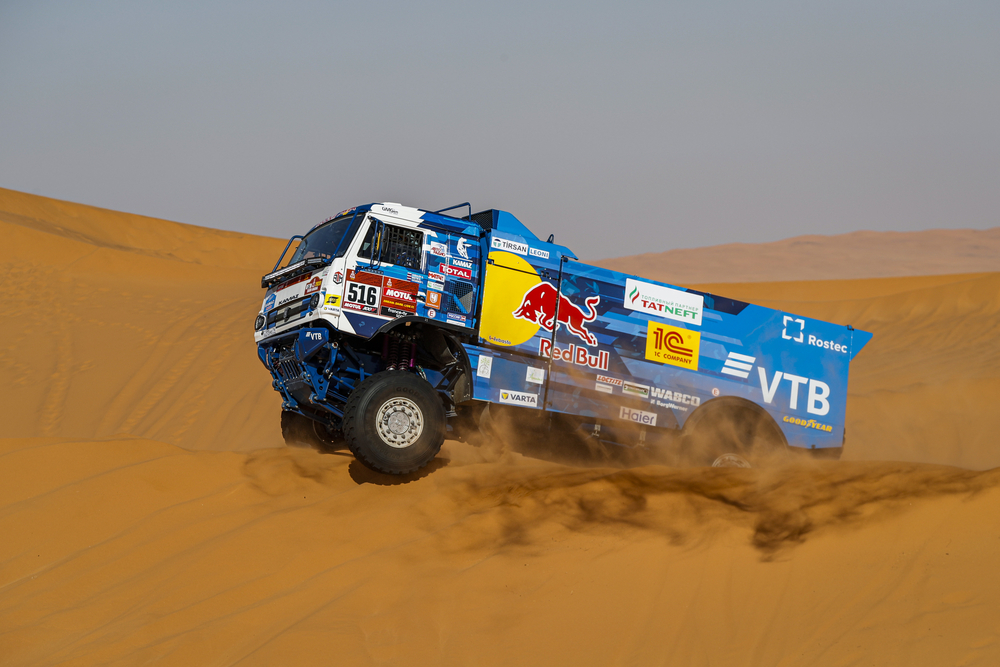 Performance of the day
After coming close to a top 10 finish in Wadi Al-Dawasir, Dakar first-timer Martin Michek continued his progression and wrested the position of top rookie in the general classification from Jaume Betriu with 14th place overall. The Czech, one of the rising stars of the sport after a long career in motocross at the global level, has made no mistakes so far. However, a meagre 37 seconds separate Michek from Betriu, promising a fierce battle between the two men for the title of best Dakar rookie.
Stat of the day
3 seconds. The difference between truck stage winner Andrey Karginov and runner-up Dmitry Sotnikov after 546 km of racing! A wafer-thin margin that amounts to a distance of just 90 metres between the two Kamaz trucks after completing the stage at an average speed of almost 109 km/h…
Story and photos courtesy of Dakar.com