It came down to the final lap after impressive performances by both drivers, but Adam Householder came out ahead of Eric Hardin in an intense Unlimited Truck battle in the California 300 on Sunday. After four brutal laps and more than 300 miles of action in the Barstow desert, Householder made it to the finish line in 6:12:03, clearing Hardin for the overall victory by just over 10 minutes.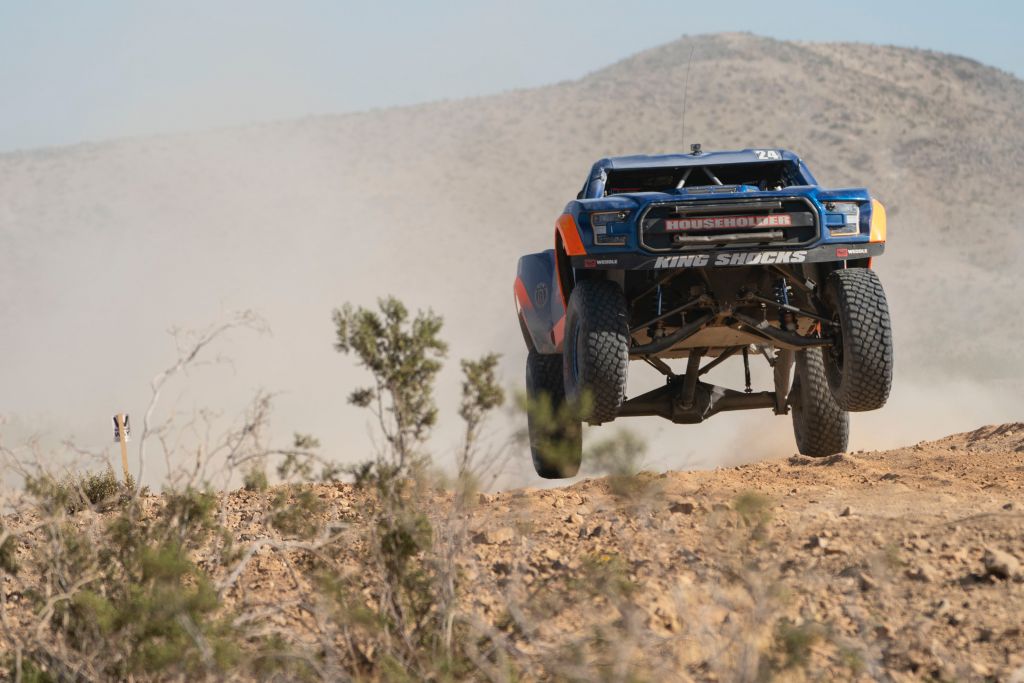 Hardin started first after posting the top time in Friday morning qualifying, rolling off shortly after 8AM. He was followed by surprise addition Rob MacCachren, teaming with Barry Karakas in the Fastball Racing truck, in second, Mikey Lawrence in third, and Householder in fourth. But MacCachren's bid to join his son, Cayden, as an Unlimited Truck winner in the Great Golden State Off-Road Race came to an early end as the #20 truck faced brake issues that took them out of contention.
With MacCachren and Karakas out of contention, Hardin, Householder, and Lawrence would run in the physical top three for most of the day. Hardin and Householder would keep catching one another and spreading back out through the first three laps, but Hardin would have to face multiple flat tires in the challenging Barstow rocks. Hardin would forego tires on his final pit stop with Householder charging, and it proved to make the difference; he'd have to finish the last 15 miles of the race with one tire down. Lawrence would come home third, just over two minutes behind Hardin after taking multiple flats of his own.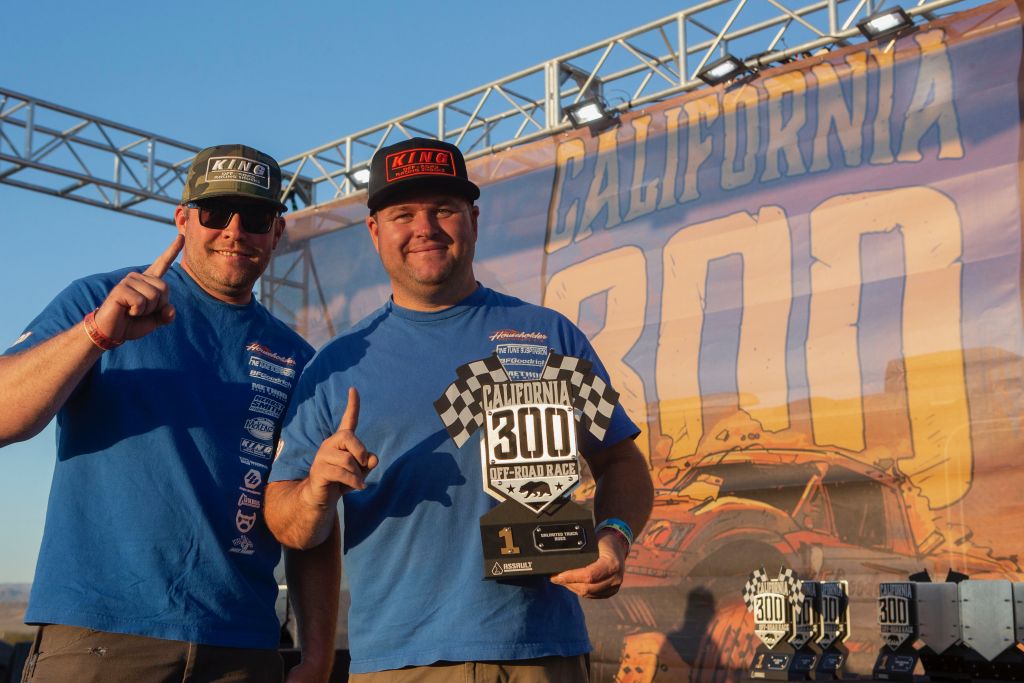 It was a father-son sweep atop the two Unlimited Truck classes, with Householder's father Terry winning the Unlimited Truck Spec class ahead of Pat Gailey after top qualifier Ryan Agius fell out on the third lap. Householder would have the closest margin of victory of anyone on the day, beating Gailey by just two and a half minutes, as they finished fifth and sixth overall. Class 10 winner Nick May would also crack the overall top 10 in eighth, beating Corey Goin for the class win by more than six minutes.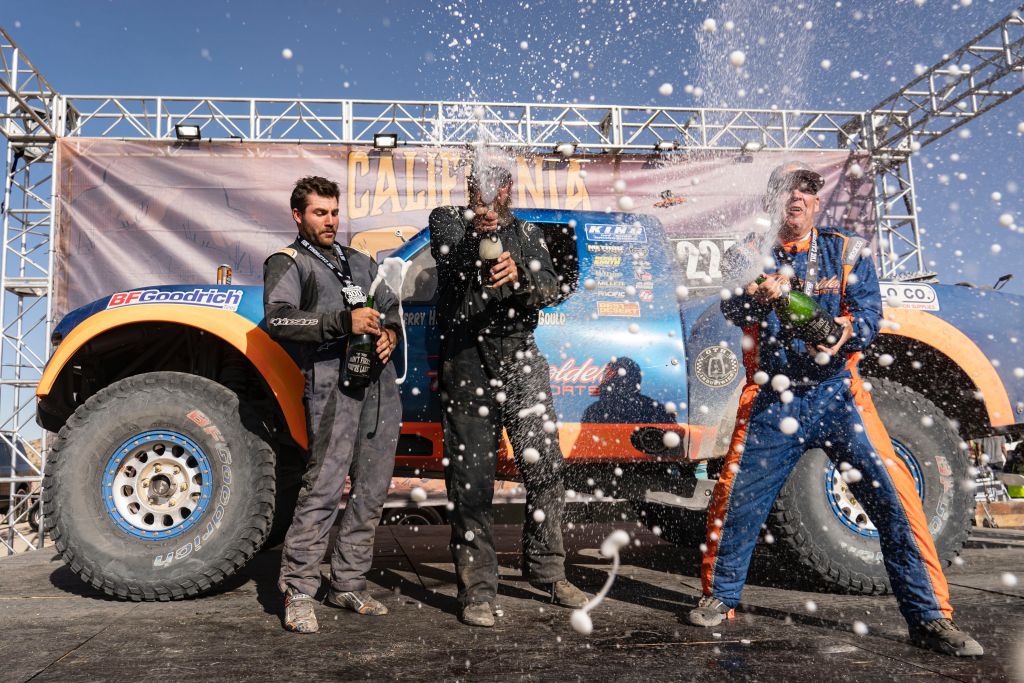 Unofficial top finishers from the 2023 California 300 Unlimited Race are as follows:
#24 Adam Householder (Unlimited Truck), 4 laps, 6:12:03
#79 Eric Hardin (Unlimited Truck), 4 laps, 6:22:10
#85 Mikey Lawrence (Unlimited Truck), 4 laps, 6:24:19
#8 Todd Wyllie (Unlimited Truck), 4 laps, 6:32:19
#224 Terry Householder (Unlimited Truck Spec), 4 laps, 6:51:15
#295 Pat Gailey (Unlimited Truck Spec), 4 laps, 6:53:48
#86 Sterling Miller (Unlimited Truck), 4 laps, 6:56:07
#1003 Nick May (Class 10), 4 laps, 7:10:25
#91 Alexander Wacker (Unlimited Truck), 4 laps, 7:15:04
#L65 Thomas Fichter (Unlimited Truck), 4 laps, 7:15:59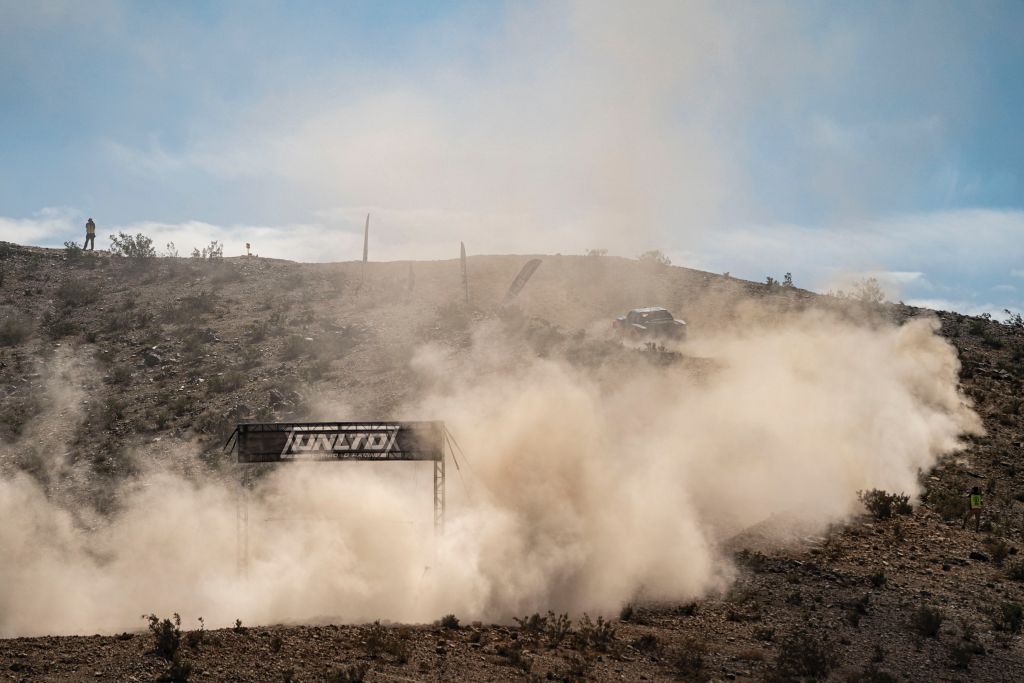 Race results are available at live.thecalifornia300.com. For more information on the California 300, including recaps from all of this year's events, visit www.thecalifornia300.com.