Major updates to iRacing's dirt model have turned the iRacing Off-Road Championship Series field on its head, as the series saw its third and fourth first-time winners of the year at the virtual Bark River International Raceway on Wednesday night. This time, it was a rookie sweep at the front of the field, with England's Joel Blewitt taking the first race and current NASCAR Xfinity Series driver Parker Retzlaff winning the second.
Blewitt nearly took the win in his first event in the series at Wild West Motorsports Park before Keaton Swane got past him, and had entered the night third in points. This time, the Team Gold driver held off his Factory Simsport competitor for the victory, with Altus Esports' Killian Dall'olmo completing the podium. The win set up Blewitt to score the most points on the night, as he took 94 in total thanks to a fourth place finish in the second race.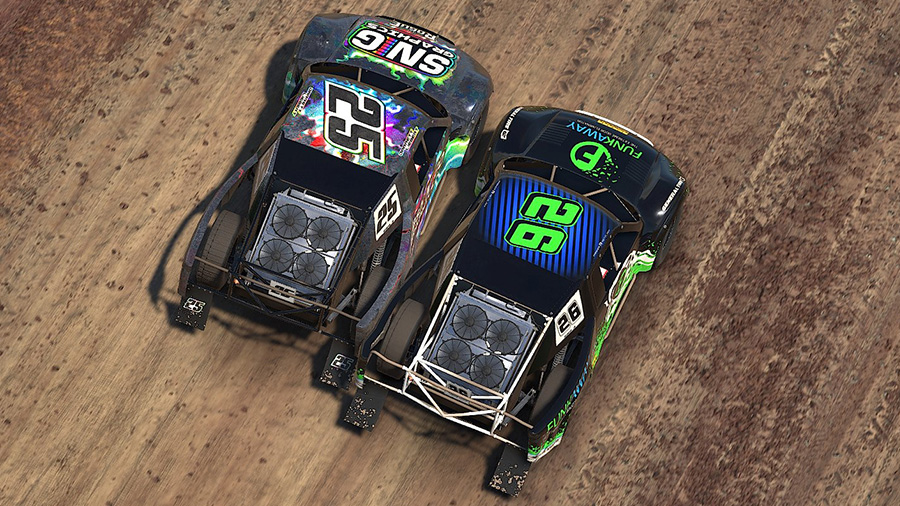 On the back end of the doubleheader, Retzlaff and Team Rogue teammate Jarrett Liebert—himself a previous winner at Wild West—came home with a 1-2 finish. Though Liebert started on pole with the eight-truck invert, Retzlaff got out front early, pulled out a gap, and led every lap. The victory allowed the former eNASCAR Coca-Cola iRacing Series driver to jump to seventh in the series standings. Liebert was able to hang onto second despite a challenge from defending series champion Connor Barry of the Nitro Circus Sim Team, who would settle for third.
iRacing Off-Road Championship Series Round 5 results at Bark River were as follows:
Joel Blewitt, 11 laps
Keaton Swane, -5.585
Killian Dall'olmo, -6.169
Connor Barry, -7.042
Jakob Rafoss, -8.199
iRacing Off-Road Championship Series Round 6 results at Bark River were as follows:
Parker Retzlaff, 11 laps
Jarrett Liebert, -2.463
Connor Barry, -2.886
Joel Blewitt, -3.330
Jakob Rafoss, -5.070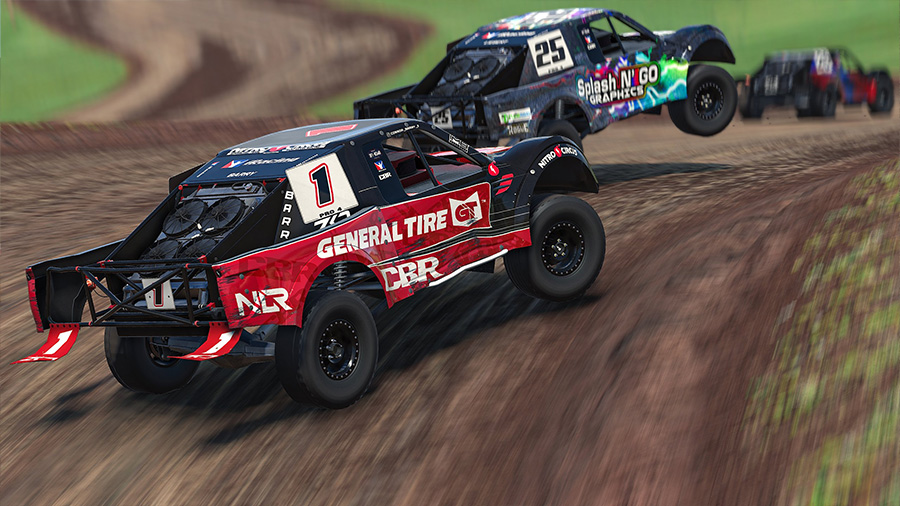 iRacing Off-Road Championship Series points through six of 16 rounds are as follows:
Keaton Swane, 276 (2 wins)
Connor Barry, 271
Joel Blewitt, 258 (1 win)
Jarrett Liebert, 250 (1 win)
Josh Edmundson, 210
In All-Star action, 14 real-world racers, Twitch streamers, and crossover sim racing pros hit the track in the Pro 2 Lite for a doubleheader of their own. The Pro eSports class went 1-2 in both races, with top qualifier Zac Drapkin and former eNASCAR driver Blake Reynolds up front in the first and desert racer Luke Knupp and Drapkin out front in the second. Celebrity class winners Mia Rose and Nate Stewart finished third in each race, respectively. All-Star racers have just one more week in the Pro 2 Lite before the points reset and their Pro 4 series begins.
iRacing Off-Road All-Star Pro points are as follows:
Zac Drapkin, 295 (3 wins)
Blake Reynolds, 284
Luke Knupp, 270 (1 win)
iRacing Off-Road All-Star Celebrity points are as follows:
Nate Stewart, 257
Mia Rose, 241
Keenan Kusan, 228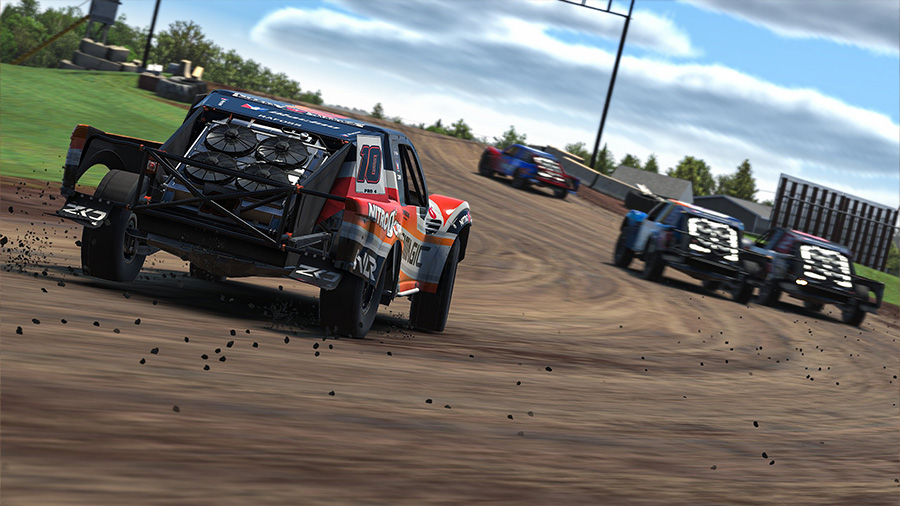 The 2023 iRacing Off-Road Championship Series continues next week with a return to Wild Horse Pass Motorsports Park. Coverage will kick off once again at 8PM ET across iRacing social media channels with the All-Star action, followed by the sim racing pros at 9PM ET.
For more information on iRacing and for special offers, visit www.iracing.com.
Images via Justin Melillo and Jarrett Liebert