October 21, 2023
Imperial Dunes, CA
You never know what the dunes will bring and that is exactly what the final stage of the 2023 Rebelle Rally brought to the competition. Most teams know that their Day 7 will end with the Glamis sand dunes, but today's final stage was a nail-biter for the top competitors vying for the podium. It was an extremely hot day with 100+ degree temperatures that softened the sand before the morning was even over. Many of the teams saw their vehicles getting stuck and, in a few cases, even overheating in the grueling heat.
Viewers watched the battle for the 4×4 title unfold throughout the day and in the end, the Rally saw its first ever electric vehicle at the top of the podium. Team #187 Limestone Legends (Lilly Macaruso/Alex Anderson) took their Rivian R1T to first place after a rollercoaster day of competition. Part of the Electrified Designation, this select group of competitors is powered by Renewable Innovations. They have worked with Rebelle Rally founder, Emily Miller to develop this unique program with the goal of rapid remote charging. Rounding out the podium was past champion Team #129 4xEventures (Nena Barlow/Teralin Peterit) who came in second with the Jeep Wrangler Rubicon 4xe and Team #188 Dirt Hustle (Laura Wanlass/Maria Guitar) who finished third with the Ford Bronco Raptor.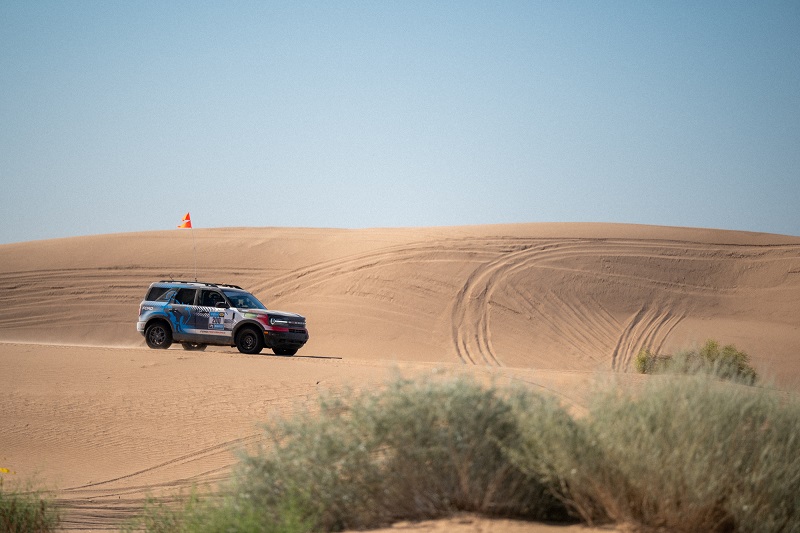 In the X-Cross™ class, the competition was just as heated when the first-place finisher Team #200 Built Wild (Melissa Fisher/Jessica Moore) won with their 2022 Ford Bronco Sport. This is a four-peat for the Bronco Sport, giving the marque a strong foothold in the crossover class. Rounding out the podium were two brand new vehicles that showed their prowess. The BMW X2 M35i piloted by veteran competitors on Team #205 Wild Grace 8.0 (Rebecca Donaghe/Sedona Blinson) finished second with Team #206 KiAloha(Verena Mei/Susie Saxten) in the 2024 Kia Telluride X-Pro not too far behind them in third.
Teams will now reflect on the journey they have just completed and already start their preparation for 2024. Competition. Registration for the 2024 Rebelle Rally is now open. A limited number of spots will be reserved for rookie teams. Follow the link below to register now.