When it comes to recent results in the SCORE World Desert Championship, there aren't a lot of drivers with more momentum right now than Rodrigo Ampudia. Racing his Ramp SXS-built Can-Am Maverick X3, Ampudia's last two starts have seen him take a pair of Pro UTV Forced Induction podiums: a second place finish in last year's Baja 400, and a win to kick off this year at the San Felipe 250.
They're the latest in a long line of triumphs for Ampudia, who's stood on top of the box in just about every type of off-road racing imaginable. We caught up with him to talk about his race, what he loves about the Can-Am platform, paying tribute to Ken Block, and what he's got in the plans alongside this year's SCORE campaign:
First things first: congratulations on the big win in San Felipe! How does it feel to kick off the season with a win?
It was definitely super exciting! To be able to come out swinging at the beginning of the season, especially after a very unsuccessful King of the Hammers race, I feel very confident on the remainder of the SCORE season. Our plan was to take it easy. We knew that the car that was leading was on one—we passed him around Mile 8 or 10, and he just passed us back pushing really hard. I was like, "we're sticking to our plan no matter what," and we stuck to the plan, and it paid off really well.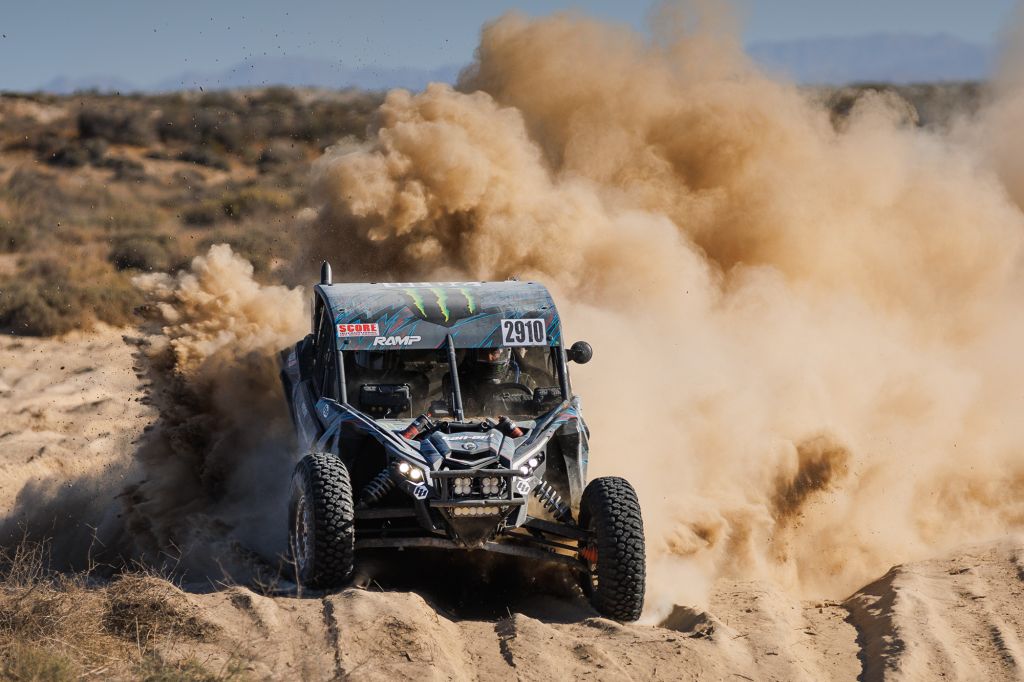 What were some of the biggest changes for you heading into this race compared to last year?
The biggest difference for me from last year was that I've been getting a lot more involved in our family businesses, so I didn't really have time to go pre-run. For example, the northern loop section, I only pre-ran it once. I think that's where we fell back the most, because (others) had some really good lines. We posted our video yesterday about the race, and you can see I'm asking for a rag, and (my co-driver) is like "he's over there!" I'm like, "I know he's over there, I want a rag!" (laughing) I thought it was super funny.
I invited one of my good friends to be my co-driver and switch it up, that's something I've been doing, and it was fun. We kept the spirits light, funny, and entertaining inside the car, so that made it easier to stick with the plan of being conservative, riding our pace, and knowing what the car can take. I just ran pre-run pace the whole race, and it just paid off. My thought was, "if a stock car can make it, my racecar should make it!"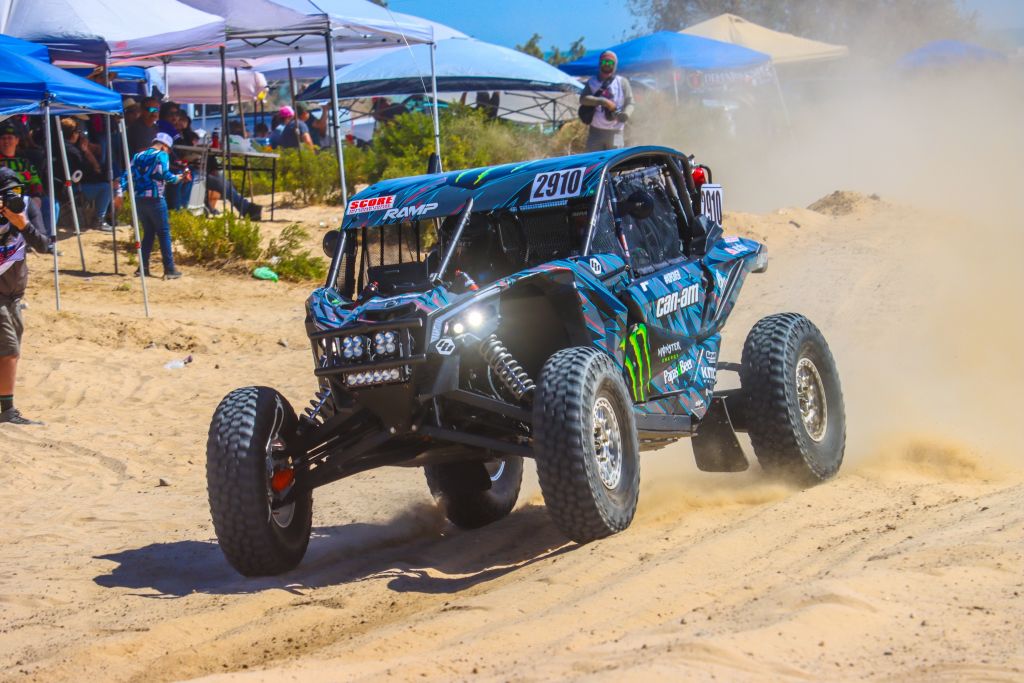 How about some of the biggest challenges you had to face on race day? What was tougher to face—the course itself, your competition, or something else?
I think the biggest curveball that we all got was that (SCORE) made a course change and added 20 miles. With those extra 20 miles, according to my mileage, I was basically going to get to each pit stop with half a gallon or less in my tank! I didn't want to risk it, so I planned to stop five times—two full pit stops and three splashes, just to be safe. I planned three splashes, but I only stopped at two because I was able to track my consumption. I was definitely being extra cautious on not running out of fuel to get to the finish line. It ended up that I would've been able to make my two planned stops work, but we would've really been pushing our luck.
Our whole plan was to be conservative and take care of the car. If we finished on the podium, that was awesome, but my goal was to finish the race without having to get out of the car. And even though we had to stop five times in the last 40 miles, I didn't have to get out of the car, so I guess that goal was accomplished!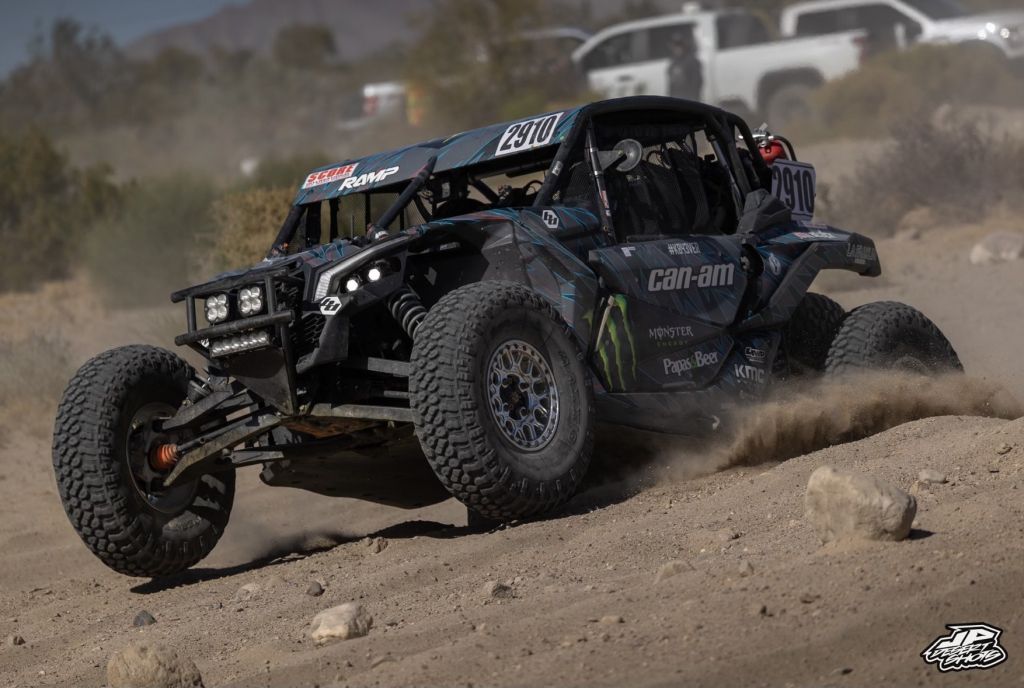 As somebody who's run all sorts of off-road racing, what's unique about the challenge of UTV racing right now? What makes your Can-Am the right platform for you to go out and be competitive?
I feel that my approach is very different than 99% of the field. Throughout my career, I've always wanted a car that could last through anything and I could just bomb stuff, and now I've built a platform where I can push the car when needed and slow down to go around a rock if I need to. That's kind of what my build against other Can-Ams is, and I think with all these new, big teams coming in, it's more about getting to know the car, knowing how much you can push it and when to take care of all the parts. It's a four-wheel drive vehicle that's capable of going super, super fast, but the bigger classes destroy the race course. So I think that's where the balance of taking care of the car and not just going all-out the whole time is, and where I've matured.
I've raced basically every single class of the sport, from 1600 to Class 8s and Trophy Trucks, Pro 2s and Pro Lites, and now the Can-Am, which is my favorite platform. The pre-run and race cars are similar cars, so for me that's just fun, and I love it! It's a good time. I have friends come with me when I'm pre-running and friends come with me when I'm racing, and it's all about having a good time. I think that's what life's all about!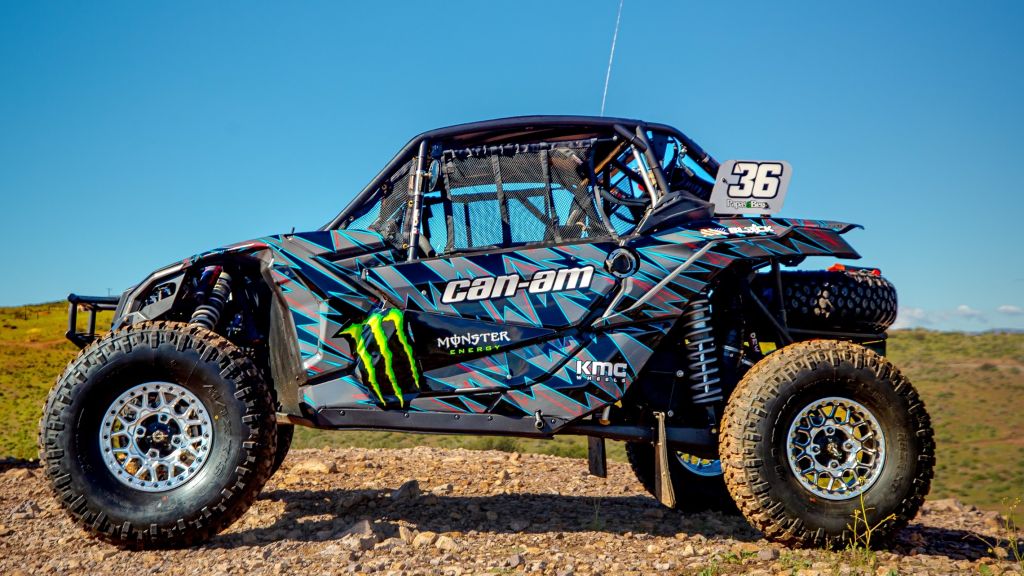 Your Ramp SXS-built Can-Am has been highly competitive anywhere that you've brought it. What are some of the key changes you made to get this build race ready, and were there any major changes that you made for this season?
This Can-Am is the same Can-Am that I raced at the Baja 400 in 2019, and I got first in class in Pro Stock and third overall. Since then I knew it was possible to win the Overall in Stock Pro class because Can-Am has such a solid platform, that's why my race Can-Am is very similar to one off the lot with many stock parts. For the 2020 season we decided to go race in the Pro Turbo class, for me the hardest thing was to learn what breaks the car and that was a big learning curve, but it's basically been the same Can-Am since 2021.
We've had the support of SDG, Evo Powersports, Zollinger, Tatum UTV, Baja Kits and RCV Axles who helped me learn a lot about racing my Can-Am. KMC Wheels came on board this year, so that's one of the other big changes that we had on our car. We're excited about that new partnership, and hopefully we can keep growing with KMC and their whole program. Another big change was that we went back to a carrier bearing for this year from RaceCraft.
Other than that, it's basically all stock parts. We run OEM front diff, OEM drive, motor, transmission, and clutches. I feel that I can run my stock car as hard or faster when I'm pre-running, so during the race it's just not getting over your head and just not making any mistakes, not hitting that big rock or forgetting about that big ditch.
Having a strong stock platform with Can-Am sounds like a huge key to your success, then!
That's my thing: I've always wanted to race a stock car to see how good I can do. I feel like they're just so strong out of the dealership. I see so many people that change all this stuff to their cars and pre-runners, and they have all sorts of issues. I'd just rather keep it stock.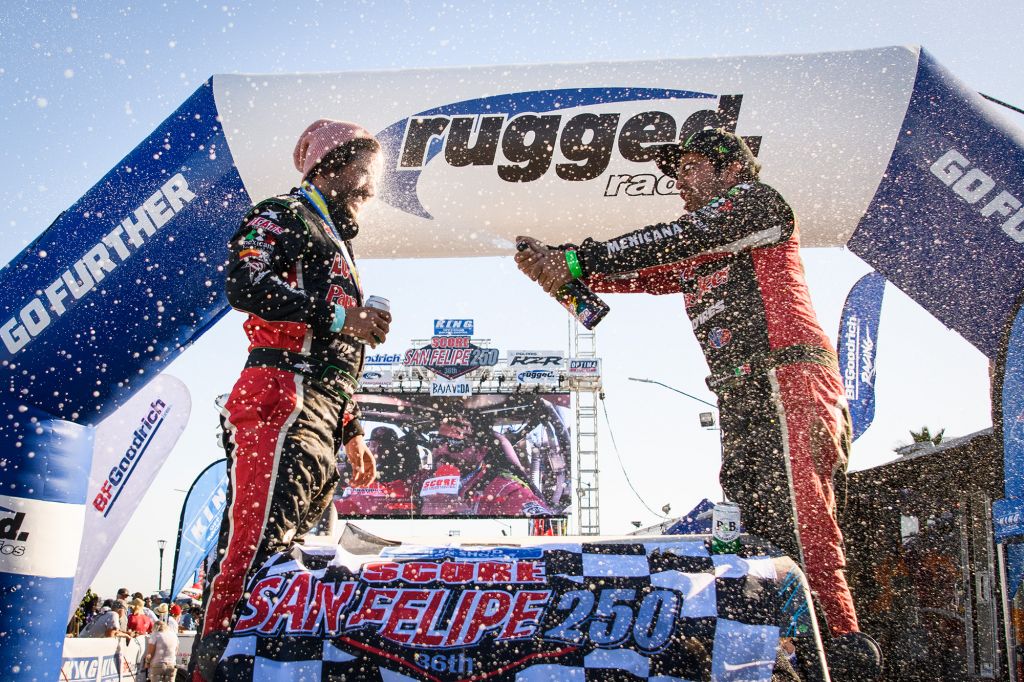 One of the things that I'm sure was very special for you was getting this win in a tribute livery to Ken Block, who I know was a great friend of yours and another member of the Can-Am family. What does it mean to you to have carried his colors for this win?
Yes it was super special! At first, we only planned to do it for King of the Hammers, but I was frustrated that I didn't perform to Ken Block's legacy and standard. I went there to win, and I didn't finish. So I was working on a new livery, and then I was like "you know what, I'm going to keep this livery and I'm going to go make the Block family proud. I'm going to put it on top of the podium—I'm going to do good, be conservative, and I'm sure at the end it'll work out." And it worked out!
So we're thinking of maybe keeping it the rest of the year, I don't know. I'm still debating it. Maybe making one of my own that's inspired by his style, or keeping it and putting little golden KB logos on it for every win we get with it!
Between last year's Baja 400 in second and winning San Felipe this year, you're on a hot streak in SCORE. How confident are you in your chances of taking the Pro UTV FI championship this year?
I'm feeling really good. We didn't race the 1000 in our Ramp Can-Am, so our last race in it was the 400, and we got a podium. We were leading, and we just had a cotter pin go bad. So we made it to the finish line on three wheels, and we lost by about four minutes, so I was pretty bummed. And I missed a VCP, so that brought us down another ten minutes!
But I feel confident with the car. I've learned where I can push it and where I need to save it. The platform is so good. It's well balanced in power-to-weight ratio, so I try to keep it as stock as possible to keep it close to that same power-to-weight ratio you get from the dealership.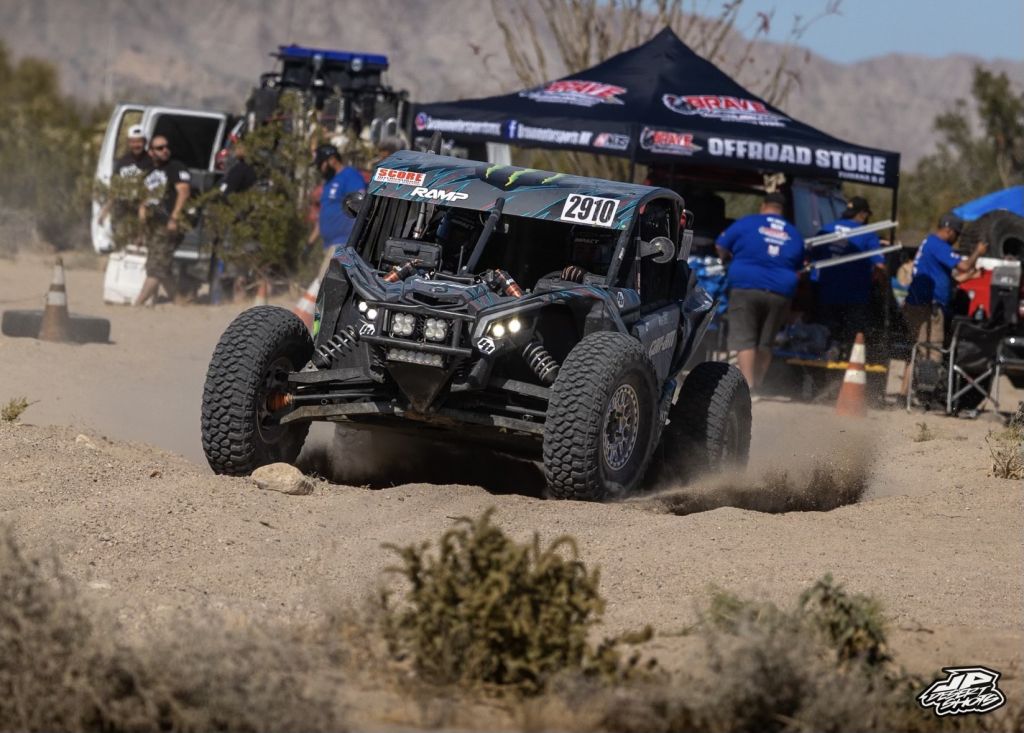 Finally, what else do you have on the calendar for this year? Is there anything else big in the plans besides running SCORE?
There's a cool Mexican show for Claro TV that we're going to do—they want to come and check out Baja, and I'm going to take them in one of my RAMP SXS builds and show them what we do and what Baja's about. Those cool little restaurants on the side of the road, like Acambaro or Coyote Cal's, that type of stuff. Then I'm doing Cameron Steele's ride—it's going to be super cool to go down and do Trail of Missions in my Can-Am.
We also built a car for my brother that he raced at King of the Hammers. He was like "I want a Trophy Truck in a Can-Am!" so that's basically what we built him. He'd like to be able to race more, but he's super busy with all the stuff that he's got on going on with the festivals. Maybe we'll have another race in the States that works with our schedule, where we'll be able to go out there and rip around and see which brother wins. So it's a fun brother rivalry and all about the bragging rights.
Images via Can-Am