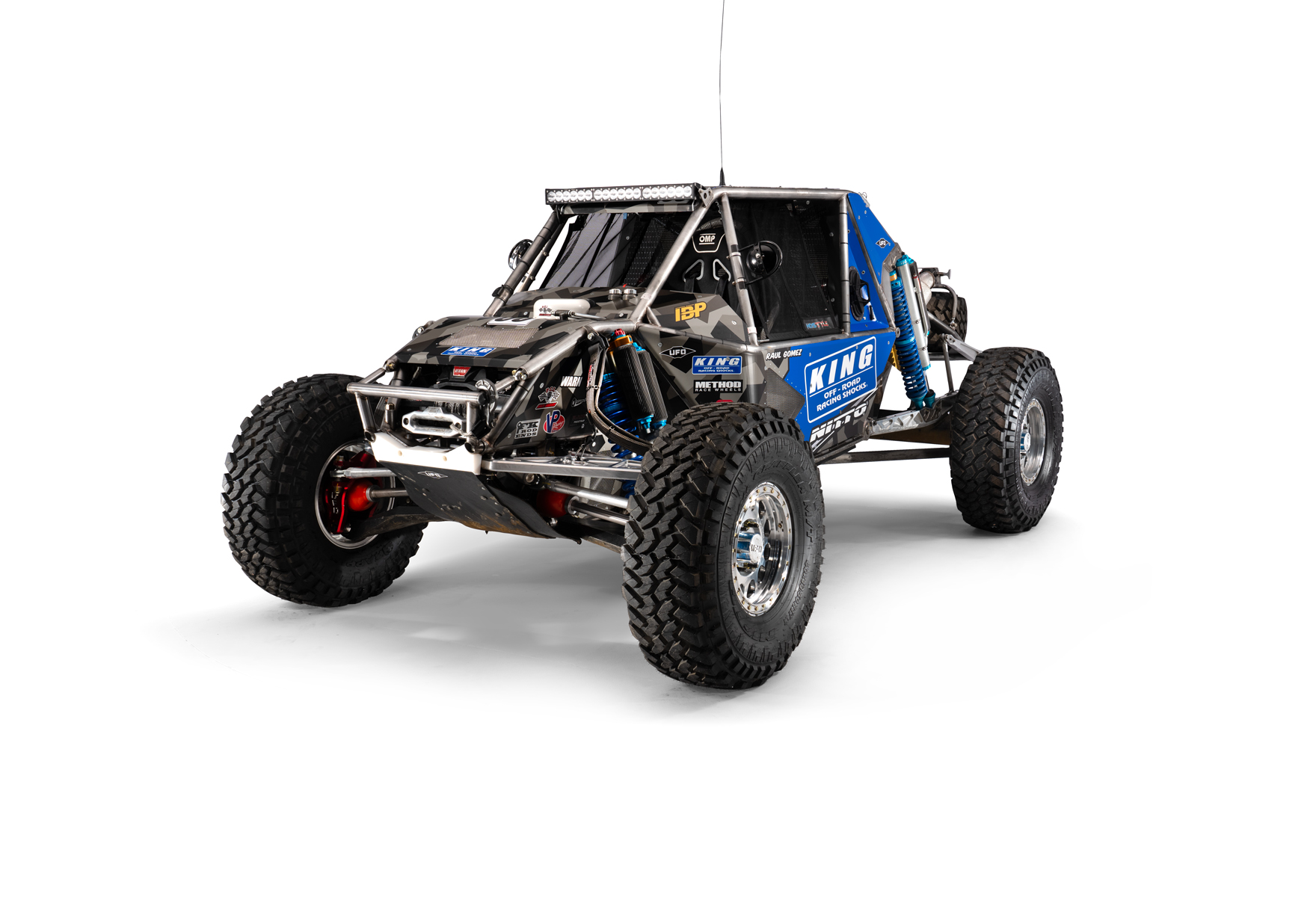 There have been a lot of amazing off-road race vehicles built over the past 50+ years but the true test of a vehicle is winning races. Sadly some vehicles never get matched with driver capable of driving the platform to it's potential. That is not the case for the UFO Motorsport's "El Diablo 2.0" Ultra 4. Designed and built by UFO Motorsport's Joe Thompson this vehicle has won King of the Hamers twice back-to-back ploted by Raul Gomez.
This 4- Wheel drive beast affectionately named "El Diablo 2.0" puts down 870 horsepower with 760 ft lbs of torque creating the perfect weapon for conquering the mountains of Johnson Valley. This remarkable vehicle is built with a 4130 chromoly steel tube framing weighing in at 5700 lbs with 21 inches of travel in the front and 27 inches in the back all set on 40″ Nitto Trail Grappler K-Spec Tires.
The Tubeworks CrossTie XLP differentials allow the El Diablo 2.0 to run in constant 4-Wheel Drive giving the vehicle traction all the time. The UFO Spec hi-low range box splits the torque of the Dougans 8 stack perfectly for massive gnarly rocks the Hammers is known for. Check out all the specs of this 2x King of The Hammers winning vehicle.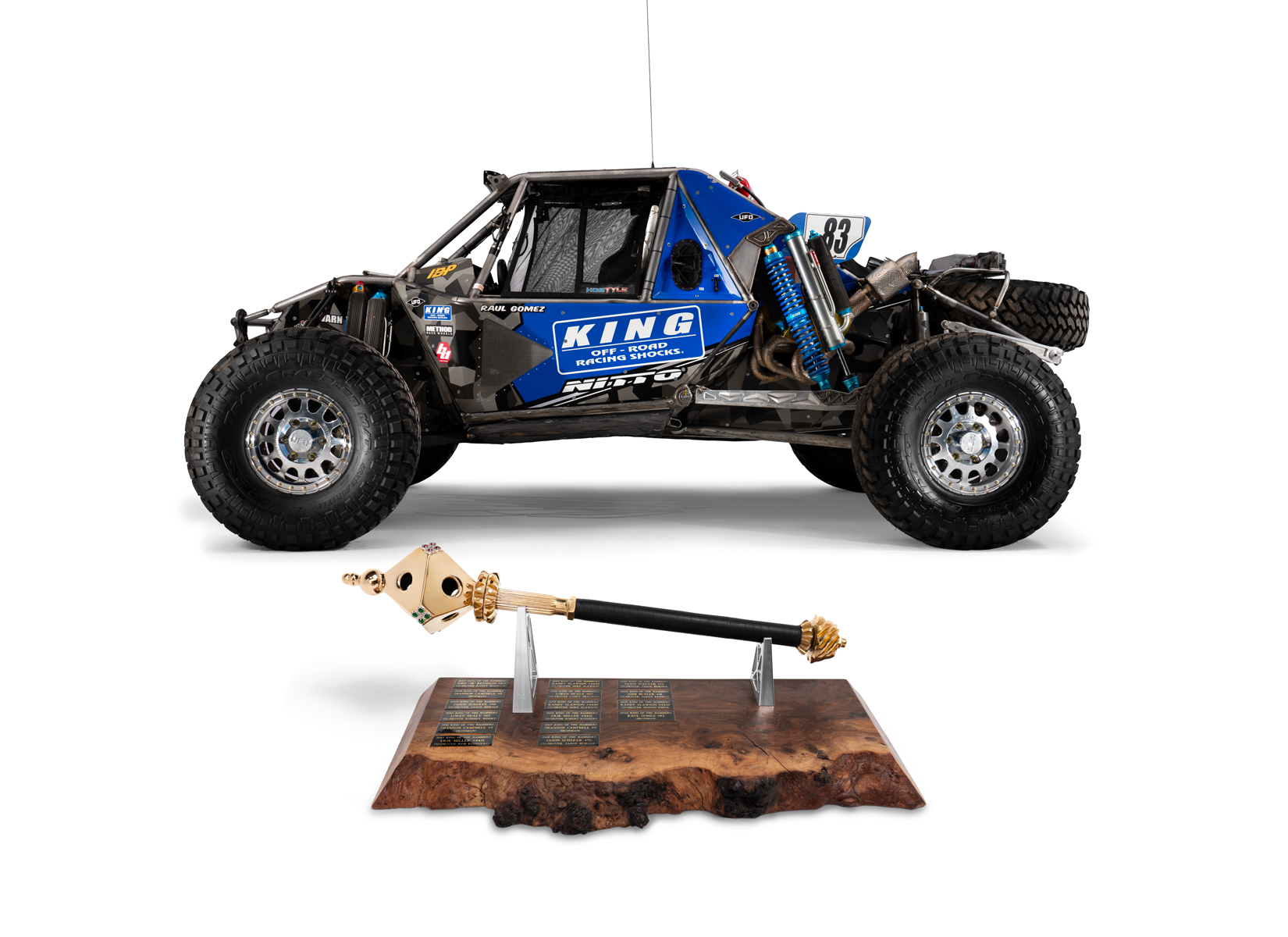 UFO Motorsport's "El Diablo 2.0" Ultra 4 Vehicle Specs:
| | |
| --- | --- |
| Owner: | Raul Gomez |
| Builder: | UFO Motorsports |
| Date Completed: | February 2022 |
| Chassis #: | 1 |
| Wheelbase: | 118" |
| Track Width: | 91-92″ |
| Weight: | 5700 lb |
| Wheel Travel: | Front: 21″ – Rear: 27″ |
| Paint/Graphics: | KING Shocks Designed Wrap |
| UFO Custom Aluminum Panels: | UFO Custom Aluminum Panels |
| Lights: | Baja Designs |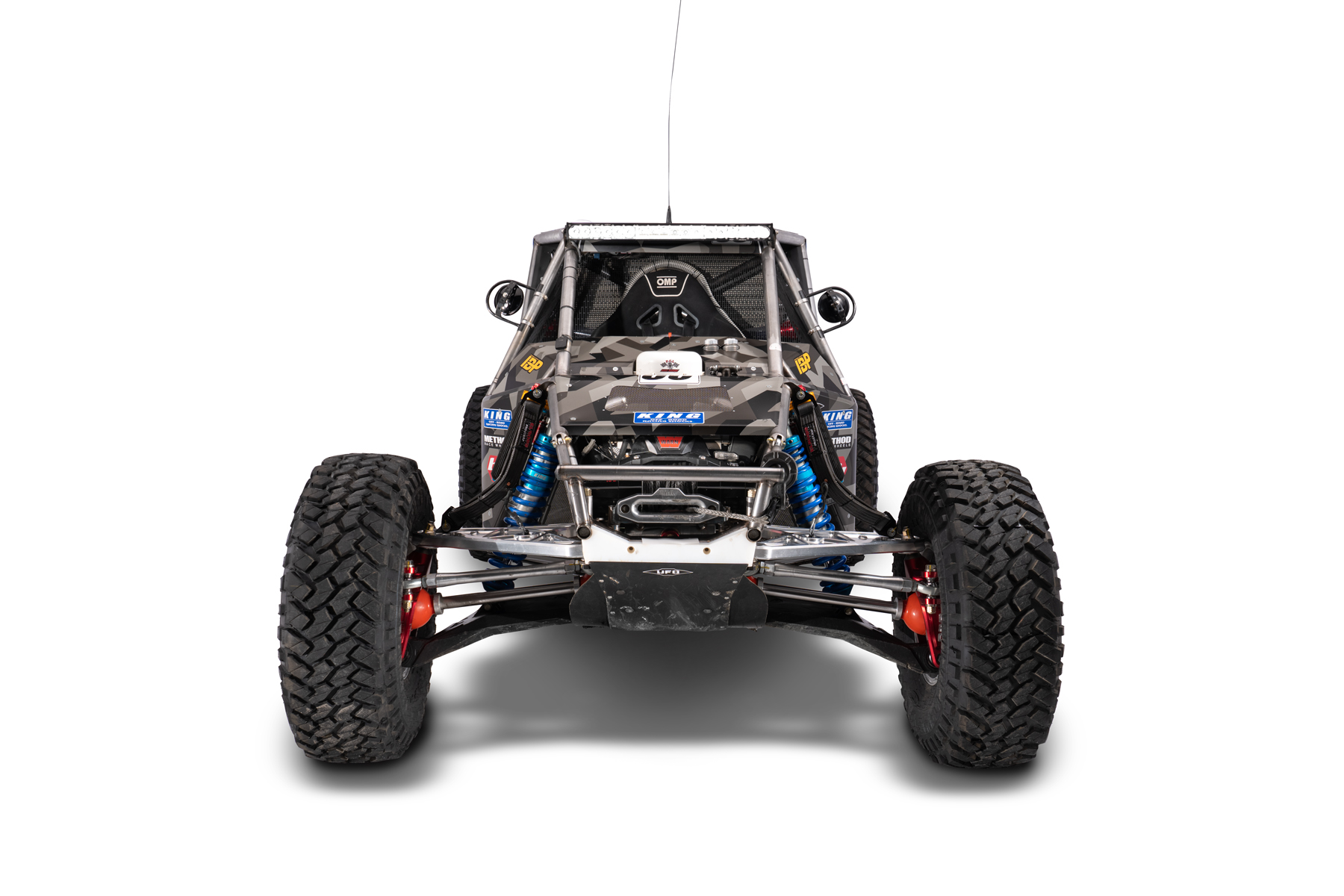 Performance:
| | |
| --- | --- |
| Engine: | Dougans DR10 474ci 8 Stack V8 Engine Package |
| Horsepower: | 870 hp |
| Torque: | 760 ft lbs |
| PWR: | .153hp/lb |
| Transmission: | ATO Performance TH400 |
| ECU: | MoTeC engine management system |
| Wiring: | Racetune |
| Cooling: | CBR Performance |
| Exhaust: | UFO Custom Equal Length Headers |
| Plumbing: | UFO – Gomez Brothers Racing Custom |
| Driveline: | UFO Custom |
| Differentials: | Tubeworks CrossTie XLP |
| Rear Housing: | Tubeworks, UFO Spec |
| Fuel Cell: | Pyrotect, UFO Spec |
| Brakes: | Alcon |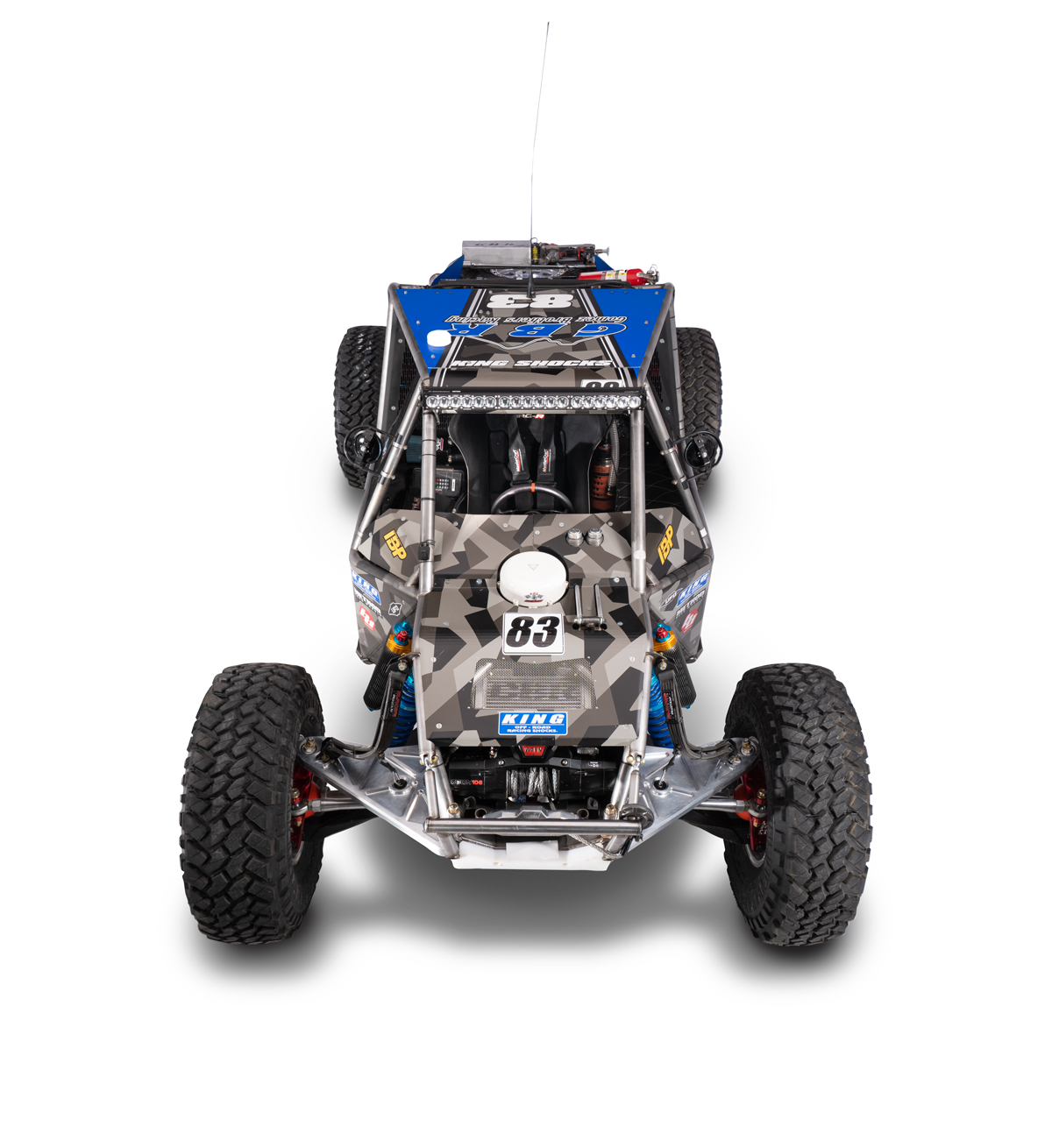 | | |
| --- | --- |
| Tires: | 40″ Nitto Trail Grappler K-Spec |
| Wheels: | 17″ Forged Method Race Wheels |
| Steering: | Howe Performance Steering Box, UFO Custom Ram |
| Front Suspension: | A-arm IFS, KING 2.5 Coilover and 3.5 5 Tube Bypasses |
| Rear Suspension | Upper Trailing-Arm 4 Link, KING 2.5 Coilover and 3.5 5 Tube Bypasses |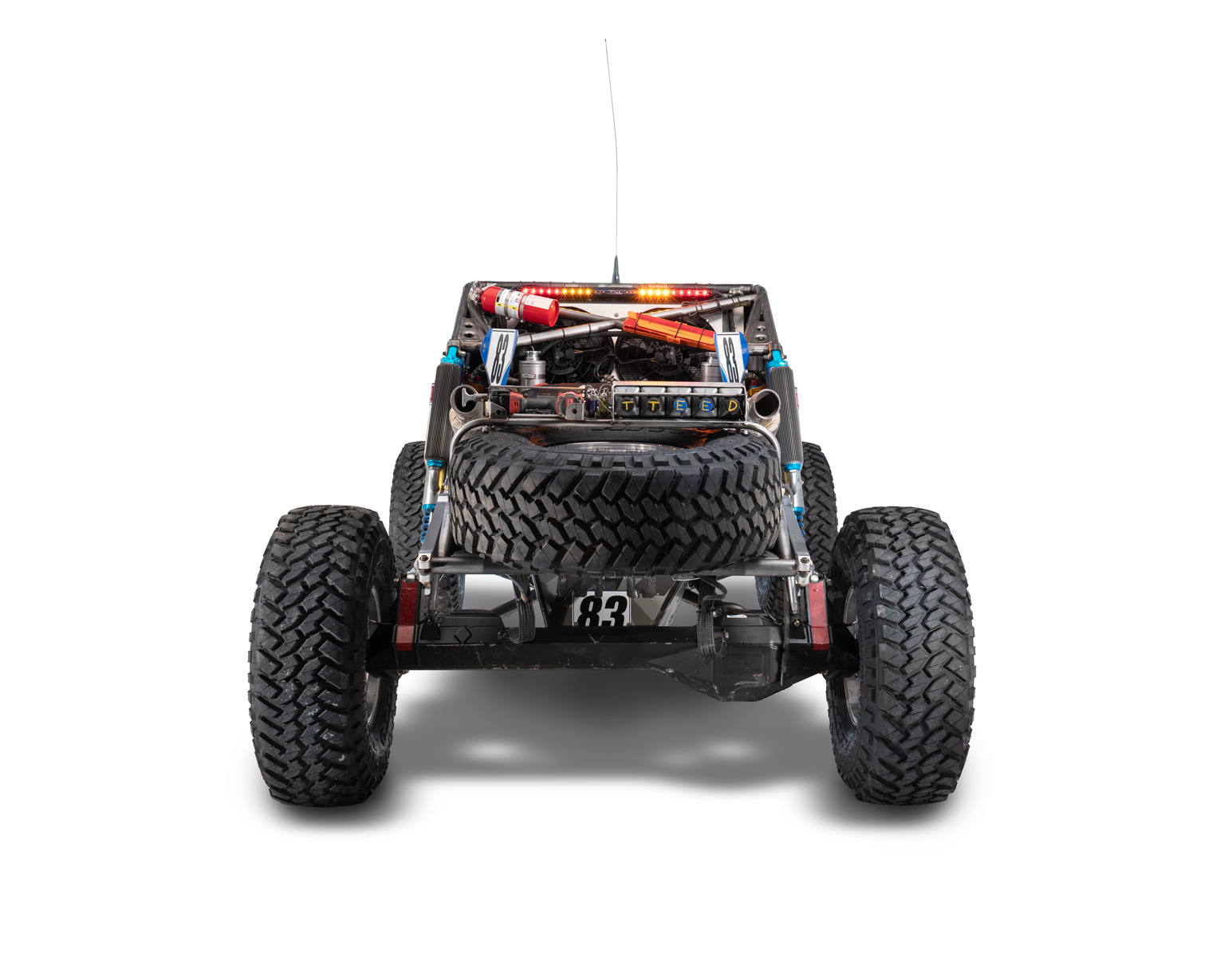 Interior:
| | |
| --- | --- |
| Navigation: | Lowrance GPS |
| Communication: | PCI Race Radios |
| Seats: | OMP WRC-R |
| Nets & Belts | Hostyle Safety Nets + Impact Seat Belts |
| Safety: | Impact |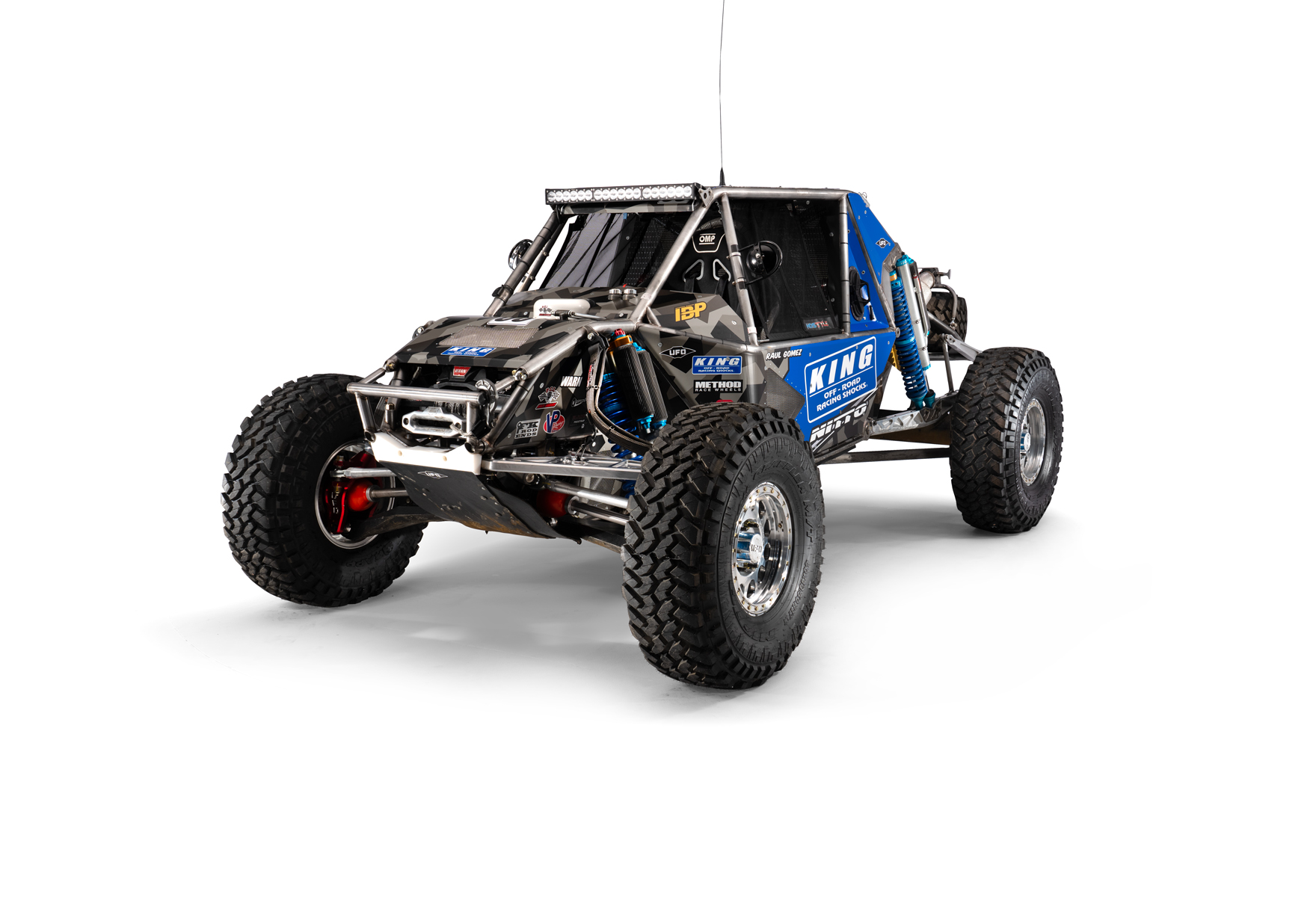 Notes:
– All dimensions should be imperial and metric. Example: 10 inches / 254 mm