The MagnaFlow Group's brands Camburg Engineering and MagnaFlow have come on board the newly formed Unlimited Off-Road Racing program as series sponsors.
"We are thrilled to have Camburg and MagnaFlow partner with us for the 2024 season!" said Unlimited Off-Road Racing CEO Matt Martelli.  "Camburg has been one of the leading brands in high-end suspension systems. They race what they sell and have been a part of off-road racing culture for over two decades. For 2024 they are fielding a Camburg-built Unlimited Spec Truck with championship driver Kyle Jergensen behind the wheel which will undoubtedly prove to be a championship combo. MagnaFlow has a tremendous brand with a global reach and has been making the best products in the category for over four decades. We are excited to work with them to unlock the value of off-road racing with their brands and products."
In December of 2022 the MagnaFlow Group acquired Camburg Engineering, diversifying their portfolio beyond its traditional business.  A leader in performance exhaust and emissions control products, the MagnaFlow Group extended their reach into suspension. These two iconic brands now take their next steps together, as they take part in the Unlimited Off-Road Racing series.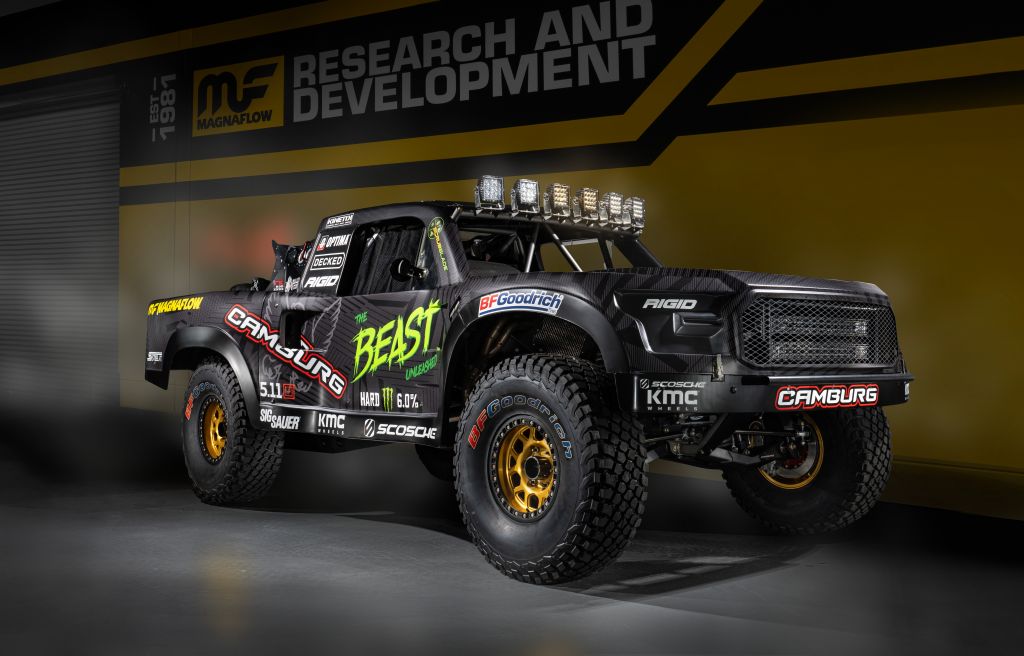 "The Martellis and I have always shared a common vision of bringing off-road racing to the masses. Now being a part of the MagnaFlow Group we can support the future and growth of off-road racing in the United States. Unlimited Off-Road Racing knows how to promote off-road races. Keep your eyes on us, more is coming," stated MagnaFlow VP of the Camburg Division Jerry Zaiden.
Jason Campbell, MagnaFlow VP of Engineering Camburg Division, stated, "We are excited to be a part of the race community and give back to the space that we use to develop and test our products. When we say race proven we mean it, and racing in the California, Arizona and Nevada deserts gives us the world's most challenging test bed to truly prove our products."
"We have a global brand and amazing products, and now we get to activate in off-road culture in an authentic way with off-road racing as the proving ground for our products and technology. Partnering with Unlimited Off-Road Racing is the next stage in the growth of the MagnaFlow group as we move into suspension and beyond. We are also proud to be supported by the best sponsors for our race team including the Beast Unleashed, Scosche Industries, Sig Sauer, 5.11, KMC Wheels, Rigid Industries, Decked, Bully Dog, Optima Battery, Scrubblade, FK Rod Ends, Steel-It and BFGoodrich." stated MagnaFlow VP of Strategic Business Growth Jeff Hermann.
Details regarding racer registration, sponsorship packages, exhibitor vending, spectator tickets, camping, and parking passes for Unlimited Off-Road Racing are live on Unlimitedoffroadracing.com.
About Unlimited Off-Road Racing

Unlimited Off-Road Racing was formed in 2023 to promote the sport of desert off-road racing, the off-road industry, and to expand the reach of off-road companies beyond the industry and into the homes of every off-road race fan, globally. The Parker 400, Mint 400, and California 300 comprise the Unlimited Off-Road Racing Series.
About The MagnaFlow Group
The MagnaFlow Group is a family held company based in Southern California that specializes in undercar and performance automotive products. The MagnaFlow Group brands have a proven reputation for over 40 years for delivering quality and innovation in the automotive industry. MagnaFlow Group serves the industry with its MagnaFlow, BRExhaust, ECT (Environmental Catalyst Technology), and Camburg Engineering brands.