Elk River, Minn. ~ The holiday break gave competitors of AMSOIL Championship Off-Road, presented by the U.S. Air Force, a chance to collect themselves and fix what needed fixing for the rest of the busy summer schedule.
Teams left the Badger State and four rounds of racing behind for the North Star State and two rounds of tight, fast action at the popular ERX Motor Park in Elk River, Minn. The racing can get as hot as the mid-July sun at ERX, and door-to-door competition was a heated affair on Friday's opening round.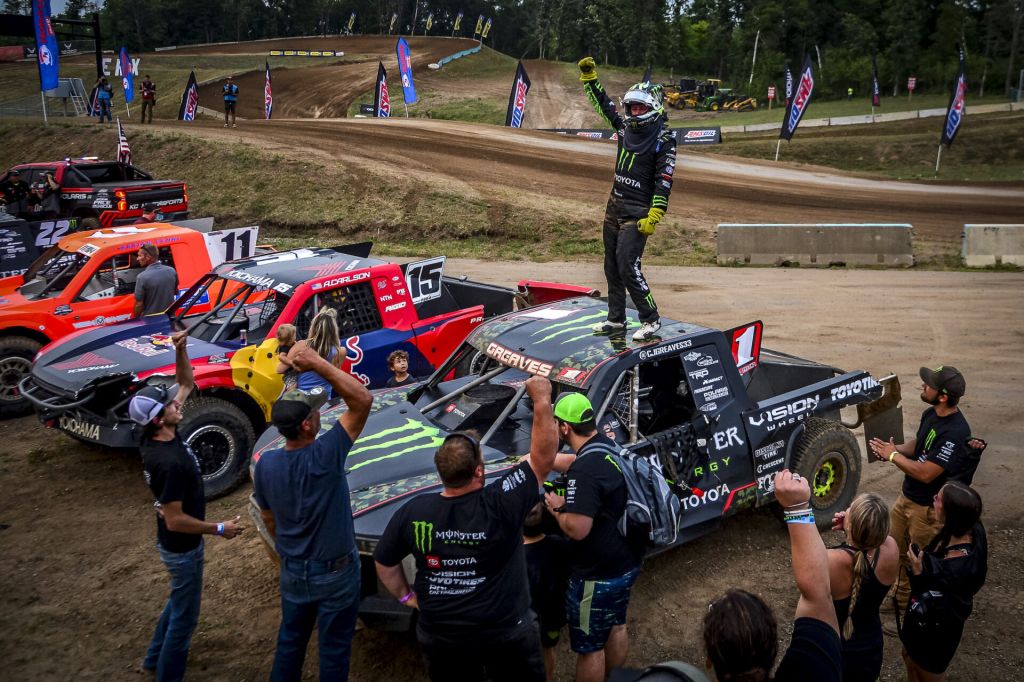 Greaves, Carlson Finish 1-2 in Pro 4
Nearly every lap of this year's Pro 4 class has been an edge-of-your-seat affair.
After CJ Greaves opened up with a weekend sweep in Antigo, Jimmy Henderson and Cole Mamer came out swinging in Crandon. At ERX, the hometown kid Andrew Carlson took his shot at slowing down the defending champ. An excellent race turned into a fantastic finish, with a bit of drama filled in at the end.
Carlson started on the pole and took advantage, winning the opening drag race with RJ Anderson for the first-lap lead. They swapped spots and traded paint for the next several laps before Anderson put it on two wheels.
In the meantime, Greaves had shuffled back to fifth and was looking for an opening. He found a fast line late in the race and was able to close the gap on Carlson after the restart. Greaves caught Carlson on the final lap, and the two went door-to-door. He moved past Carlson on the last lap, sneaking under the Red Bull truck on the tight 180-degree turn. It marked his third win of the season, while Carlson reached his second straight podium. Adrian Cenni finished third.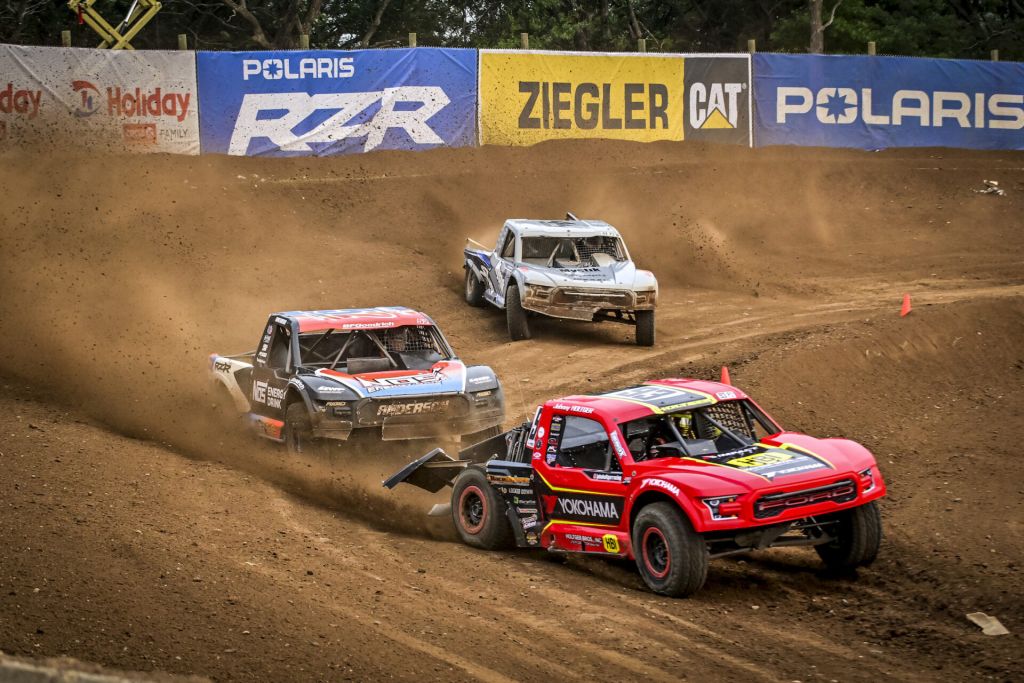 Holtger Holds Up in Pro 2
The two-wheel drive behemoths have embarked on a youth movement over the past few seasons, and it's become anyone's guess on who will win on any given race day. So far in 2023, five rounds and five different winners in the youthful and competitive Pro 2 class.
The latest man to stand atop the U.S Air Force Pro 2 podium is Johnny Holtger, who went wire-to-wire for his first win of the season. With the track getting chewed up, Holtger was unfazed, despite heavy pressure from points leader Mickey Thomas and Ronnie Anderson.
"I was making little mistakes here and there," said Holtger. "My spotters like, 'Dude, come on. You gotta be consistent.' These guys were driving their butts off, and they were right on me the whole time."
Anderson was making his 2023 season debut at ERX and showed off his impressive driving skills. He started third and moved into the runner-up spot on lap five. He then joined forces with Thomas to apply heavy pressure on Holtger, but neither driver could find a way around the race leader. Anderson held off Thomas for second.
Greaves Back On Top at ERX
Kyle Greaves has won at least one race at ERX each of the past three seasons. Make that four straight years that the Pro Lite champ has sat atop the Pro Lite podium in Elk River.
Greaves had a bit of work to do to finish with his second win of the year. He started fifth, took the lead on lap five, gave it up, and then took it back on lap seven. After that, he went untouched for his fourth trip to the podium in 2023.
Trey Gibbs is still looking for his first win at ERX, but he continued to keep Greaves honest. The round four winner led for a pair of laps early, eventually finishing second. Madix Bailey started deep in the field in seventh but worked his way into the third position to earn his second podium finish in the past three races.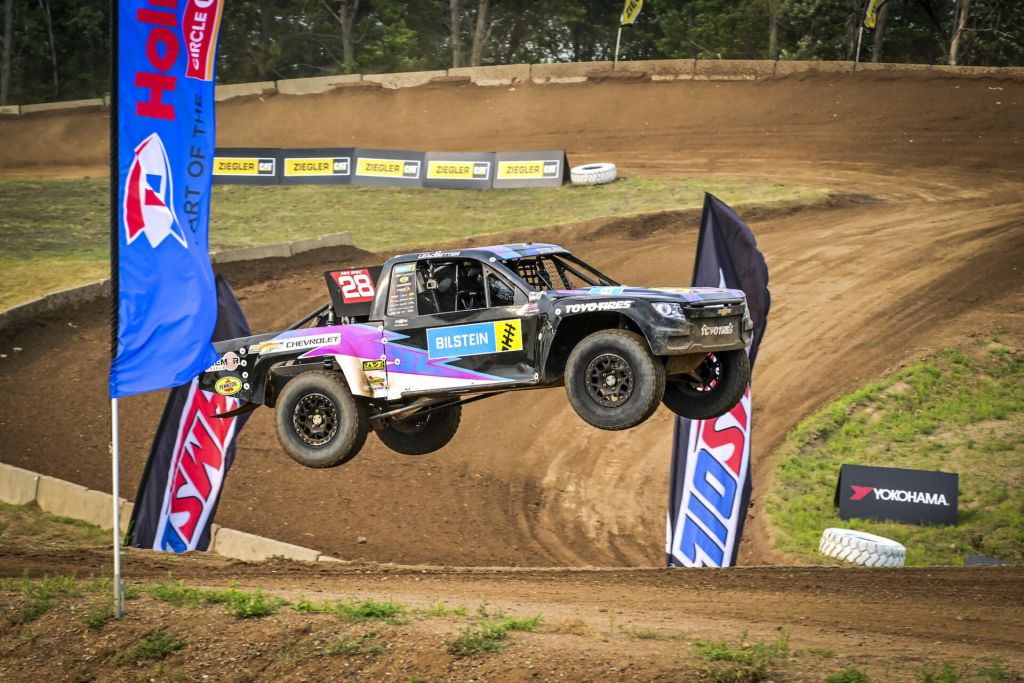 Leadbetter Leads Wild Pro Spec Contest
It was a hectic Pro Spec race on Friday as the track the best of several contenders. But in the end, the defending champ took home the hardware.
Chad Rayford, fresh off his weekend sweep in Crandon, was looking for his fourth straight win after grabbing the lead on lap two. He was in control until he hit a rut and rolled, forcing him to pull off a few turns later.
Defending Pro Spec champ Gray Leadbetter quickly moved up a spot and into the lead. She would hold the winning position for the rest of the race, taking home her first win of the season.
Chris Van Den Elzen used ERX as a cure for his tough start to the 2023 season, earning his first podium finish of the season in second. Round one winner Nick Visser, who also rolled early in the race, righted the ship and worked his way back into third.
Carlson Chases Down Second Pro Turbo SxS Victory
Andrew Carlson has his Polaris dialed in over the past three rounds. The Elk River native and round three winner was on a mission Friday. After starting fourth, he worked through traffic, stayed clean, and found himself in the mix with CJ Greave and Kyle Chaney.
Greaves was fast on Friday, leading until the final laps when Chaney and Carlson snuck past. With Greaves in third, Carlson took control of the race, moving away from Chaney to pick up his second win in the past three Pro Turbo SxS races.
Round four winner Kyle Greaves kept pushing, finishing second behind Carlson, marking his fourth straight podium. Greaves missed the podium in both races at Crandon but was able to pick up his third trip to the box at ERX.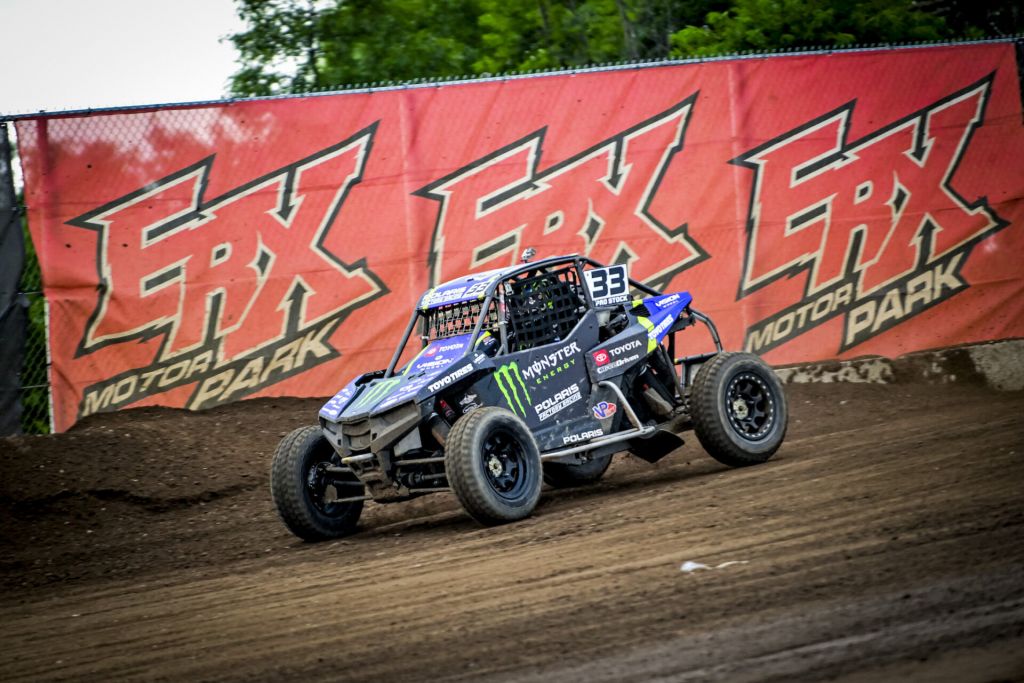 Greaves Gains Third Pro Stock SxS Win
CJ Greaves has a tough battle in Pro Stock SxS this season, but he made up some necessary ground in the points battle on Friday.
After a difficult round four in Crandon, Greaves bounced back into the points lead with a win in round five. Greaves moved into first on the second lap and left no doubt as he drove to his class-leading third win.
Jeb Bootle led the first two laps before Greaves found his way around. But Bootle didn't lift as he drove to his third podium finish of the season and kept his share of the overall lead. He and Greaves will enter Saturday tied in points.
Scott Wasz started seventh and worked his way into a podium spot, finishing third.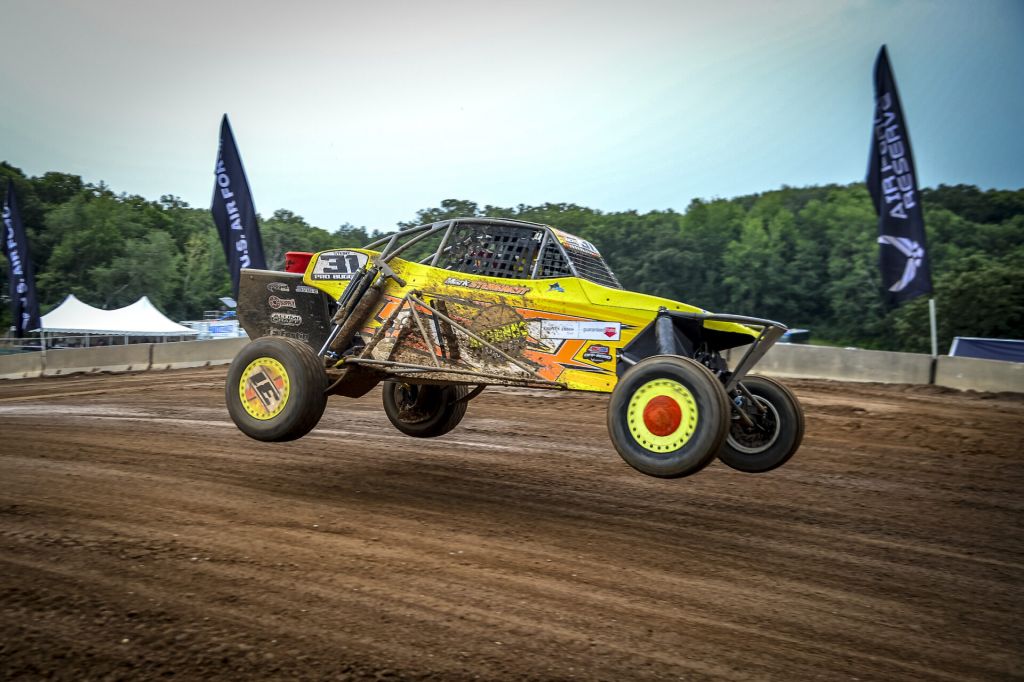 Pro Buggy: A brief pulse of rain added a bit of extra water onto the ERX track just in time for the Pro Buggy race. The open-wheel bandits were undeterred, and one of the most successful drivers in the class's history took care of business on Friday.
Mark Steinhardt chose his set-up wisely for round five. When the tires spun for the green flag, Steinhardt found the proper grip and propelled into the front of the field. From there, he held off points leader Billy Buth early on and then Jordan Bernloehr late in the contest for his third win of the season.
Bernloeher started sixth on Friday and moved into second with two laps to go before pressuring Steinhardt, finishing less than half a second behind the race winner. Buth kept the leaders within reach, finishing third and keeping hold of his spot atop the Pro Buggy standings.
Pro-AM SxS: Bryer Pingel was just a few turns away from his first win of the season, but a late crash back in the field brought out a restart, and Derek Liebergen played the role of spoiler. Pingel was fast all race, leading from the start, but he pushed a bit wide on the restart and left the door open for Liebergen. It was Liebergen's first win of the season and second podium overall. Pingel did finish a tight second, just .281 of a second behind the race winner. Jared Jadin notched his first trip to the winner's circle by finishing third.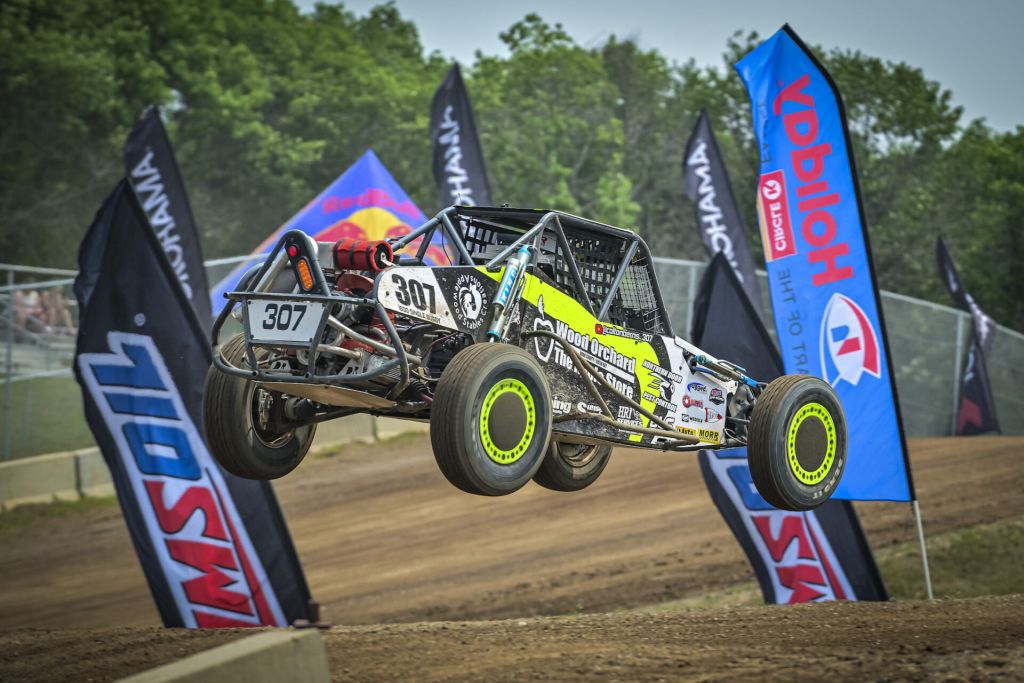 1600 Single Buggy: Colton Berns secured his best finish of 2023 by taking the 1600 Single Buggy win on Friday. Berns took the lead on lap four and pulled away from the chaos for his first win of the year. Beau Ambos led early before finishing a car length ahead of Travis Trelstad for the runner-up spot.
1600 Light Buggy: Colin and Connor Schulz are playing tennis this season with the 1600 Light Buggy class. After exchanging back-and-forth wins through four rounds, Colin has a winning streak after winning Friday's race at ERX. It was a wire-to-wire win for Colin, who held off Connor for the top spot. Greg Stingle rebound after a tough Crandon weekend to finish third, just the first trip to the podium for the former class champion.
570 SxS: Grant Dresel followed up his first podium finish of the season with his first win of the year at ERX. Dresel led the 570 SxS race from start to finish for his second straight podium run. Bryce Powers slotted in seventh off the start but found his way into the runner-up spot by the end of the race. He held off Ryker Remington, who finished third.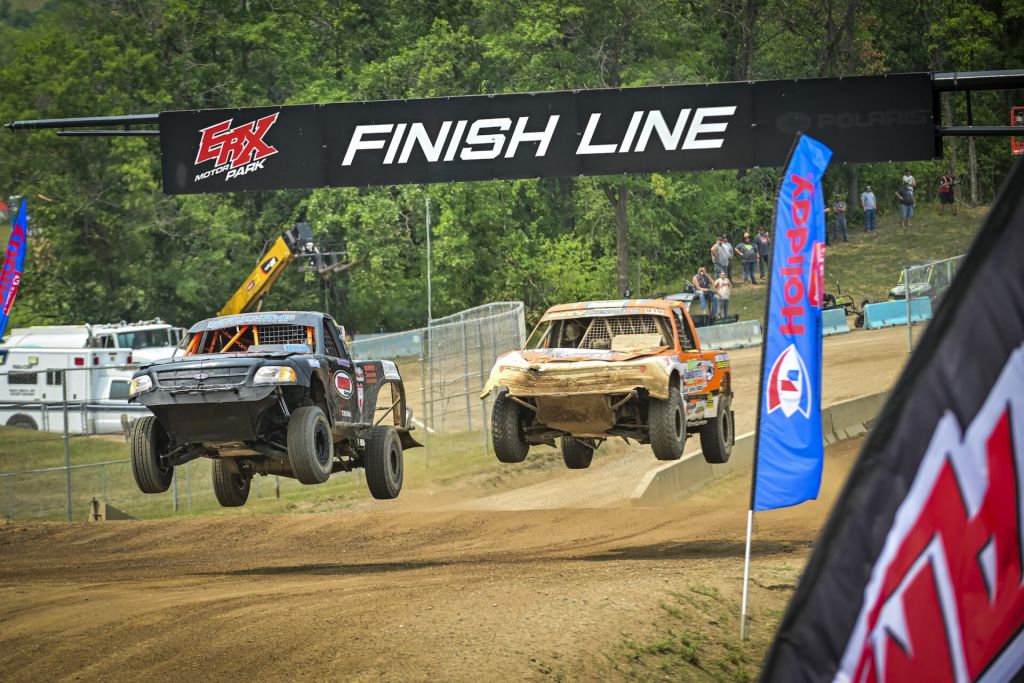 Super Stock Truck: Friday's Super Stock Truck race turned into another epic chapter in an already historic racing class. Round two winner Braden Beauchamp was never comfortable out front as Scott Boulanger made things uneasy with constant pressure from the start. Beauchamp found enough speed and creativity to hold off Boulanger on the last lap, finishing two-tenths of a second ahead of the runner-up at the line. Rounds three and four winner Ben Holtger was third.
Sportsman SxS: It was a bit chaotic during the last two laps of Friday's Sportsman SxS race, but Lucas Houle took the lead and the win, holding off Bruce Carlson for his first win of the year. Carlson's runner-up finish was his third straight trip to the podium. Tyler Wusterbarth had held the point for most of the race before Houle could get around. He would finish third.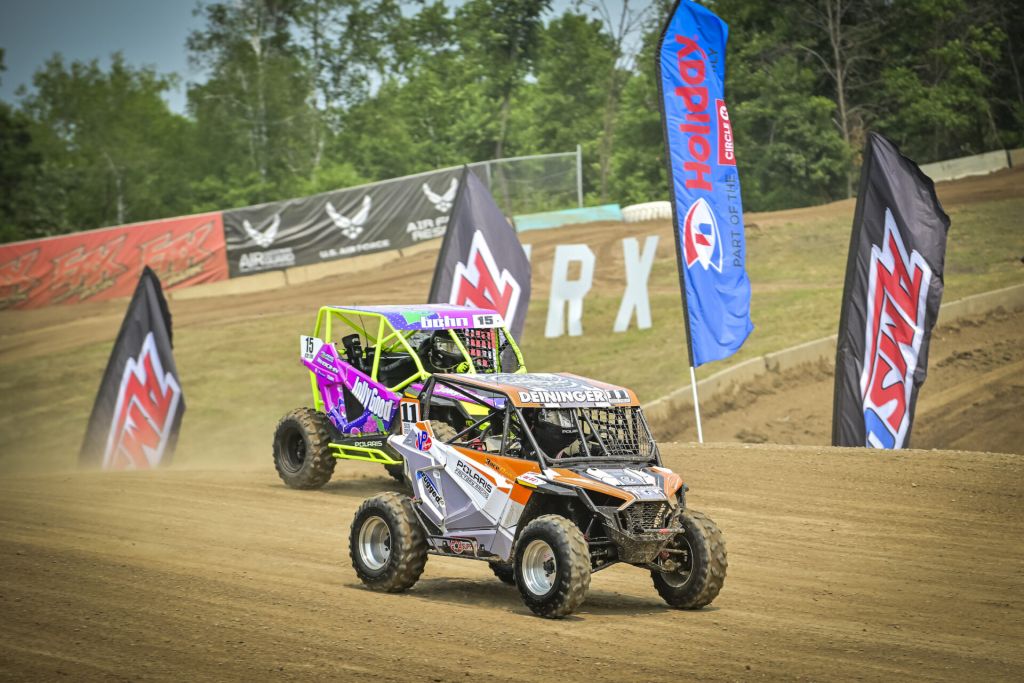 170/200 SxS: Raymond Deininger led the final five laps to secure his third straight 170/200 SxS win. Axel Dreher started seventh and worked his way into the runner-up spot, his first podium finish in 2023. Points leader Tanner Thibeault led the first lap before crossing the finish line third.
Mod Kart: Porter Inglese's three-race win streak ended in round four in Crandon, but the Mod Kart points leader got back on track with his class-leading fourth win in 2023. Inglese started fifth and took over the lead on lap eight, supplanting Gavin Plummer, who led for the first seven trips around ERX. Tristian Hinton started ninth and worked up to second for his first podium visit in 2023. Avery Hemmer now has four podium finishes this year after ending Friday's race in third.
Short Course Karts: After sweeping the Short Course Kart class in Crandon, Race Visser made it three in a row by winning round five in Elk River. Visser started fifth but took over the lead on lap five. Chase Alsteen led briefly before settling into the second position, racing to his first podium this season. Camden Paitl also made it on the box for the first time this year, finishing third.
Youth SxS: Ryker Remington has won every opening-day race at the three stops of the Champ series this season. Remington led every lap on his way to his third victory and unofficially has retaken the points lead. Layne Peterson made it three podiums in a row by finishing second, just ahead of Livy Hentges.
Stock Truck: Cory Holtger extended his points lead in Stock Truck with an impressive performance on Friday. Holtger started sixth and then took the lead on lap six before driving to his third win of the season. Tyler Mullins led for the race's first half, eventually finishing second to Holtger. Troy Ringelstetter made his 2023 podium debut after finishing third.
Up next for AMSOIL Championship Off-Road, presented by the U.S. Air Force: The ERX Off-Road National at the ERX Motor Park on Saturday, July 15.
With a subscription, you can watch all 14 rounds of the AMSOIL Championship Off-Road season plus live on FloRacing. For more information on how you can follow along this season, click here.