Elk River, Minn. – Racing at ERX Motor Park brings out the best in off-road racing, and that proved to once again be the case on Saturday four round six of AMSOIL Championship Off-Road, presented by the U.S. Air Force.
Multiple lead changes, a sand-filled split section, and more twists and turns than a roller-coaster highlighted a spectacular sense of showmanship and sportsmanship. Off-road fans cheered on their favorites but also stretched their vocal cords in support from start to finish on Saturday.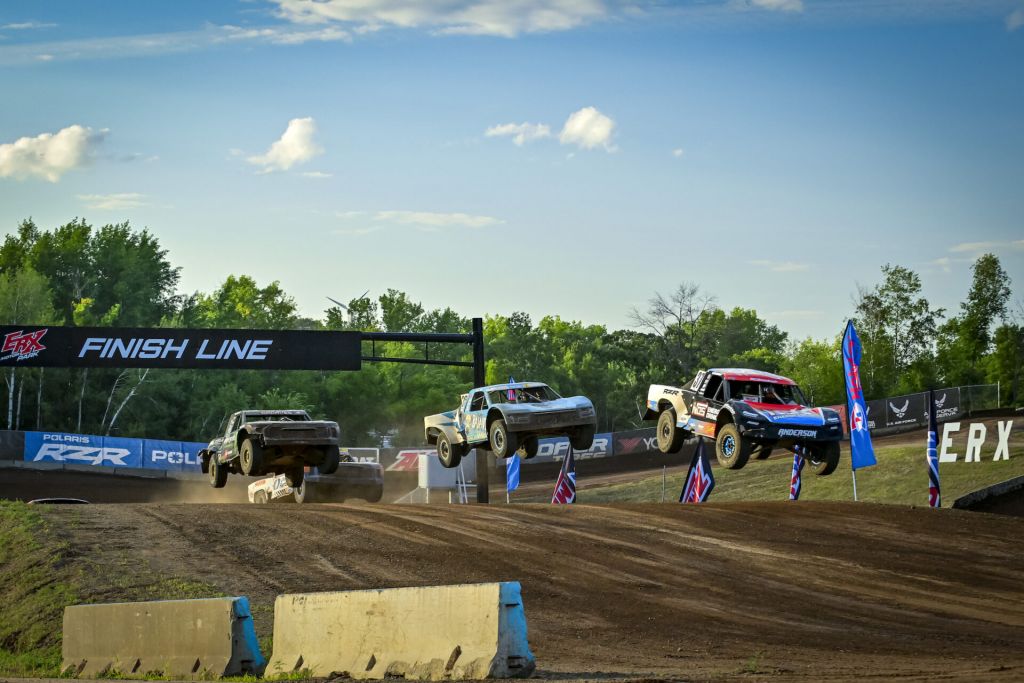 Anderson Outruns Chaos in Wild Pro 4 Finale
RJ Anderson may be running a condensed schedule. In 2023, but when he shows up, he is determined to make it count. After a close call on Friday, Anderson left Minnesota on a high note by pitching a near-perfect performance in PRO4.
Anderson started on the pole, and he jumped at the chance to grab an early lead and did everything in his power to stay clear of bumper cars being played out behind him. He was mostly clean, sans some contact in the second half of the race with CJ Greaves. But after that, Anderson was lickety-split quick and pulled away from the field, taking home a wire-to-wire win at ERX.
"We don't do this all season, but we come out here and make it count," said Anderson. "I'm really proud of my whole team for putting the effort in. It was a super fun race, and I'm just stoked."
It took much longer to clear up the rest of the podium spots. At the mid-point of the race, and after several drivers swapped places, it was Cole Mamer and Greaves right behind Anderson. Greaves used the restart o slip into second, where he and Anderson would go door-to-door before the two made contact on the downhill part of the big flyaway jump. That contact unsettled Greaves, and he spun and then flipped, landing atop the cement K-rail at the bottom of the track.
The field would bunch up again, and just after the restart, Jimmy Henderson stalled out in the 180-turn. That collected several trucks but also let a few sneak through. One of the clean ones was Kyle Chaney, who moved into the runner-up spot.
Those two create a drag race toward the finish line for those that came through clean. Mamer tried to catch Chaney, but it would be Henderson who got back all that he lost. On the last lap, Henderson and Chaney sprinted towards the end, with Henderson edging out Chaney by .001 of a second for the runner-up spot.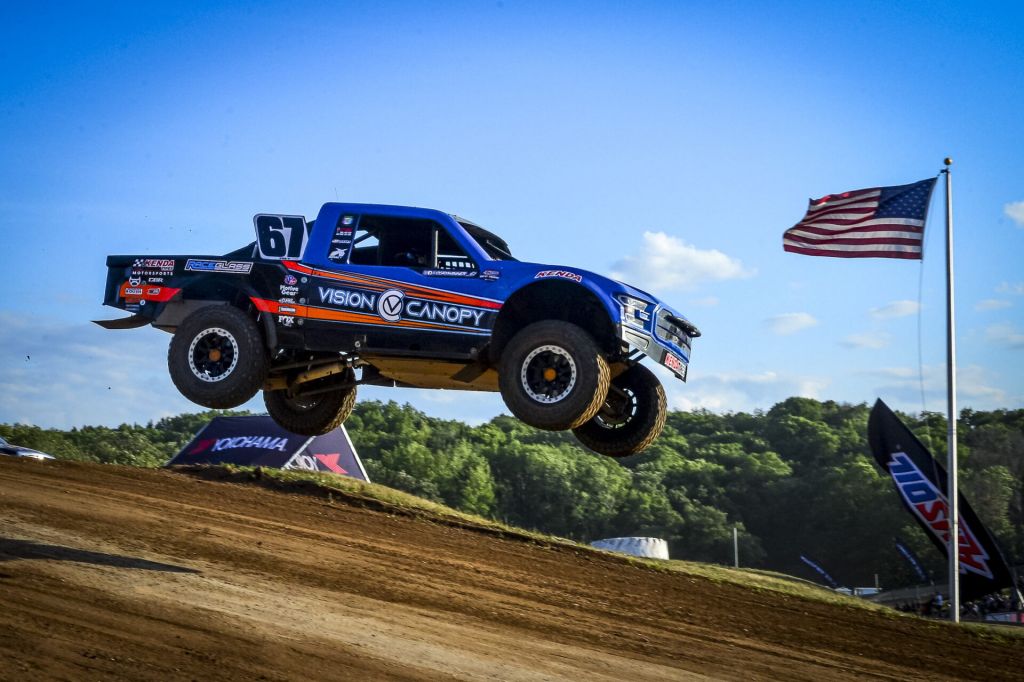 Winner Speeds to PRO2 Victory
Cory Winner has been trying everything to get his first win of the 2023 season. He has been close, but closing the deal has been an endeavor this year. He got that proverbial monkey off his back on Saturday, going wire-to-wire for his first win this season.
Winner was wicked quick during Saturday's PRO2 race and was seemingly in control the entire race. He saw pressure, but he never seemed like he was going to lose that control. That was even the case at the end of the race when a caution came out and bunched the field back up. It looked like Ryan Beat would chase him to the finish line, but a spin pushed him back with four turns left. That gave Keegan Kincaid a run at the race leader that would come down to the final two turns. But as heavy as it was, Winner held the field in check, taking the win by seven-tenths of a second over Kincaid.
"It was just trying to hit my lines and be smooth, and yesterday, as you said, we were second fastest," said Winner. We definitely have the speed, and it feels really good to lead wire to wire here. This thing was on rails all weekend."
Kincaid was looking to make something out of nothing on Saturday. He was running around fifth most of the day before he found an extra gear after the restart. He ripped through the sand section to put himself in front of Beat and caught the back end of Winner. The round three winner bounced back after a couple of tough races for his second podium of the season.
Points leader Mickey Thomas continued his run with the lead back at ERX. The round two winner put together a pair of podium finishes, including his third-place showing on Saturday.
Pro Lite Sweep for Greaves 
Kyle Greaves has found success at ERX Motor Park over the years, and that trend continued on Saturday as the defending champion took a convincing win and the sweep in Pro Lite.
Greaves only need a few turns to turn a second-place start into a race-defining lead. He seemed to race around ERX as if he were part of the track. He rarely missed a mark on Saturday, leading from start to finish for his third win of the season.
Madix Bailey put together his best weekend of the year. After finishing third on Friday, Bailey backed it up by being one of the few challengers to the race leader. He ran in the runner-up uncontested for the final six laps, picking up his third podium finish.
Round two winner Brody Eggleston has done a fantastic job adjusting from the opening round of a weekend to finishing on podiums on day two. That was the case again at ERX, where Eggleston overcame a seventh-place start to finish third, his third podium of the year.
Rayford Returns to Top of Pro Spec
Chad Rayford may be a rookie in the Pro Spec class, but he has a winning resume in off-road. That includes a Pro Lite win at the Minnesota racetrack in 2017. The times have changed, but not the results.
Nick Visser led Saturday's Pro Spec race early, but Rayford controlled the outcome late. Rayford was in command over the second half of the contest. Friday's winner Gray Leadbetter kept the four-time winner honest. The runner-up was just over a truck length back at the checkered flag to extend her podium streak to six.
Visser extended his podium streak to six and stayed third overall behind Rayford and Leadbetter. Just three points separate the trio in the points standings.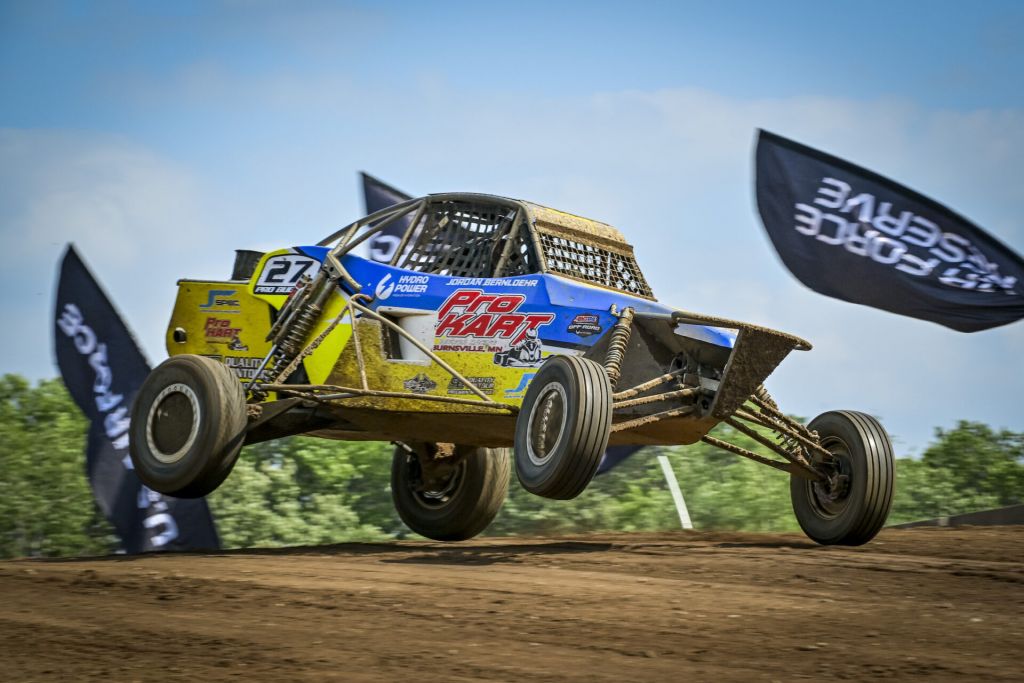 Pro Buggy: Jordan Bernloehr will remember his Saturday at ERX for the rest of his life, as will Billy Buth.
Bernloehr was quick all race long, as was Buth. The pair swapped time at the top spot throughout the race, and it was a two-race sprint over the last few laps, with either capable of winning the Pro Buggy race.
But the leaders got caught in traffic, and while Bernloehr got through the mix clean, Buth had a tougher go. That was enough cushion for Bernloehr to pick up his first career Pro Buggy win.
Buth would finish second and maintains his class lead in the points standings. Round five winner Mark Steinhardt may have led early, but he also finished third, now sitting 11 points behind Buth.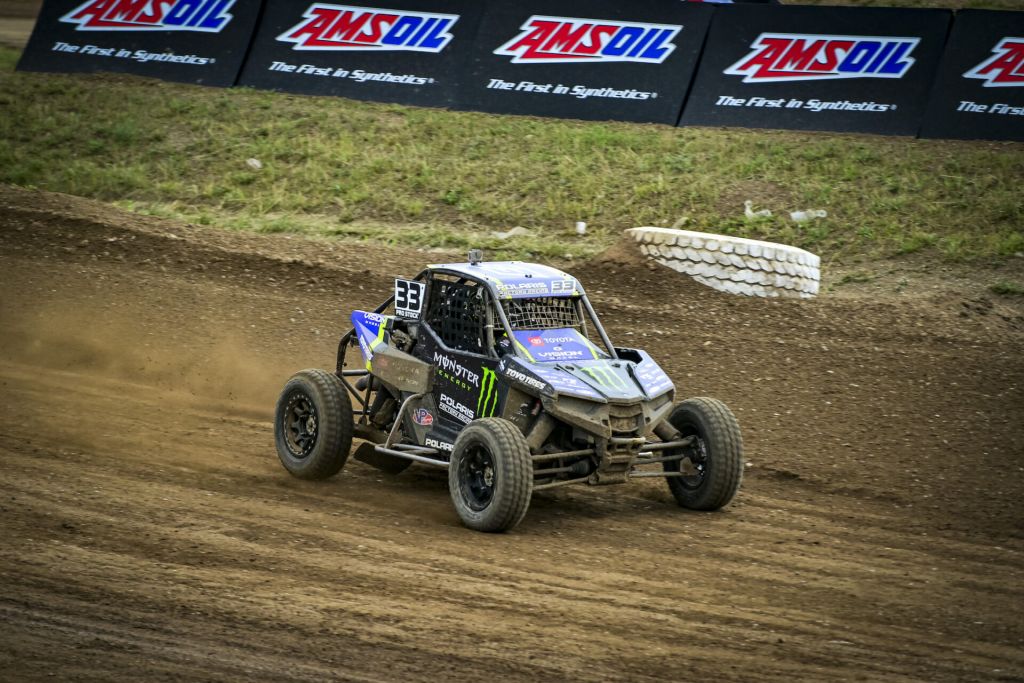 Greaves Picks Up Fourth Pro Stock SxS Win
CJ Greaves broke the tie atop the Pro Stock SxS standings with an impressive win on Saturday.
Greaves had to work through some early traffic in fourth, but after the first lap, he led the remaining 13 as he motored to his fourth class win of the 2023 season.
Jeb Bootle joined Greaves on the podium for the second time this weekend, finishing second. Bootle and Greaves had entered the day tied in points. Tyson Marquardt is only five points behind Boole in points thanks to a third-place finish on Saturday.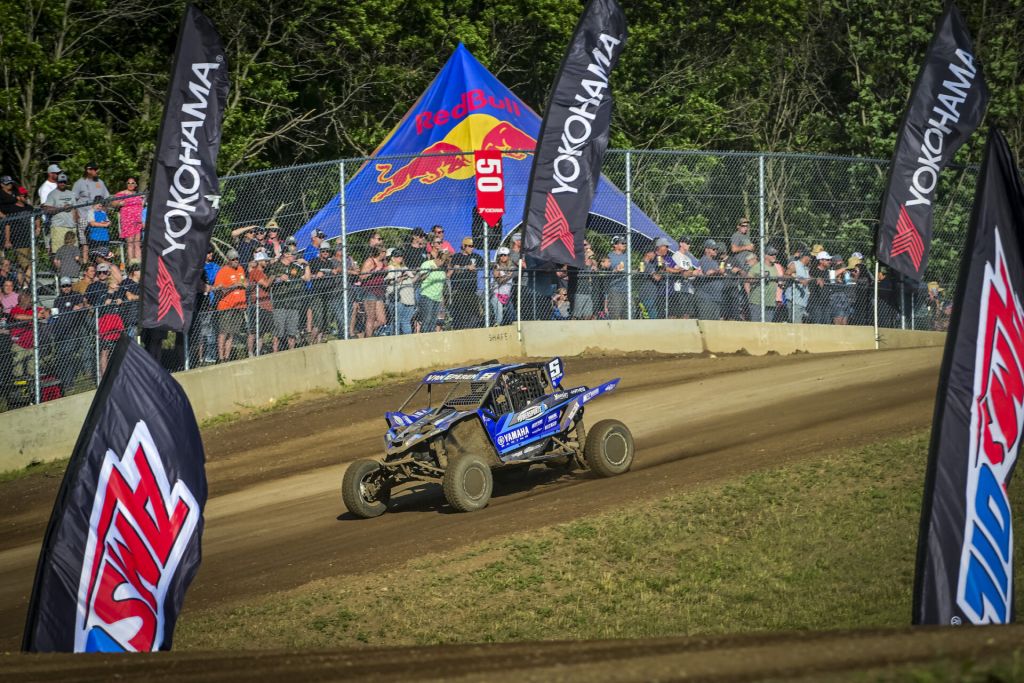 Van Eperen Wins AMSOIL Pro Turbo SxS
Owen Van Eperen has been winning races this season, but not in AMSOIL Pro Turbo SxS. He won't have to worry about that moving forward.
Van Eperen took the lead on the third lap and kept the top spot despite heavy pressure from Ronnie Anderson. It would come down to the wire for Van Eperen and Anderson. With a full course caution in place, the race would end with a restart and a one-lap sprint to the finish line. Van Eperen reached the checkered flag first, taking his first win of the season by less than two-tenths of a second.
With Anderson in second, Brian Waszak took his first career podium finish in AMSOIL Pro Turbo SxS. Waszak started tenth and held off the late race charge from Kyle Chaney and Andrew Carlson.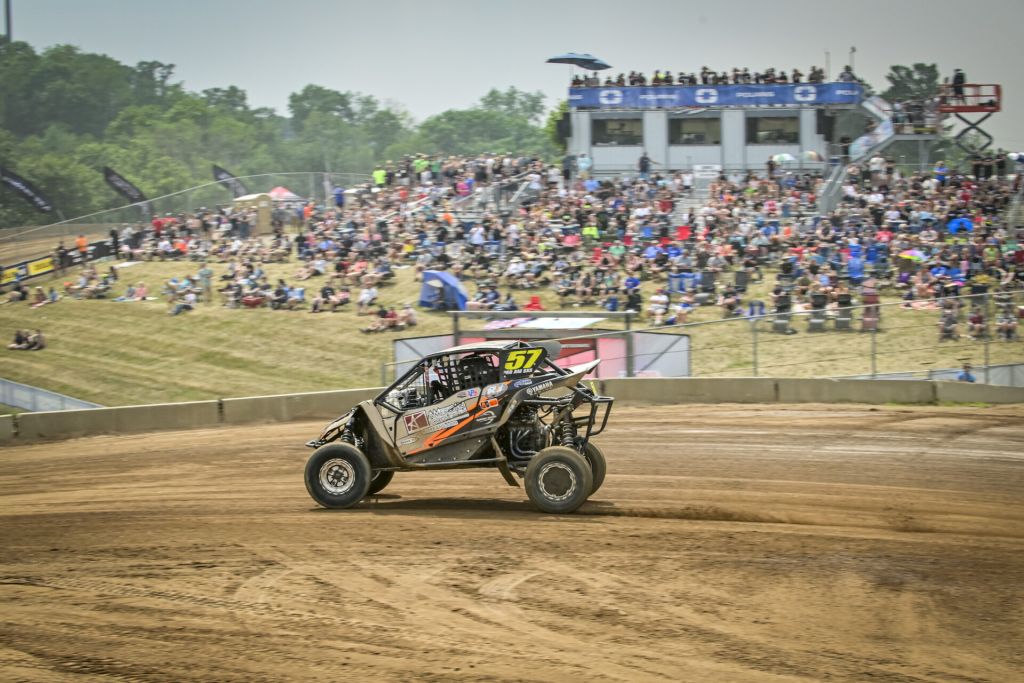 Pro-AM SxS: Cody Jones led every lap but the first one, but he was there at the end for his first Pro AM-SxS win of the season. Sitting second in points, Jones held off a quick Rory Navin by one second for the victory. Navin started 15th on Saturday and didn't get into podium position until lap ten before moving past Friday winner Derek Liebergen on the last lap for second.
570 SxS: Corbyn Wassenberg came to play on Sunday as he took the 570 SxS win, his third victory of the 2023 season. Wassenberg started eight and didn't take the lead until there were two laps to go. The win puts him all alone atop the points standings. Friday winner Grant Dresel led a pair of laps before finishing second. Bryce Powers started back in seventh and needed a last-lap pass to finish on the podium in third.
Super Stock Truck: Scott Boulanger became the fourth different winner in Super Stock Truck this season. Boulanger grabbed the lead, and eventually, the points lead, on lap two and kept his truck out front for his first win of the season. Nick Byng bounced back from a tough Friday to finish second. Ronald Kosciesza started tenth and held off Braden Beauchamp for third.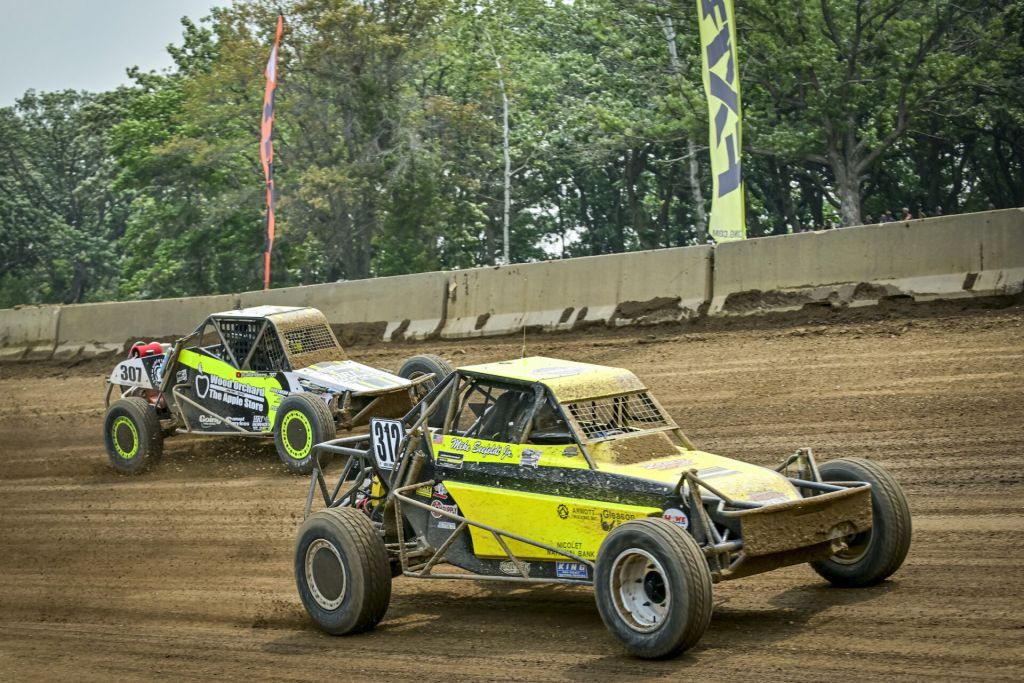 1600 Single Buggy: Michael Seefeldt is now a two-time winner in 1600 Single Buggy after an inspiring win on Saturday. Seefeldt started eighth at ERX but took control of the race on lap five and, in the process, increased his points lead over John Fitzgerald. Friday winner Colton Berns capped off a successful weekend with a second-place finish. Fitzgerald was also on a mission Saturday, moving from ninth to a third-place finish.
Sportsman SxS: Lucas Houle brought out the broom at ERX this weekend. Houle started fifth in Saturday's Sportsman SxS race before taking over the race lead with four laps to go. The round-five winner completed the weekend sweep by picking up his third win of the season. The rest of the podium finishers came down the final lap. Trent Peetz made a clean move in the sand section to get past Tyle Wusterbarth for second, and then Jacob Blemke tucked inside of Wusterbarth for the third position on the second to last turn.
170/200 SxS: Thirty cars lined up for Saturday's 170/200 SxS race, but it was a familiar face out front at the end. Raymond Deininger led a total of five laps, including the final two, as he completed the weekend sweep. Kody Krantz had the lead with three to go but ended up just behind Deininger in second. Points leader Tanner Thibeault rounded out the podium.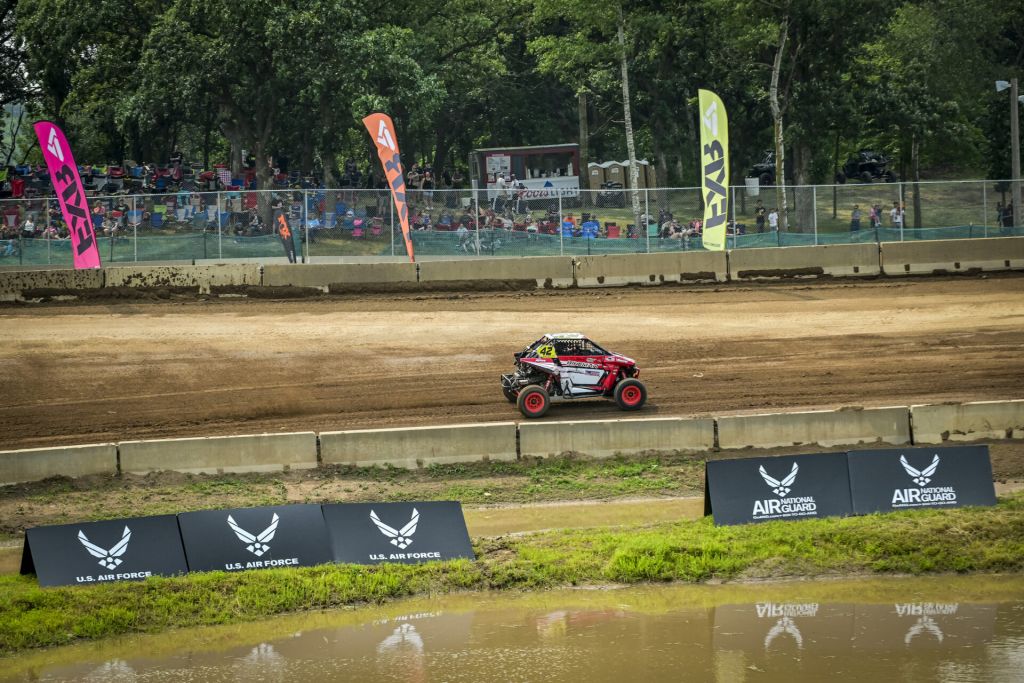 Youth SxS: Libby Nielsen went wire-to-wire for her third Youth SxS win of the season and took over the points lead in the process. Layne Peterson knocked out a pair of runner-up finishes at ERX, narrowly missing out on his first win of the year after crossing the finish line a half-second behind Nielsen. Livy Hentges also had a pair of podiums this weekend, finishing third both days.
Mod Kart: Carter Vanden Heuvel broke through with his first Mod Kart win of the season on Saturday. Vanden Heuvel had clean air from the drop of the green flag but had to hold off a determined Avery Hemmer over the race's second half. As they crossed the finish line, Vanden Heuvel had the edge over Hemmer by only.032 of a second. Tristian Hinton started eighth but ended the contest third.
Short Course Karts: Race Visser swept the weekend in Crandon and followed that up with a double down in Elk River. Visser led from start to finish on Saturday to earn his fifth Short Course Kart win of the season. It was a close race, but all three drivers started where they finished, including runner-up Wesley Vande Voort and third-place finisher Chase Alsteen.
1600 Light Buggy: It was another Schulz Brothers Showdown in 1600 Light Buggy on Saturday. While the brothers have been swapping wins all season long, Colin Schulz was unbeatable at ERX over the weekend, taking the lead on the second lap and completing the weekend sweep.
Connor Schulz put in another fast race, finishing second for his sixth straight podium to start the 2023 season. Evan Hockers held off heavy pressure from veteran Greg Stingle for the final spot on the box.
Stock Truck: Cory Holtger had his Stock Truck dialed in at ERX. The points leader made it a weekend sweep as he picked up his fourth win of the season. Holtger took the lead for good on the second lap and was in control for the remainder of the contest.
Tyler Mullins earned his second straight podium finish at ERX after separating himself from a tight, three-truck battle early on. Kyle Ambroziak was part of that dogfight before settling into his final finishing position of third.
Up next for AMSOIL Championship Off-Road, presented by the U.S. Air Force: The Dirt City Motorplex Off-Road National in Lena, Wis. on Saturday, July 29-30.
With a subscription, you can watch all 14 rounds of the AMSOIL Championship Off-Road season plus live on FloRacing. For more information on how you can follow along this season, click here.