2022 Championship Off-Road Pro Spec champion Gray Leadbetter put the #28 Bilstein Chevrolet Colorado on the box twice for Ryan Beat Motorsports in last weekend's Forest County Potawatomi Brush Run at Crandon International Raceway. After scoring back-to-back third place finishes in the event, Leadbetter's Pro Spec podium streak now sits at nine consecutive races over the past two years.
RACE HIGHLIGHTS: Saturday | Sunday
"We had another good points weekend at Crandon for sure," said Leadbetter. "Crandon's always been pretty unpredictable, and both the weather and the rest of the field made it more challenging, but it was still a blast to mix it up with those guys and keep it on the box twice. Ryan and the whole R/BM team worked their tails off yet again and they did a great job. We've got plenty of momentum under our belt going into ERX, and that's one of my favorite tracks on the calendar, so I think we've got what it takes to be even better there!"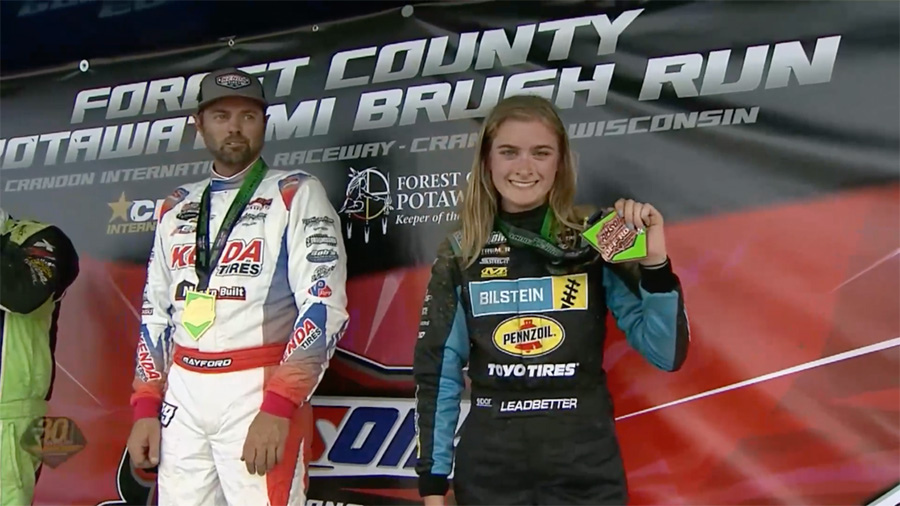 Coming into the weekend, Leadbetter had already asserted herself as a top contender for her second straight Pro Spec title thanks to back-to-back runner-up finishes at Antigo Lions Roaring Raceway. In Crandon, she mixed it up on a muddy course throughout the weekend, starting with a full-contact battle for the podium on Saturday before settling into third place at race's end. Sunday was more of the same, as Leadbetter started toward the front of the field and continued to go wheel-to-wheel with the rest of the class early on before settling into a comfortable third yet again.
Four podiums in the first four rounds of the season currently have Leadbetter third in the Pro Spec standings, well within striking distance of the lead. Her active podium streak sits at nine, dating back to her win in last year's second feature from Dirt City Motorplex; since then, she's taken dual podiums at Antigo, Bark River International Raceway, and two separate events from "The Big House" over the past two summers.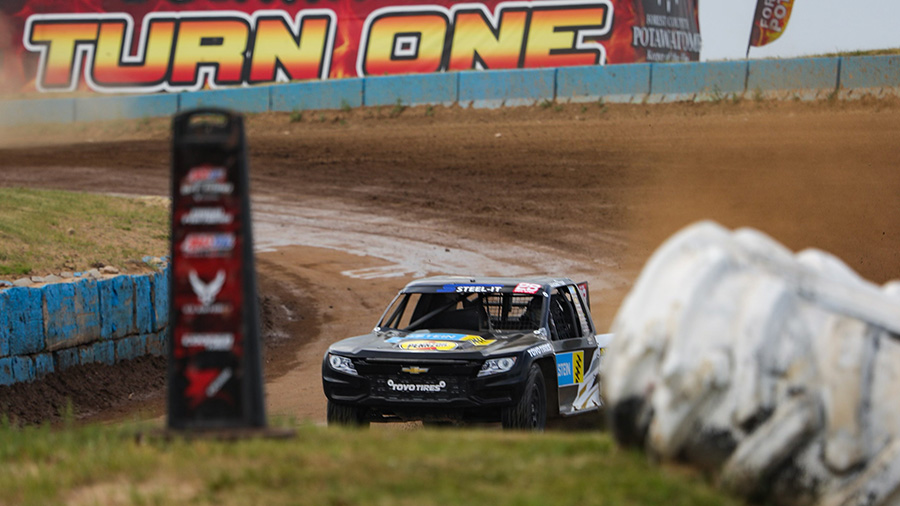 Gray Leadbetter's 2023 Championship Off-Road program with Ryan Beat Motorsports is supported by Chevrolet, Bilstein, Pennzoil, Toyo Tires, Tremor Wheels, Steel-It, Sunoco Race Fuel, RIGID, Magnaflow, Mechanix Wear, FK Rod Ends, Hyperco, Brembo Brakes, Ehren, Fortin Racing, Fiberwerx, Automatic Transmission Design, Power Steering Solution, Geiser Performance, Antigravity Batteries, Hawk Performance, DS Customs, and Calico Coatings. Following Crandon, her next race in the series will be the ERX Off-Road National at ERX Motor Park on July 14-15.