Bark River, Mich. – Racing has been a centerpiece in Bark River, Mich. for the past 47 years, and every time AMSOIL Championship Off-Road, presented by the U.S. Air Force, makes its annual trek to the Upper Michigan track, the competition is close, fast and flowing.
Saturday's action lived up to the hype as round nine brought home multiple tight finishes, many by fractions of a second. No lead was secure, and the racing action was unleashed and unabashed from start to finish.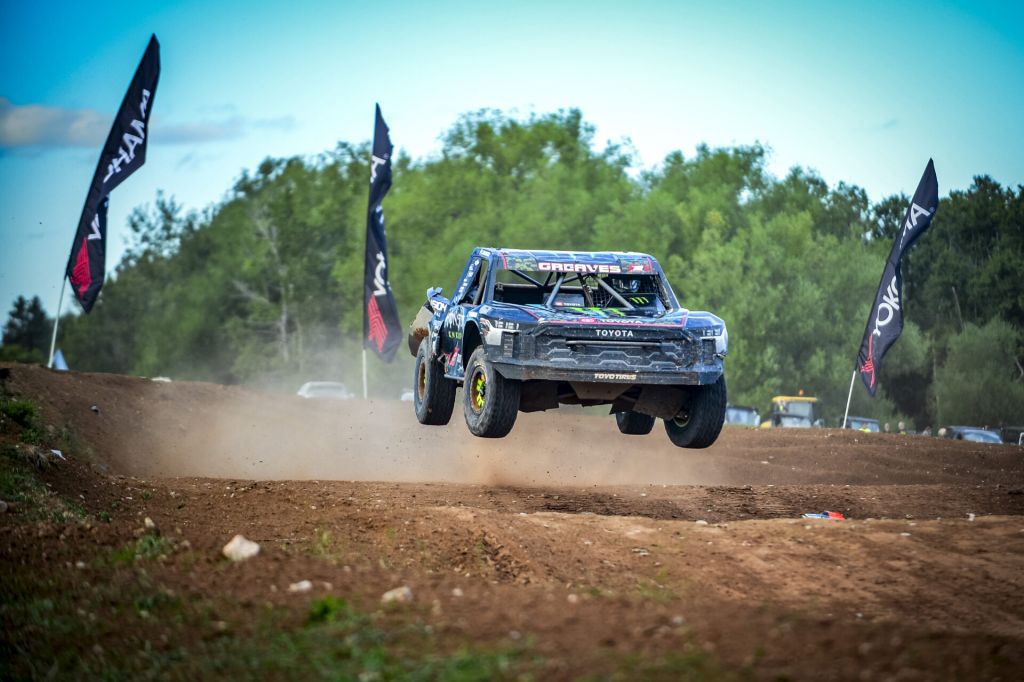 Greaves Gathers Up Wild PRO4 Win
Saturday's PRO4 race turned into an old-school, bumper-busting, tire-scraping ride of emotion and excitement that kept race fans on their feet from start to finish.
With points leader CJ Greaves and his closest points challenger Jimmy Henderson starting in the first row, it looked like a marque match-up. But Henderson got off his line a bit after turn one and shuffled to mid-pack. That left Greaves out front with Adrian Cenni in second.
It all started to get interesting after that. A flat tire on the next lap would send Greaves into the hot pit for a tire change. He needed a flawless pit stop for any chance at winning his fourth race of the year, and his crew was lightning quick on changing the tire and got him back out on the lead lap.
Meanwhile, Cenni was out front with Johnny Greaves, Henderson, Kyle Chaney, and Andrew Carlson in line behind him. But that line would turn into a mosh pit over the next several laps, including the initial lap after the mid-race restart. That gave Cenni a growing lead but also opened up opportunities for Cole Mamer and, eventually, CJ Greaves, as both drivers stayed clear of the carnage.
Within two laps, Greaves was back into third behind Mamer. Just as quickly, Cenni suffered a flat and pulled into the hot pit, putting Mamer in the lead. One lap later, Mamer and Greaves were racing doo-to-door when Mamer had to pull off with a mechanical, giving the lead back to Greaves, who would complete the improbable comeback for his fourth win of the season.
"I blew that tire on my own," said Greaves. "I came off that chicane and lifted a second too early, and the truck just stepped out. I knew right when I landed it was gone, and I was going right to the hot pit. They went in there and killed it to get me back out on the lead lap. Then, I just kept my head down and just kept moving forward."
Chaney also avoided the chaos and drove to one of his best finishes of the year in second. Carlson was able to work back into podium position, finishing third.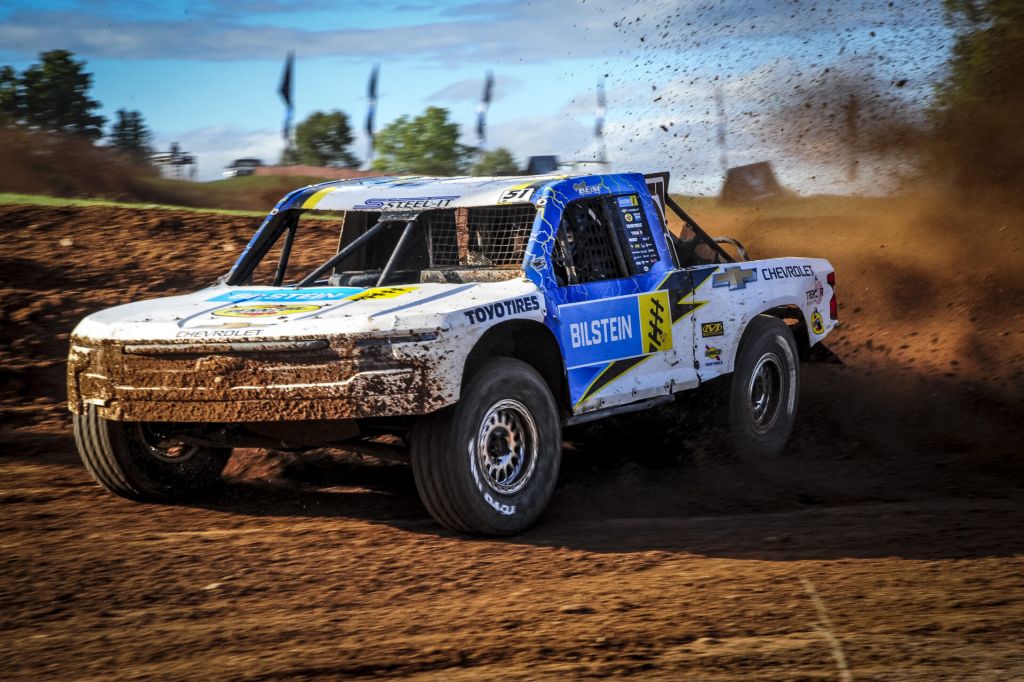 Beat Snatches PRO2 Win on Final Turn
It was a scrum at the beginning of PRO2 on Saturday. With heavy water put down on the track and a whole heap of horsepower fighting for position, drivers were moving up and down the leaderboard over the first few laps.
As hectic as it was in the beginning, the second half of the contest had fans on the edge of their seat, thanks to eventual race winner Ryan Beat. The opening-round winner had a tough start, spinning out on the second turn of the race and getting shuffled to the back of the pack. But he had worked back into the top three before the mandatory caution and then went to work on race leader Keegan Kincaid. Beat hung it out over the final few laps, finally finding an opening on the last turn when Kincaid drifted wide and Beat blasted to the inside and snuck through for the win.
"Dead last to first! Was that entertaining or what?" said Beat. "I was just trying to play it cool and stay out of the carnage. I'm super stoked to get this win. I've never won at this track, so we knocked it off my bucket list."
Kincaid would stay on the throttle, crossing the line in second. Points leader Cory Winner would round out the podium in third. Beats' win gave him enough points to move from third to second overall, now just three points behind Winner.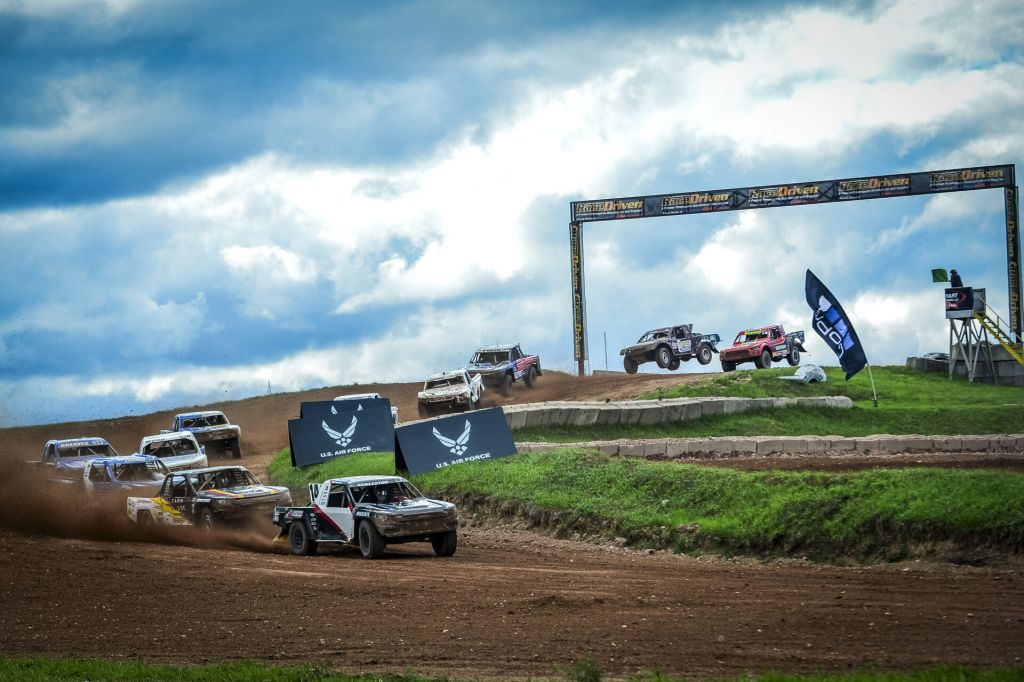 Three Wins For Eggleston in Pro Lite
Brody Eggleston's second-round win in Antigo raised some eyebrows. His second win at Dirt City backed up the first one, and now he has three, putting him in the middle of the championship contention.
Eggleston got around the first turn clean with only Madix Bailey in tow. They would swap positions throughout the race's first half, but Eggleston always responded to Bailey's charges. But as the race wore on, pressure on Bailey from current points leader Kyle Greaves gave Eggleston a chance to pull away for his third win of the season.
Bailey drove the final few laps with what appeared to be a broken shock. That gave Greaves the advantage as he took home runner-up honors. Bailey would then go neck-and-neck with Trey Gibbs, who would finish third as Bailey was forced to pull off with only one turn remaining.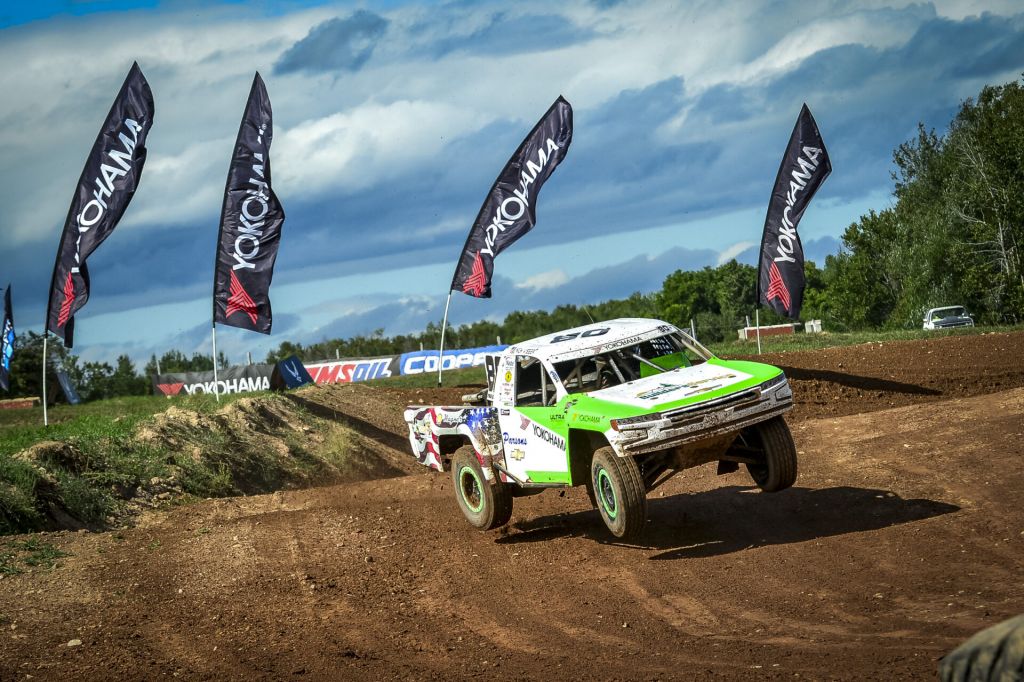 Visser With Third Pro Spec Win
Chad Rayford and Nick Visser are locked into a season-long battle for Pro Spec Supremacy. Rayford holds the edge in points, but Visser won the fight on Saturday.
Visser jumped in front early, and after a prolonged showdown with Rayford, he was able to pull away for his third win of the season. One of the reasons Visser was almost able to run away and hide late in the race is because Dylan Parsons put heavy pressure on Rayford over the final laps. Rayford made a slight bobble on the last turn and nearly made the pass, but he held on for a tight finish. Rayford would hold on to the runner-up spot, his fourth straight podium finish,
After coming up just short through the first seven rounds, Parsons now has two podiums in a row after finishing third on Saturday. Rayford now leads Visser by six points.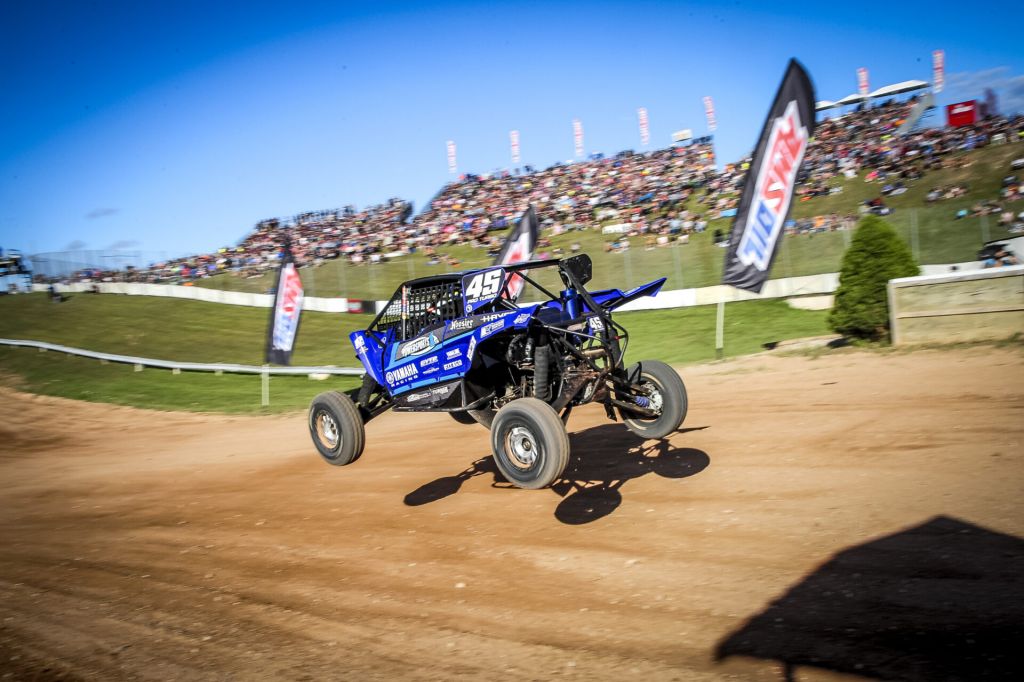 Rodney VanEperen Busts Through in Pro Turbo
Before Bark River, the Pro Turbo SxS class had produced four winners. Saturday's race bumped that number to five thanks to a 2023 breakthrough for Rodney VanEperen.
VanEperen has been searching for his first win of the season and jumped into position early on. He had a first-half battle with Andrew Carlson as they both sat atop the leaderboard. Carlson would pull off after the restart, putting VanEperen back into the lead. It also put CJ Greaves into second and Kyle Chaney into third. They would line up like train cars, pulling each other around the track. VanEperen was the locomotive, and he set the pace and stayed out front for his first win of the year, crossing just a few feet ahead of Greaves.
Greaves second place finish and Chaney's third meant that Greaves picked up two points on Chaney in the overall points standing, which sits with Chaney up by only eight points.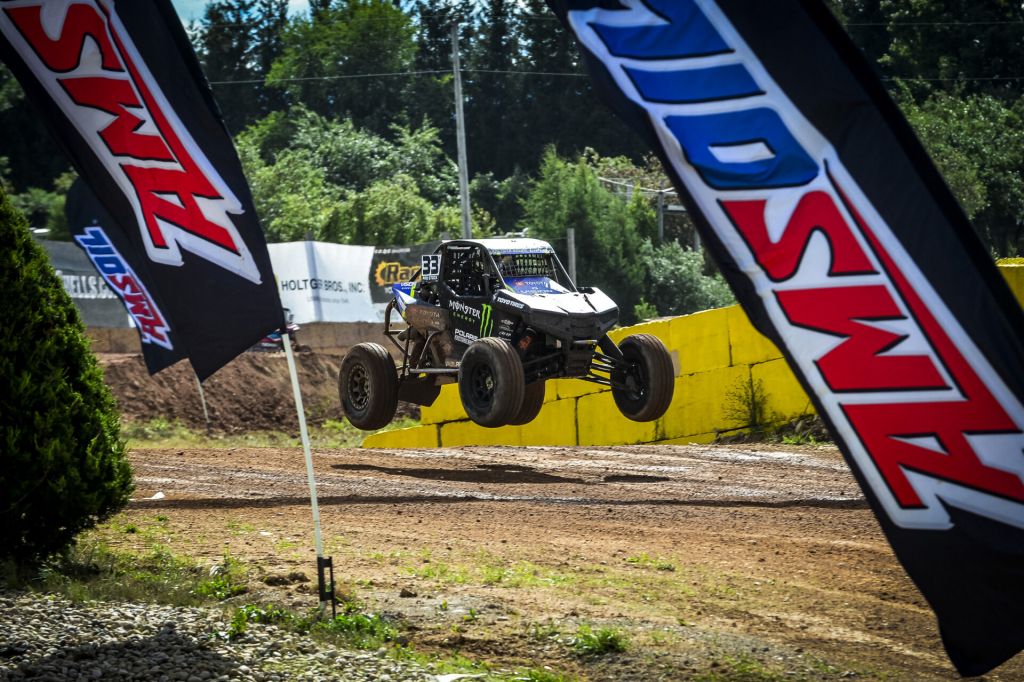 Seventh Pro Stock SxS Win for Greaves
It was a drag race to turn one, with CJ Greaves beating the Pro Stock SxS field through the first corner. Greaves could have walked away with it, but Owen VanEperen and Jeb Bootle weren't letting the points leader get an easy victory.
Greaves held point throughout, with Bootle jumping into the runner-up spot ahead of VanEperen after the mandatory caution restarted the field. The trio would pull away from the rest of the field. As Greaves drove to his fifth straight win, Bootle and VanEperen went bumper-to-bumper for second. Their battle extended to the finish line as Bootle edged out VanEperen by less than half a second.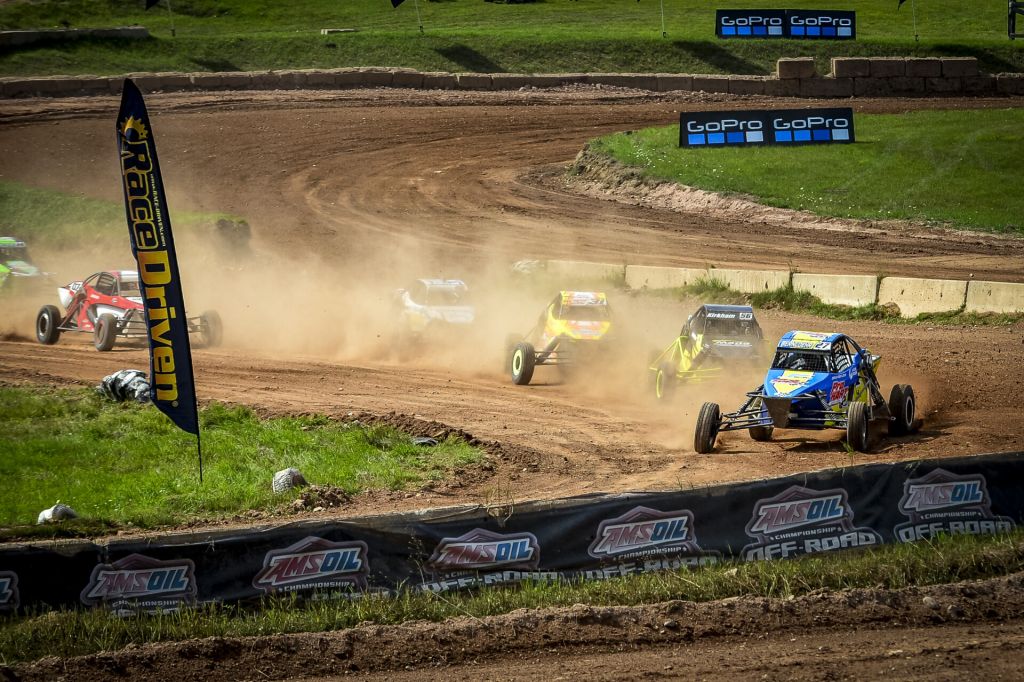 Bernloehr Holds of Meister for Pro Buggy Win
Jordan Bernloehr had his hands full in Pro Buggy on Saturday, but he was more than up to the task on his way to his second career class win.
Bernloehr got out front off of the start and stretched out his lead as the remaining top five drivers bunched together and fought for position. Michael Meister moved away from the pack as the race raged on, as he dug in behind Bernloehr. The five-time champ made it a tight finish, but Bernloehr was able to stay out front for the win.
Meister crossed the line in second, and Mike Kirkham picked up his fourth podium of 2023 in third place.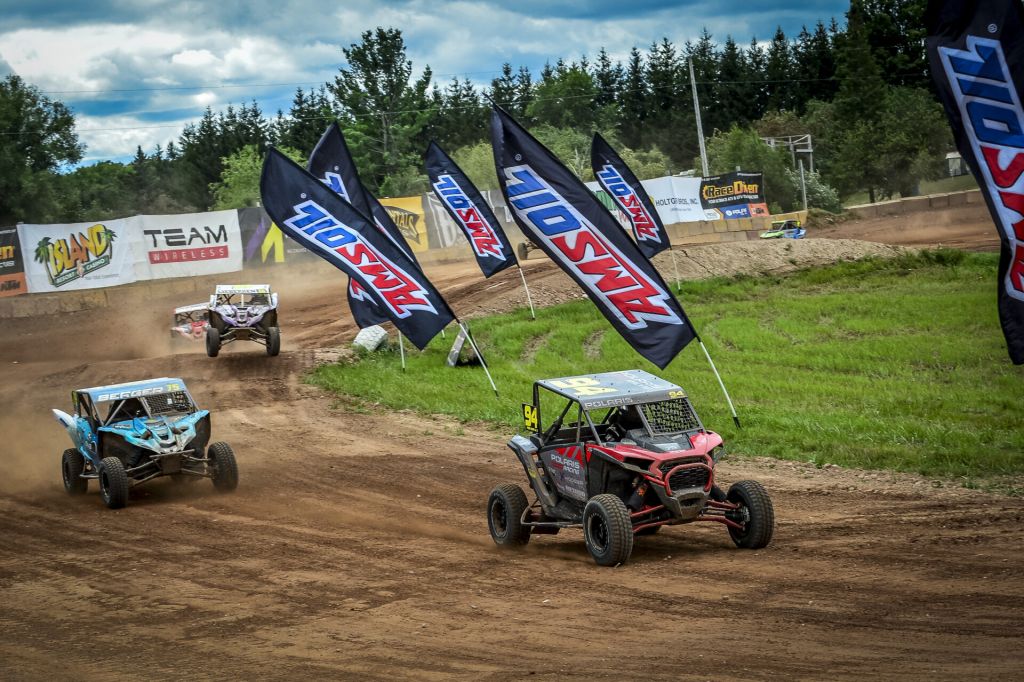 Pro-AM SxS: Round four winner Tyler Remmereid was on his way to his second Pro-AM SxS win of the season, but David Gay played the role of late-race spoiler. Gay started 11th on Saturday and put himself into position to duck under Remmereid with two turns remaining, picking up his first career class win. Remmereid would finish 4/10ths of a second behind Gay while holding off points leader Bill Berger for second.
570 SxS: Corbyn Wassenberg was wicked fast in Saturday's 570 SxS race, leading it nearly from start to finish for his fourth win of the season. Draxton Szymik took a brief lead mid-race after Wassenberg put it on two wheels but was able to settle in for his second podium of the year. Bryce Powers celebrated his birthday by finishing third and keeping hold of his points lead.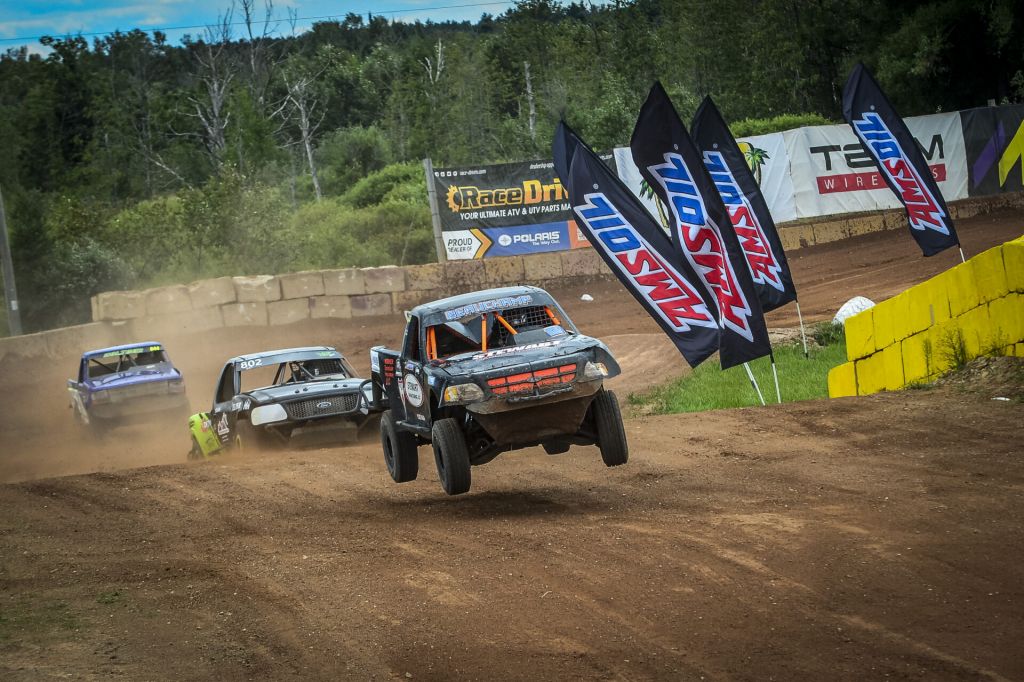 Super Stock Truck: If you want to see an action-packed race, go to FloRacing.com and watch the Super Stock Truck replay. It featured several dramatic moments, including a late race flat tire to race leader Trey Beauchamp that allowed Braden Beauchamp to move into the lead and drive his way to his third win of the season. Scott Boulanger (2nd) and Jamie Kleikamp would follow Braden Beauchamp into podium contention. Kleikamp's third-place drive was his first podium of the season.
Sportsman SxS: Bryce Carlson was looking for his first after leading the first few laps, but Trent Peetz flipped the script and raced to his second straight victory in Sportsman SxS. Carlson did race to his fifth podium of the season by crossing the line in second, and Benjamin returned to the box for the first time since his round four win in Crandon.
1600 Single Buggy: Michael Seefeldt did everything he could to slow down John Fitzgerald, but the 1600 Single Buggy points leader found a way to win again on Saturday. Seefeldt held the point for the race's first half, but Fitzgerald made a late pass to secure his third straight win. Only six points separate Fitzgerald and Seefeldt in the points race.
Connor Schulz earned his first podium at Dirt City and backed it up with his second straight third-place run.
170/200 SxS: Kody Krantz picked up his second 170/200 SxS win of the season with a strong race on Saturday. Three-time winner Raymond Deininger notched his second straight podium finish in second, and Axel Dreher finished third for the second straight contest.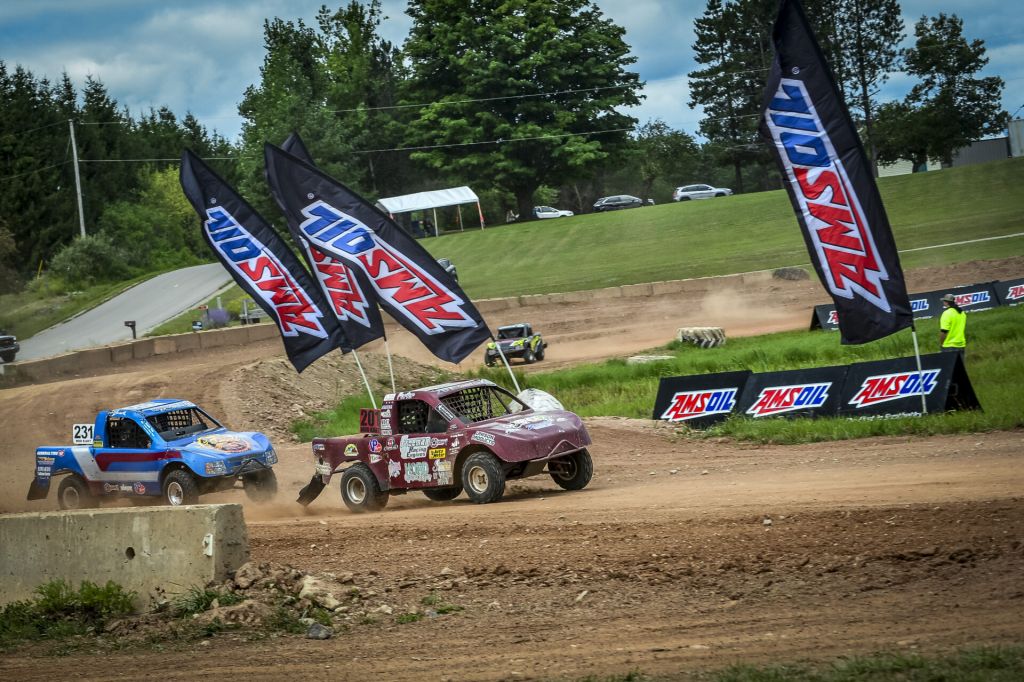 Mod Kart: Porter Inglese opened the season with three straight wins but has been missing from the Mod Kart podium for the past few rounds. After running around fifth for the first few laps, he was the fastest truck on track for the second half and made a last-lap pass on Zack Wirhanowicz for his fifth win of the season.
Wirhanowicz would hold on for second, with Hunter VanZile rounding out the podium in third.
Youth SxS: Ryker Remington has control of the Youth SxS points and was in complete control in Saturday's race. Remington picked up his third win of the season with a dominant round nine win. Layne Peterson crossed the line in second, and Carter Jutila earned his third straight podium finish in third.
1600 Light Buggy: The Schulz winning streak has come to an end after some crazy contact between the brothers early in the race. Connor and Colin Schulz have combined to win every 1600 Light Buggy race this season, and the brothers were leading Saturday's contest but made contact with each other. Colin spun, and Connor went off track and tangled up in the chain link fence.
Evan Hockers would find his way up front and pick up his first career class win. Runner-up Tyler Roloff earned his second podium of the season, and Colin Schulz was able to regroup before driving to a third-place finish, and the points lead.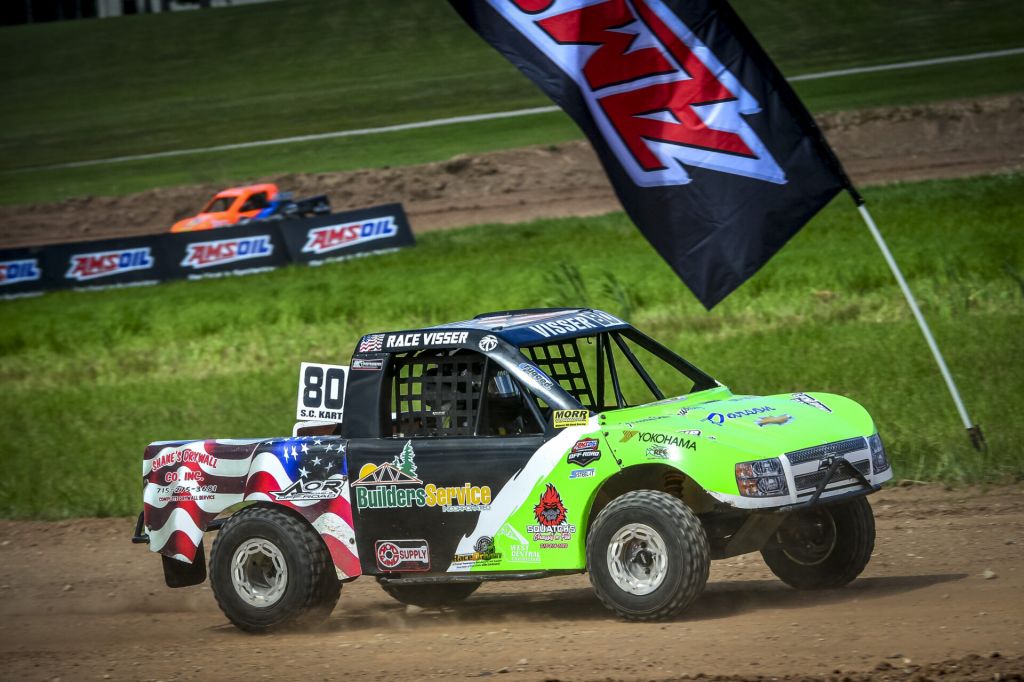 Short Course Karts: Race Visser grabbed the lead off the start and stretched out a big lead on his way to his seventh Short Course Kart win of the season. Wesley Vande Voort snuck inside of Lincoln Mandsager late for his fourth straight podium.
Stock Truck: Kyle Ambroziak led Stock Truck from the start, but Cory Holtger applied heavy pressure throughout before taking the lead with two laps to go. It marked Holtger's fifth straight win and seventh of the season. Ambroziak would hold on for second, with Brian Peot rounding out the podium.
Up next for AMSOIL Championship Off-Road, presented by the U.S. Air Force:  Round ten at the Bark River International Raceway in Bark River, Mich. on August 13.
With a subscription, you can watch all 14 rounds of the AMSOIL Championship Off-Road season plus live on FloRacing. For more information on how you can follow along this season, click here.