Bark River, Mich.: Bark River International Raceway put together one of the most exciting weekends of racing that the AMSOIL Championship Off-Road, presented by the U.S. Air Force, has witnessed over the past few seasons.
Sunday did not disappoint the fans lining the Bark River hillside and the worldwide watchers on the FloRacing.com broadcast. Points were at a premium in Bark River, especially in the Sportsman classes ending Labor Day weekend in Crandon. And as the speeds increased throughout the day, so did the intensity.
Nearly every race came down to the final turns, a big left-hander that bounced fortune in every direction on Sunday, including nail-biting finishings across the Pro classes.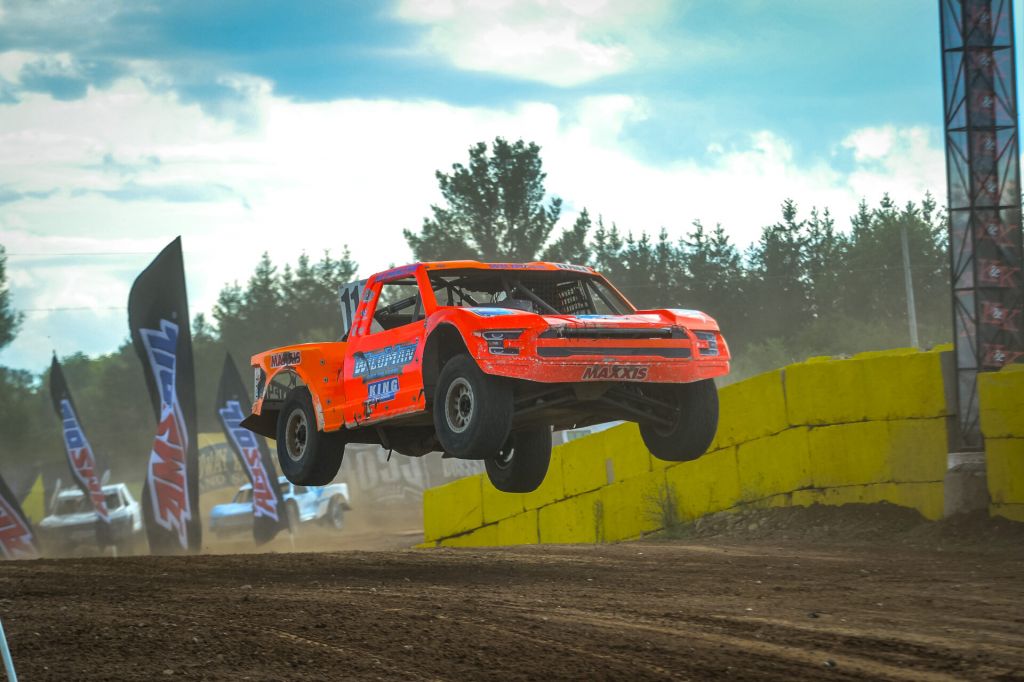 A Wild Finish Sees Cenni Seal Pro 4 Victory
The 2023 Pro 4 championship chase will not go softly into the night. It will likely be more of a backyard brawl full of adrenaline and emotion. Before it all ends next month in Oklahoma, lifelong friendships and family bonds may be tested, all in the quest for off-road dominance at the sport's highest level.
Every round brings a brazen barrage of racing and excitement, and the two days of racing in Bark River raised the temperature for a class that has been building up steam for the past two and a half months.
A new core of challengers has stepped up their attempts to unseat seven-time champion CJ Greaves this year. The defending champion has been ready, winning four of the first nine rounds, including a comeback win after suffering an early flat tire on Saturday.
Greaves had a shot at a weekend sweep on Sunday, carrying an early lead to the race's mandatory caution. But after the restart, the aggressiveness of the race started to unfold. With Greaves in charge, Jimmy Henderson threw a Hail Mary off a small jump that landed close enough to Greaves to disturb the race leader's line and forced Greaves to swerve into the guard rail and eventually to the back of the field.
Henderson looked like he was on his way to picking up his fourth win of the season, but Adrian Cenni had cleanly weaved his way through the mine-field of trucks and was picking up some late race momentum. He drew to Henderson's bumper several times, and with less than two laps left, he moved to the race lead after Henderson was forced to pull into the hot pits. After that, the Wildman enjoyed the cleanest air he had seen all season, powering around the Bark River track to his first win of 2023.
"It was a culmination of teamwork that's finally coming together," said Cenni. "We've got some really good guys, and once the setups are right, hopefully, I don't make too many mistakes and just be patient. It was very slippery, so hopefully, one of the guys makes a mistake in front of you, and then you try to sneak in front."
Behind Cenni, the race unfolded in several directions. For most of the contest, Kyle Chaney had matched Greaves at the front of the back, but he got out of line on the restart and shuffled back several spots before finding his mojo and getting back into the runner-up spot just before the start of the final lap. It marked his second podium of the weekend and his fourth of the season.
Andrew Carlson's return to Pro 4 action after sitting out of the truck at Dirt City was a success. He started in near the back and had an early spin, but he could watch the race unfold and stay clear of the bump and grind that causes issues with the high-powered Pro 4's. He moved within striking distance on the second to last lap and slipped into third after Cole Mamer unexpectedly pulled off on the last lap. It was Carlson's second podium of the weekend and fourth trip to the box in just six Pro 4 races this season.
Triumphant Thomas Closes Championship Gap
Much like last season, the 2023 Pro 2 championship will likely come down to a final race showdown with several drivers in the running. Mickey Thomas is in that mix, and he took a big step on Sunday with an impressive drive around the big, demanding Bark River track.
Coming into Sunday, points leader Cory Winner held a three-point advantage over round nine winner Ryan Beat and 15 points over Thomas. He got the start he wanted, leading the field around turn one and holding the point for two laps. But Thomas found enough traction to take the lead away on lap three and then put together the most complete race by any driver all weekend. He led to the mandatory caution and was unfazed after the restart, growing his lead to more than seven seconds over Winner.
"We really came up with a good setup for this track, and we didn't get the chance to show it yesterday after we got a front flat right off the bat," said Thomas. "I was just super soaked to get out here today and start on the front row. I was able to work by Corey there somewhat early and just kind of put my head down, hit my marks, and try to be as fast as possible."
The Pro 2 race had its moments behind Thomas, but Winner was really left to his own devices for most of the contest. He never fell out of the second spot and managed to distance himself from the back-and-forth racing for the final podium position. By finishing second, (and Beat fifth and Thomas' win), Winner now leads Thomas by eight points heading into Crandon.
The final podium spot was locked down by Kyle Kleiman, who was making his season debut in Bark River. The former class champion had good speed all weekend and put it all together on Sunday. He started seventh and held off several challengers, including Doug Mittag, late in the race to finish third.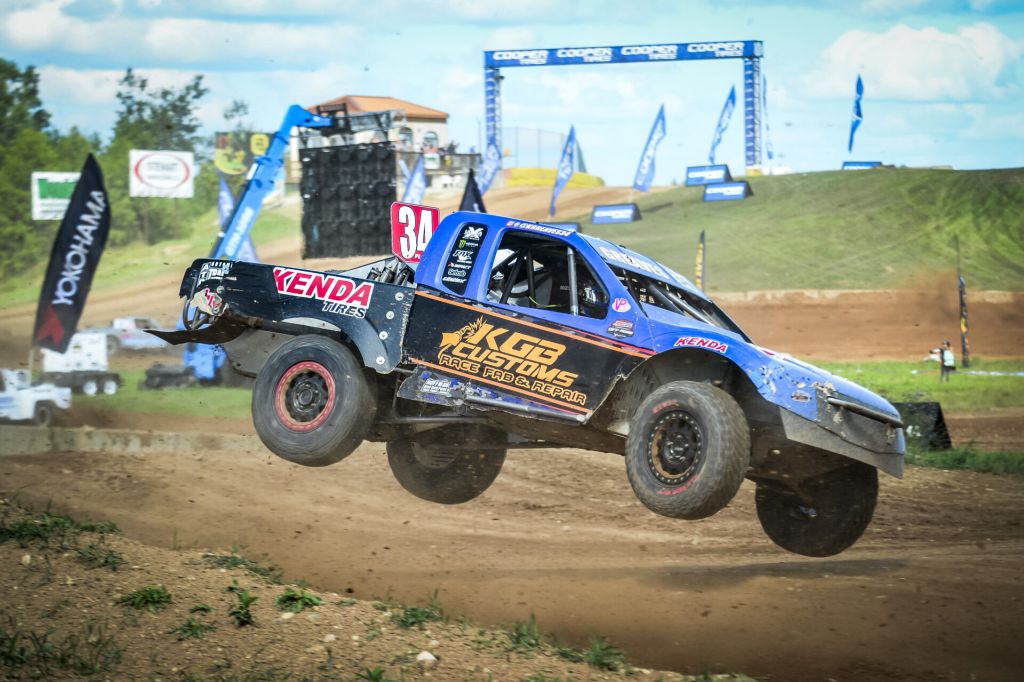 Greaves Keeps Momentum Moving Forward With Pro Lite Win
Sunday's Pro Lite race featured a bevy of excitement from start to finish, including a runner-rebound, three-wide racing, and the defending champ's return to form.
Madix Bailey set the pace early on Sunday and was flying around Bark River in search of his first 2023 win. Then things got a bit crazy just before the mandatory caution as Trey Gibbs took over the lead from Bailey but then hit a rut and rolled. That allowed Bailey and Kyle Greaves to sneak past, and as the storm to the mandatory caution, Gibb's spin was completed, and he was back on all four tires and still in third place. With all eyes on Gibbs, Greaves shot past Bailey into the lead as they raced door-to-door to the finish line jump.
Greaves took advantage of the clean air in the race's second half, pushing his lead out to more than four seconds as the points lead drove to his fourth win of the season and extended his current points lead to 21.
"I ended up getting first right before the caution, and that was huge," said Greaves. "From then on, we just put our heads down and kept going."
After the restart, Bailey would spin out and drop out of the top five, putting Matt Wood in second. He and Gibbs would put together a great race with one another over the final four laps, but with two turns remaining, Wood unexpectantly came to a crawl, and Gibbs took over the runner-up spot. Wood's slowdown also allowed Johnny Holtger to finish third after dropping to tenth halfway through the contest.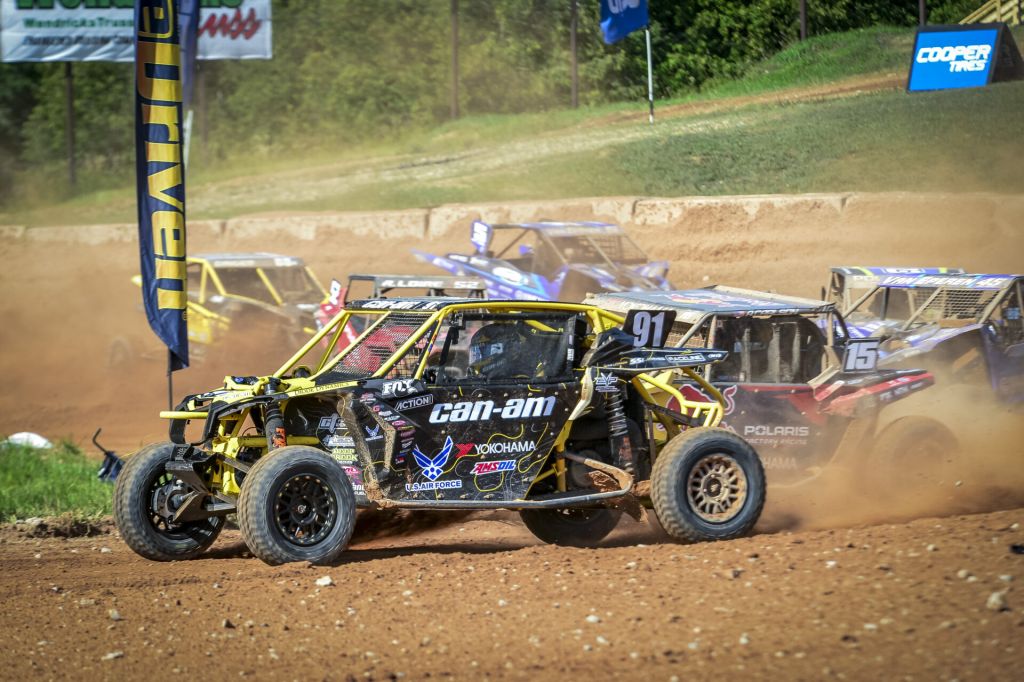 Bark River Beneficial to Chaney in Pro Turbo SxS
Kyle Chaney entered the weekend with three wins and started the day with an eight-point lead over CJ Greaves for Pro Turbo SxS Supremacy. He would put together a clean run for win number four and benefit from an unfortunate finish from Greaves.
Chaney immediately moved into the lead on Sunday, and Andrew Carlson was looking to challenge the former champion. But despite good speed, Carlson had to stare at the back bumper for most of the race, until Carlson unexpectantly spun out on the last lap. Chaney, meanwhile, was out front breathing clean air, driving to his fourth win of the year.
Carlson's spin allowed Rodney VanEperen and Greaves to move up one spot each on the leaderboard. VanEperen would drive to a second-place finish, backing up his Saturday win. Greaves, meanwhile, was closing in on his second podium of the weekend. Still, he came to a slow crawl with two turns remaining, putting Carlson back into third.
Greaves tried to coax every ounce of power left in his car as he inched toward the finish line. He was looking to secure as many points as possible but could not keep his forward momentum going up the finish line jump and came to a rest just 30 feet from the line. He was credited with a tenth-place finish and dropped 25 points behind Chaney.
Greaves Sweeps Pro Stock SxS
CJ Greaves took care of business on Sunday, completing the weekend sweep in Pro Stock SxS.
Much like Saturday's win, Greaves found the lead off the start and then held off Jeb Bootle and Owen VanEperen late in the race for his eighth win of the season.
Bootle and VanEperen were bumper to bumper at the end of the race, finishing 4/10ths of a second apart at the line. Both drivers had their hands full of Andrew Carlson throughout the race, who first challenged Bootle for second and then VanEperen for third before finishing two car lengths back in fourth.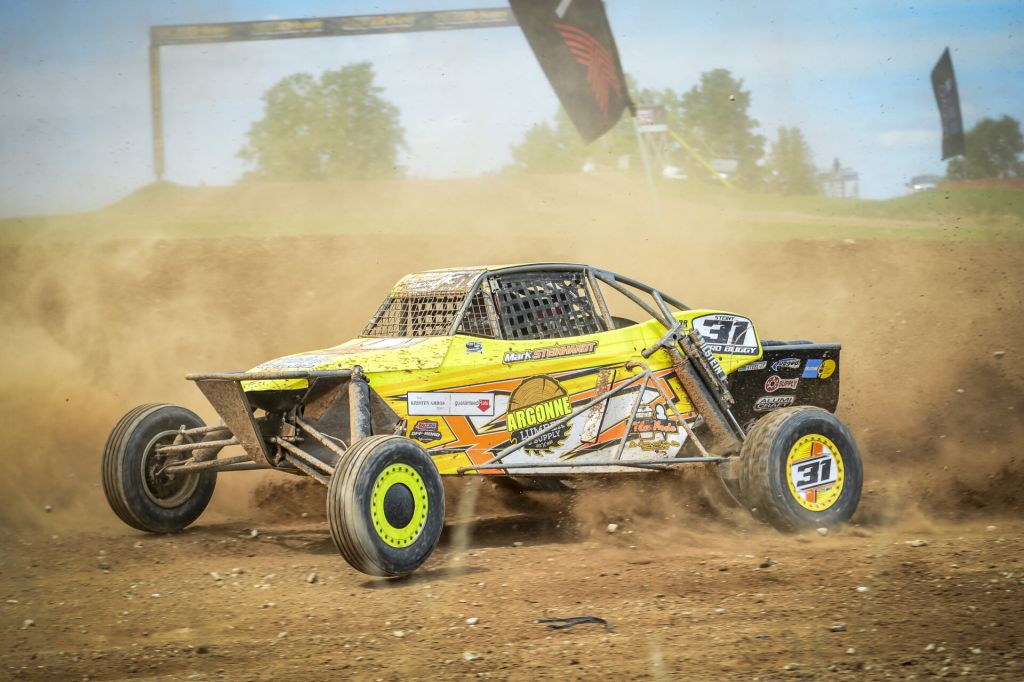 Steinhardt and Buth Battle in Pro Buggy
Mark Steinhardt started fourth in Sunday's Pro Buggy race and used patience as he watched the top three battle for position in front of him. He didn't have to wait long as on the third lap, race leader Mike Kirkham over-rotated coming off a jump and collected the second and third-place cars. That put Steinhardt into the lead, with Billy Buth in second.
The two entered the day with a single point separating them in the standings. Sunday's finish would be equally as tight as Steinhardt held off Buth by 3/10ths of a second at the line after a yellow flag on the final lap brought out a one-lap, Green-White-Checkered situation. It was Steinhardt's fourth win of the season and a five-point lead in the championship race.
Jadin Lemke finished third for his second career Pro Buggy podium.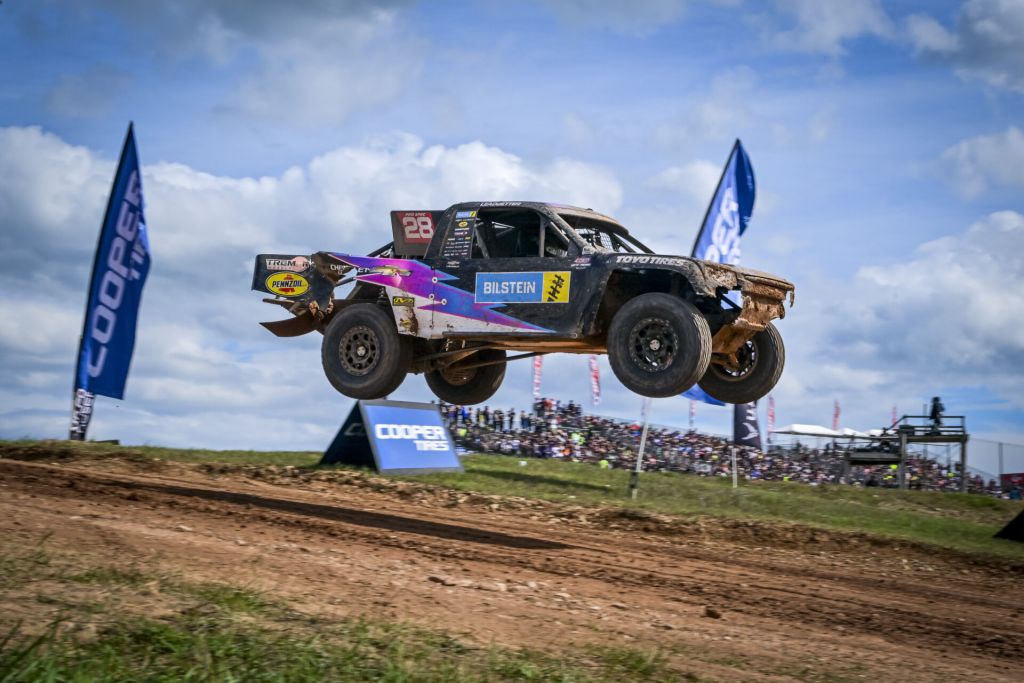 Leadbetter Leads Pro Spec
The development of the Pro Spec class continues to produce success stories, as the trucks have become dependable and an access point for up-and-coming drivers to compete on an even playing field in trucks designed to be equal.
Week in and week out, the skill behind the wheel has proven critical in Pro Spec success. On Sunday, the defending class champion kept the tires turning, and the truck pointed in the right direction as Gray Leadbetter picked up another impressive win.
Chris Van Den Elzen was searching for his first win of the year and came out swinging. His drive was smooth and consistent, but on lap six after the restart, he hit a rut and flipped. That put Leadbetter into a lead she would not relinquish, getting faster as the race wore on.
Points leader Chad Rayford put together a solid run, finishing second. He looked to challenge Leadbetter late in the contest. Still, after Saturday's race winner Nick Visser pulled off, Rayford took advantage of the opportunity to pick up championship points, stretching a six-point lead to 21.
Dylan Parsons has been finding his groove lately. The rookie driver never dropped below third on Sunday, finishing in that position for his third straight podium.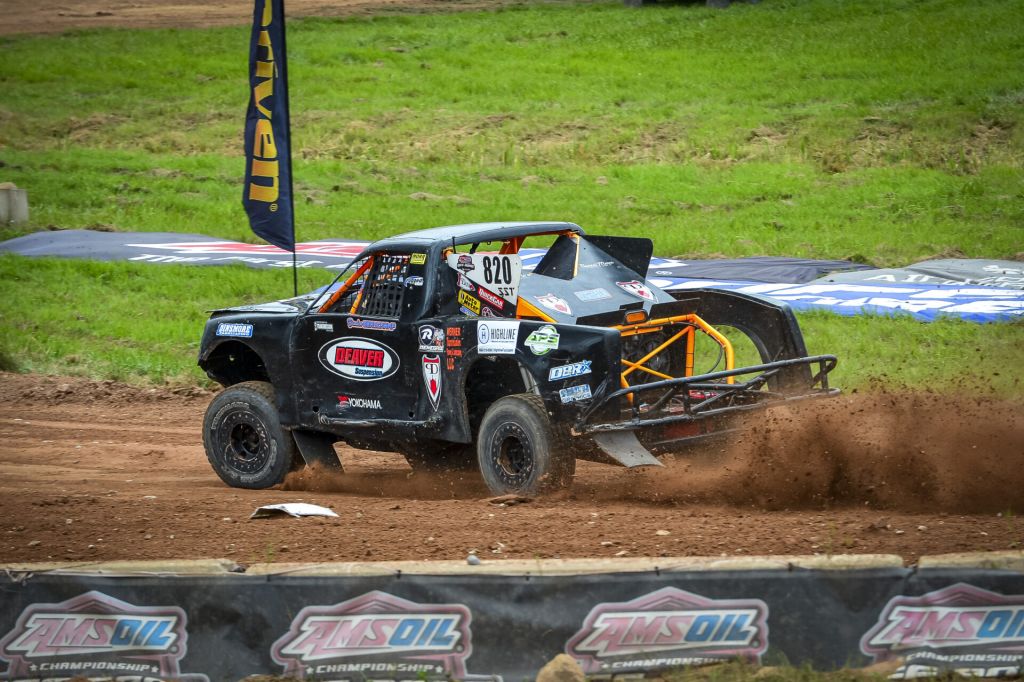 Super Stock Truck: Racing contact on the final turn between Braden Beauchamp and race leader Scott Boulanger made for an exciting finish in Super Stock Truck.
Beauchamp was tight to Boulanger's bumper all race and looked to sneak under Boulanger in the narrow left-hander just before the finish line. The momentum pushed both trucks off the inside line, and Boulanger ended up driving along the K-rail fencing as Beauchamp held his line and drove to his third win of the season.
Boulanger would also drop another position as Trey Beauchamp was close by and took advantage of the opening for his first podium of the season.
In the points race, only three points separated Joe Maciosek and Ben Holtger, but Maciosek finished 12th, and Holtger was fourth, giving Holtger the advantage heading into Crandon.
Pro-AM SxS: Kolton Krajicek might want to switch his number to five as the rookie Pro AM SxS driver took the lead on lap five and drove to his fifth win of the season on Sunday.
David Gay was the early leader before giving way to Krajicek. Two laps later, Jared Jadin and Rory Navin got around Gay for the final two podium positions.
Points leader Bill Berger finished sixth, with second-place driver Derek Liebergen picking up a couple of points after he crossed the line ahead of Berger in fifth.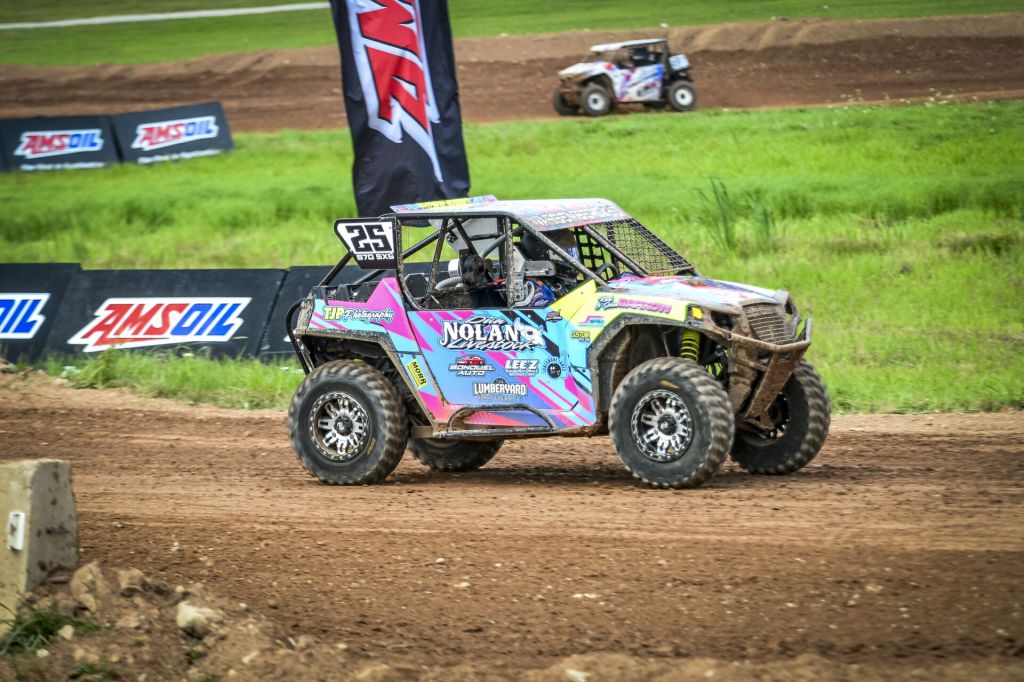 570 SxS: Corbyn Wassenberg put together a perfect weekend of racing in Bark River by finishing with the weekend sweep and his fourth win of the year. Unofficially, he gained 11 points on Bryce Powers with one round of competition left in Crandon.
Round two winner Hudson Houle finished second, and round seven winner Ellah Holtger crossed the line third.
Sportsman SxS: Sunday's Sportsman SxS race was almost a mirror image of Saturday's contest as it came down to a last-lap showdown between Bryce Carlson and Trent Peetz, but Carlson held on for his first win of the season.
Ben Heiting held the point with less than two laps remaining and his teammate Carlson in second. But Heiting hit a rut and rolled into the berm just before the white flag, putting Carlson in position for his first win in 2023. Peetz was in striking distance of Carlson, and the two were bumper-to-bumper coming through the final turn, with Carlson taking the win. Joel Steinbrecher finished third.
Peetz entered the day trailing Lucas Houle by five points, but Houle finished seventh, putting Peetz into the overall points lead with two rounds left at Crandon.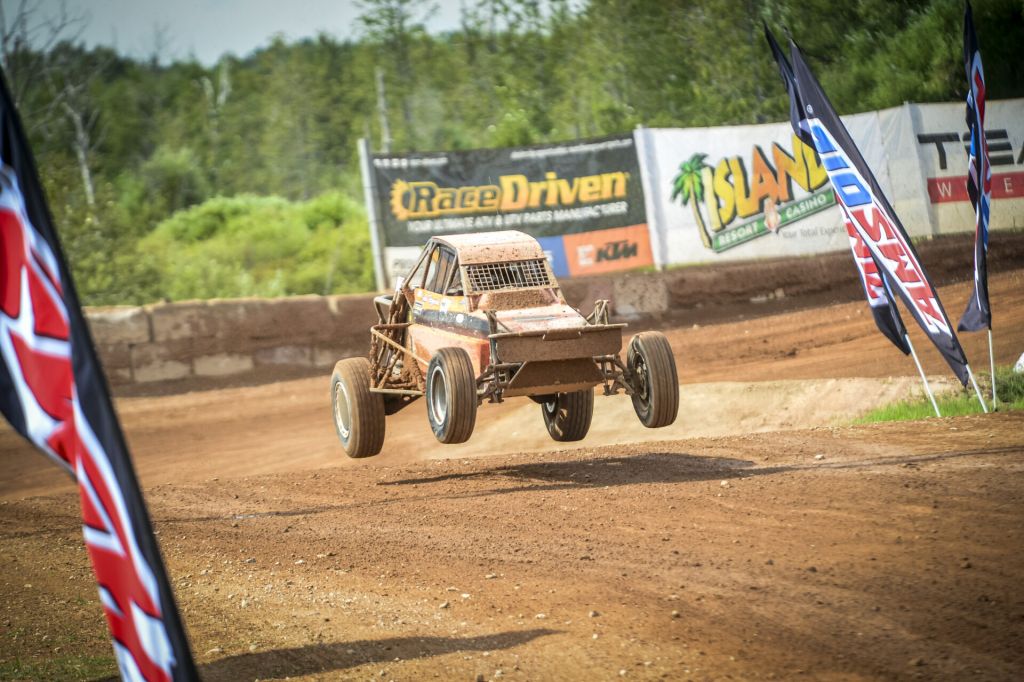 1600 Single Buggy: There is no slowing John Fitzgerald down in 1600 Single Buggy this season. Fitzgerald continued his trend of winning close races, this time by passing on the last turn and then holding off round five winner Colton Berns by 3/10ths of a second for his fourth straight win. Connor Schulz started 11th on Sunday but moved into third on the last lap for his third consecutive podium finish.
170/200 SxS: Kody Krantz made it a weekend sweep of the 170/200 SxS class with a convincing win on Sunday. Raymond Deininger started eight on Sunday but drove to his third straight podium finish in second place despite a bent rear wheel. Axel Dreher led the first two laps and finished third.
Mod Kart: Carter Vanden Heuvel took the lead on lap two and then held off Saturday's winner Porter Inglese by a headlight for his fourth Mod Kart win of the season. It was a drag race between Vanden Heuvel and Inglese for the entire race, as the pair crossed the finish line one-tenth of a second apart. Avery Hemmer kept pace with Inglese in the points race by finishing third. Only 20 points separate the top two drivers heading into the final round in Crandon.
Youth SxS: Points leader Ryker Remington started third on Sunday before moving into the race lead for god on lap seven. It marked his fourth straight win and seventh overall victory this season as he looks to lock down the championship in Crandon.
Three-time winner Libby Nielsen finished second behind Remington on Sunday, and Carter Jutila finished third for the fourth race in a row.
Short Course Karts: Jacobi Tullberg went wire-to-wire for his second Short Course Kart win of the season. Tullberg dealt with pressure from points leader Race Visser and Wesley Vande Voort early, but the two racers got tied up and shuffled back in the pack. That opened the door for Camden Paitl (second) and Finley Holtger to move into the final podium positions.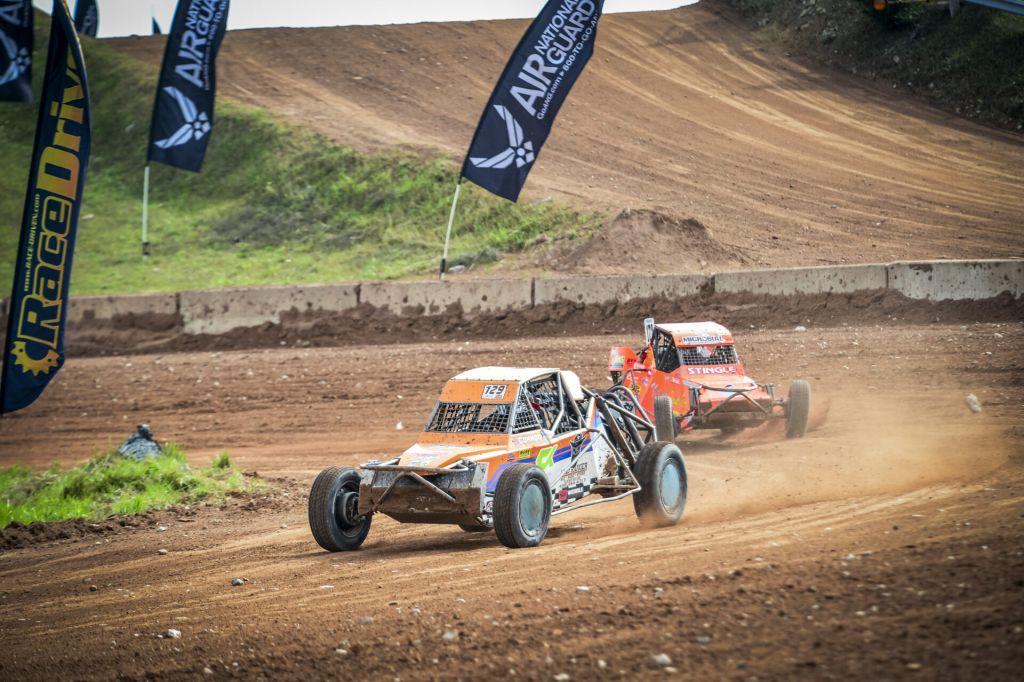 1600 Light Buggy: The 1600 Light Buggy championship will come down to the final two rounds in Crandon, which the Labor Day weekend performance from the Schulz brothers will decide.
A day after going off track and picking up only five championship points, Connor Schulz returned to the top of the box with his third win of the season. After a wild Saturday, he lost the points lead to his brother Colin but unofficially picked up ten points with his victory on Sunday. (Colin finished fourth).
Greg Stingle held on through a challenging drive to finish second on Sunday, his second podium of the season. Taylor Dawson led the race early and made his first appearance on the podium in 2023 after finishing third.
Stock Truck: Cory Holtger snuck past Kyle Ambroziak on Saturday to snag his fifth straight Stock Truck win, but Ambroziak wasn't let history repeat itself on Sunday.
Ambroziak led from start to finish and held off Holtger at the line by a tenth of a second for his second win of the season. Holtger never let Ambroziak get away as he earned his ninth straight podium finish, and the overall points lead. Tyler Mullins finished third.
Up next for AMSOIL Championship Off-Road, presented by the U.S. Air Force:  Crandon International Raceway in Crandon, Wis. on Labor Day Weekend. Championship Off-Road Racing will be held Friday and Saturday with the Polaris World Championships and Red Bull Cup on Sunday.
With a subscription, you can watch all 14 rounds of the AMSOIL Championship Off-Road season plus live on FloRacing. For more information on how you can follow along this season, click here.