Lena, Wis. – AMSOIL Championship Off-Road presented by the U.S. Air ForcE has officially hit the season mid-point and the competition has been extremely tight in 2023.
Points have been at a premium this year. Through six rounds, eight of the 18 classes are eight points or less between the top two, and only two classes have more than a 20-point difference (170/200 SxS and Pro Lite).
With competition this tight, the fourth full weekend of racing is a racer's paradise. The Dirt City Motorplex in Lena, Wis, was built by racers for racers. The nearly one-mile-long track brings elements from short-course tracks across the nation, with tight turns, tabletop jumps, and racing so close that it will challenge the most experienced drivers.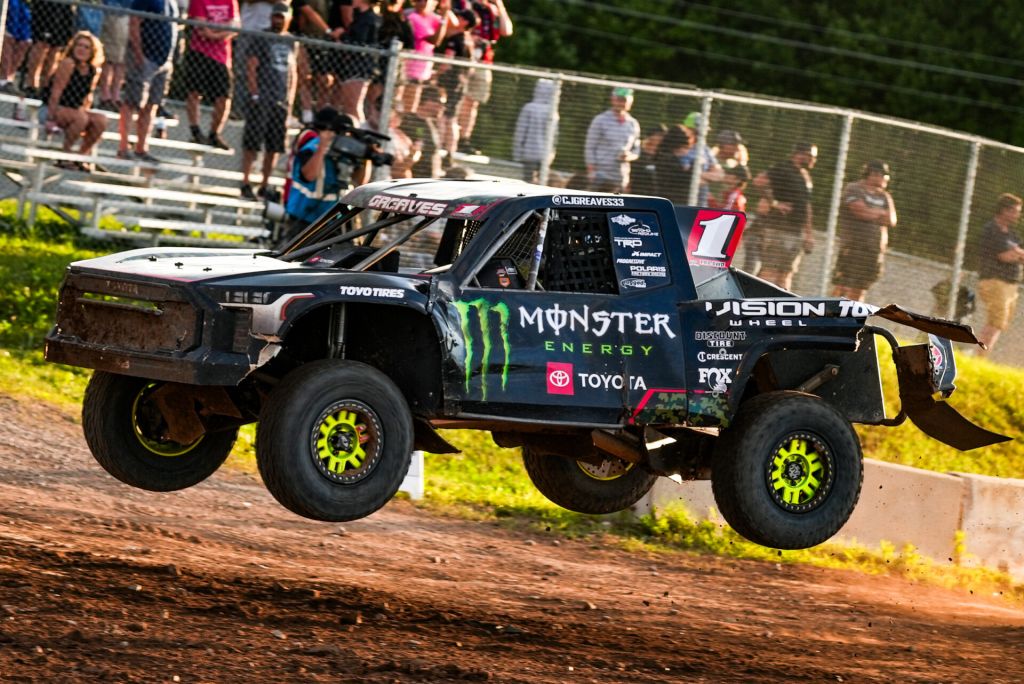 Greaves Gets Back on Top at Dirt City
CJ Greaves has won everywhere, and he's stood atop the podium multiple times across the short course landscape. Expect Dirt City, where his only win in Lena came back in 2020. It is the only track where the seven-time champion doesn't have at least four PRO4 wins. He took a step towards rectifying that with a convincing on Saturday.
Cole Mamer got the hole shot and the lead as the field sorted itself out behind him. It was an extremely patient race by all of the PRO4 competitors on Saturday, including Greaves, who sat directly behind the race leader. That patience paid off on lap eight when Mamer pushed wide, and Greaves snuck past and into the lead. It was a position Greaves wouldn't relinquish as he drove steady, stayed clear of the deep ruts, and powered to his fourth win of the season.
"The outside was really rough, really nasty," said Greaves. "I was able to come in and just creep down the bottom and coast it through there and get a good drive off. That was a really fun race. Me, Jimmy, and Cole, I think we all were door to door for multiple sections at a time and never messed each other up or anything."
With Greaves out front, Mamer and Jimmy Henderson would trade positions throughout the race's second half. Both would find opportunities to sneak past the other, but with the sun fading along the horizon, Henderson grabbed the runner-up position, with Mamer in third. It was the fourth podium finish of the season and the second straight for both drivers.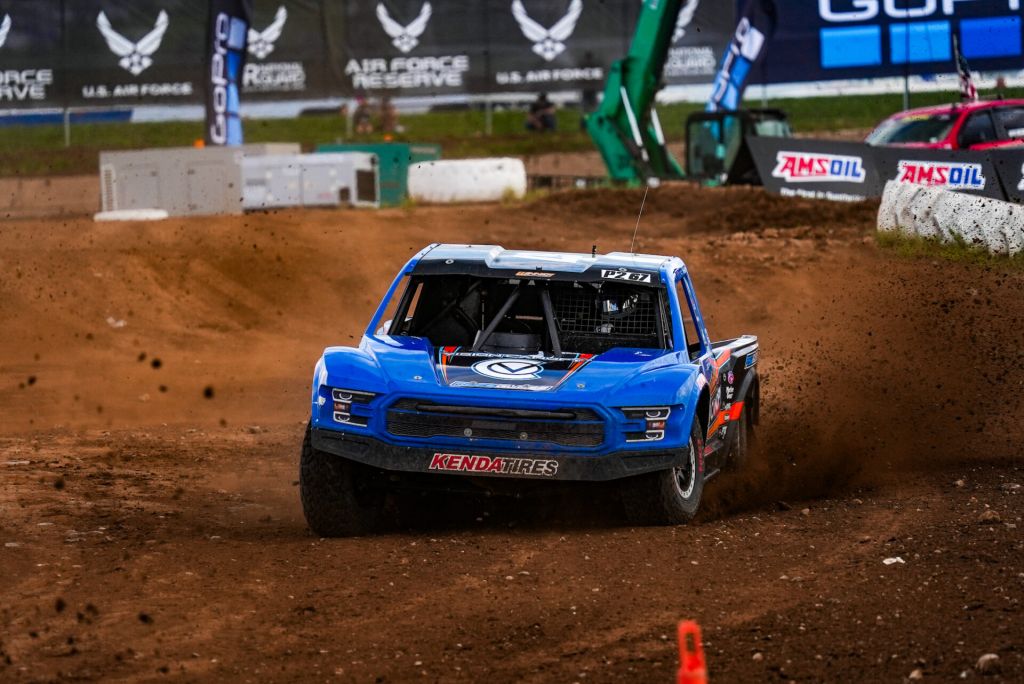 Winner Celebrates Birthday With PRO2 Triumph
Johnny Holtger has lined up for ten U.S. Air Force PRO2 races in his young career and won two of them. On Saturday, he was looking for number three, but Cory Winner gave himself a hard-earned birthday present by taking home the win.
Holtger got a great jump off the start and looked to be in position to back up his round five win at ERX earlier this month. He held the point for the first eight laps before a broken shock took him out of contention. Winner was in the right spot to take over the lead. The round-six winner sat in Holtger's roost for those eight laps and seized the opportunity to race out front in the clean air. Despite some heavy pressure from Mickey Thomas, Winner was able to pull away from the field for his second straight win. Unofficially, he should also be heading into Sunday's action with the overall points lead.
"It's always fun racing here," said Winner. "It's super rough and technical. I started behind Johnny and was trying to figure out how the track was, and it changed so fast. The guys dialed the setup in for sure."
It was a master class in patience for Saturday's runner-up. Dustin Grabowski has been playing in the desert for the past few years, racing top-end Trophy Trucks. He is in his first year with Championship Off-Road and hadn't even run a practice lap at Dirt City. But he waited for the trucks in front of him to get eaten up by the rough conditions and then put his desert experience to work, soaking up the ruts and pushing into the runner-up spot. Finishing second marked his best finish in short-course and his first career podium.
Thomas would shred a tire and drop into the pits, but Ryan Beat found a way to keep all four tires turning and pointed in the right direction. Despite catching a berm and hitting a tire, which forced him off track, Beat continuously found his way into podium positioning, crossing the line behind Grabowski in third.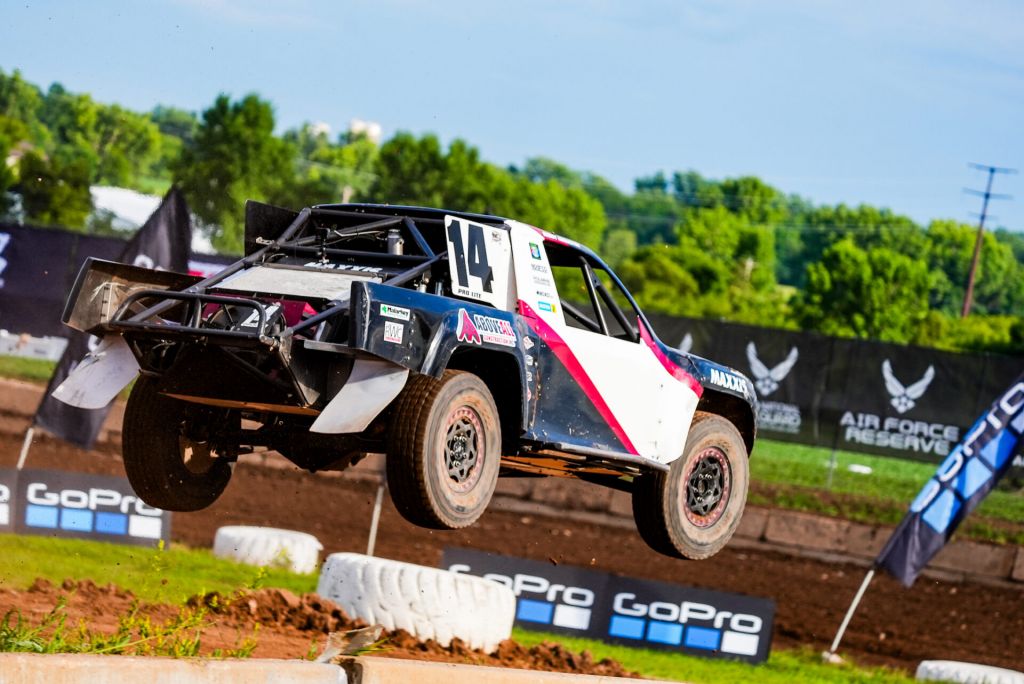 Eggleston Edges Past Gibbs in Pro Lite
The Pro Lite class is an anomaly in a sea of tight championship races across AMSOIL Championship Off-Road. Thanks to a weekend sweep at ERX, Kyle Greaves entered Dirt City with a 39-point lead over Trey Gibbs. Things will be a bit tighter when racing opens up on Sunday.
Gibbs got a great start on Saturday, while Greaves shuffled back a few spots. A few laps later, Greaves was still stuck in the crowd and was pushed to the edge of the track, where he hit a tractor tire and flipped, knocking him out of the race. Gibbs was in control of the race, and now possibly the points lead.
He led the field for 12 laps, but round two winner Brody Eggleston kept finding a faster line as the race wore on. On lap 12, Gibbs hit a rut and bicycled his four-wheel truck. That opened the door for Eggleston, and he took advantage, moving into a lead he wouldn't relinquish.
Gibb's two-wheel adventure was short-lived, but he could not chase down Eggleston. He still made up a ton of ground on Greaves by finishing second, his fifth podium of the season. Madix Bailey started the day in fifth and let the race come to him, moving into third on the final lap and holding off Matt Wood for the podium position by .200 of a second.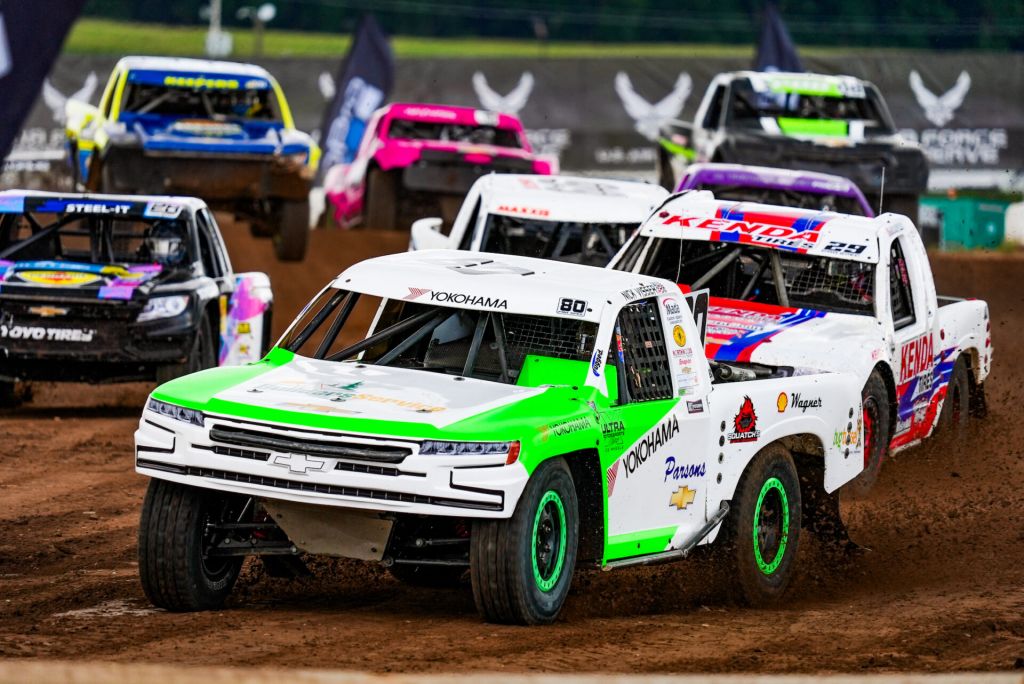 Pro Spec Victory for Visser
The Pro Spec class came into the weekend with only eight points separating the top three, with Chad Rayford leading Gray Leadbetter and Nick Visser. Saturday's race will indeed mix up the standings, as Visser was untouchable in the Dirt City opener.
Visser was clean the entire race, and while Rayford kept him honest early, the round one winner showed too much power as he pulled away from the contenders late in the race. Rayford looked to lock down the runner-up position, but Leadbetter was on his bumper as the laps wound down. Rayford would hit a rut on the last lap and put the truck up on two wheels. He recovered, but Leadbetter snuck underneath and throttled down to finish second, with Rayford uncontested in third.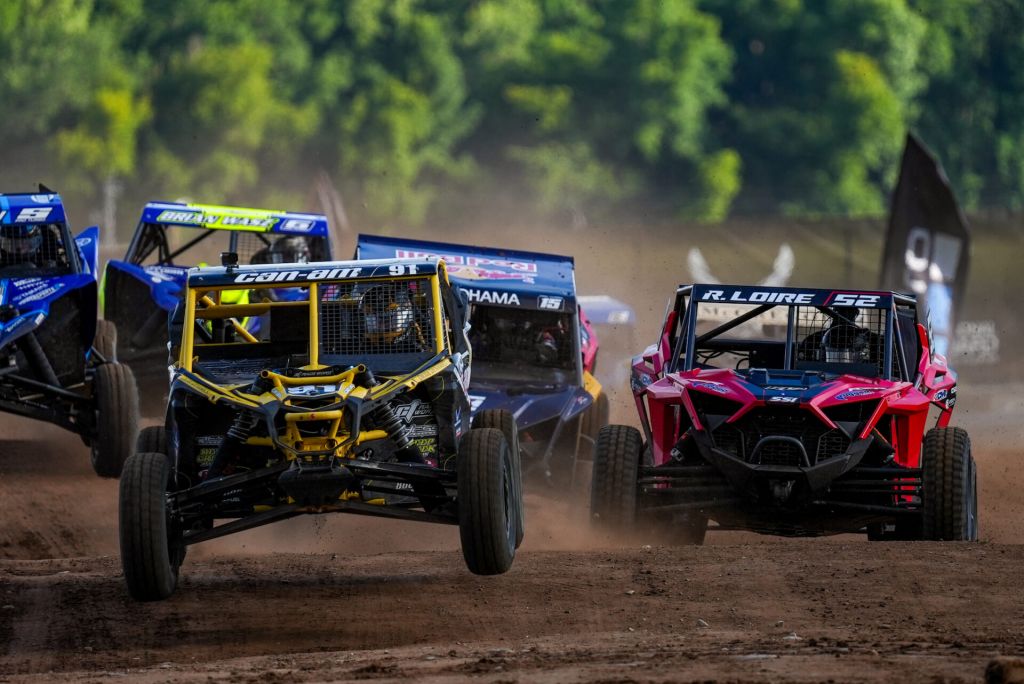 Chaney Cleans Up in Pro Turbo SxS
CJ Greaves grabbed a big hole shot off the start but quickly pulled to the side of the track. That put points leader Kyle Chaney at the front of the pack, and the former champion took care of business on Saturday.
Chaney felt some early pressure from Andrew Carlson, but it was a day when the Can-AM driver was flawless. He found the smoothest lines around the Dirt City track instead of the historically fast lines. That paid off as he brought home his third win of the season.
Round six winner Owen VanEperen started the day in fourth and took a couple of laps to find his lines. Once he found them, he moved into the runner-up spot on lap six and never gave the spot back. Brian Waszak followed VanEperen into podium contention on the sixth lap and kept pace for his second straight third-place finish.
Greaves Again in Pro Stock SxS
Jeb Bootle is looking for a second-half surge to overtake CJ Greaves in the Pro Stock SxS standings, but Greaves continued his hot streak as he pushed his Polaris to his third straight win.
Bootle grabbed the lead off the jump on Saturday, but he pulled off to the side in a puff of smoke one lap later, ending his day and giving the lead to Greaves. After that, Greaves would be a tough beat as he pulled away from the field. He would not be matched in the Dirt City opener, taking his fifth win in 2023 and his third straight Pro Stock SxS victory.
Owen VanEperen rebounded from a tough weekend of racing at ERX to finish second in Dirt City. Andrew Carlson has been on top of the box in Pro Turbo this season but has just missed out on a podium visit in Pro Stock. He flipped the script on Saturday, finishing third after a race-long battle with VanEperen.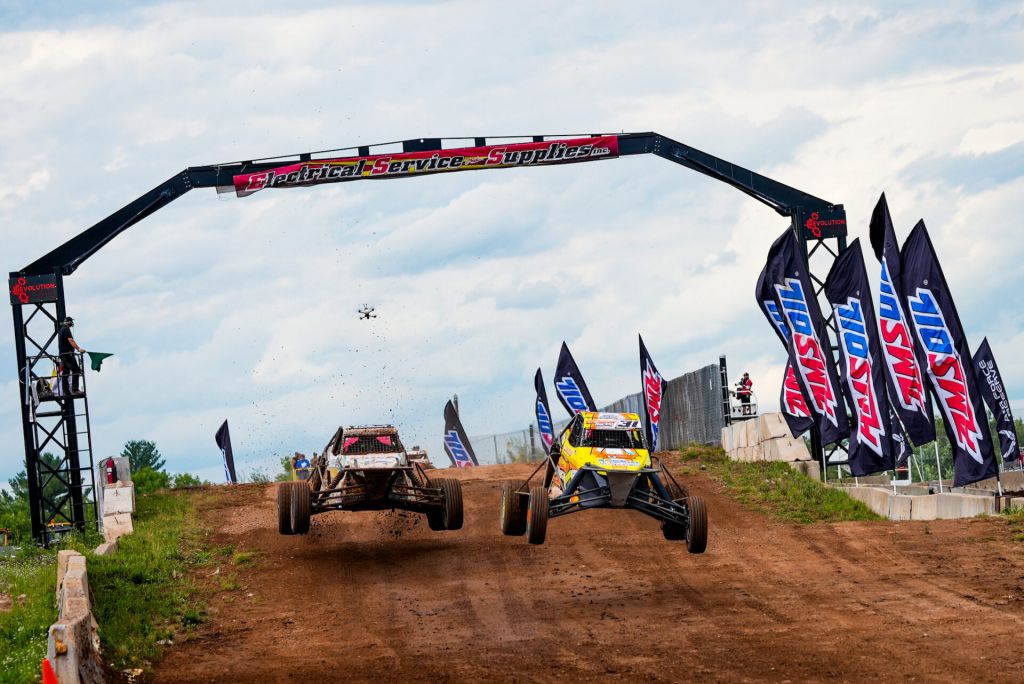 Pro Buggy: Mark Steinhardt took advantage of the mandatory caution and went on a second-half run to win Saturday's Pro Buggy race.
Steinhardt sat behind first-half leader Billy Buth until the mid-point when Buth had to pull off with a flat tire. After that, Steinhardt went to work, holding off a charge from Larry, who then dealt with his own flat. It marked Steinhardt's third win of the season, and he closed the gap on points leader Buth.
Mike Kirkham picked up his third podium of the year, finishing second after starting the race buried in twelfth. Jadin Lemke earned his first podium of the season after getting past Job on the last lap and outrunning him to the finish line. Lemke finished third by .04 of a second.
Pro-AM SxS: Kolton Krajicek started the year with three straight wins and was trying to hunt down number four, but some bad luck and a great race from Rory Navin would win the day.
Navin would go wire-to-wire for his first career Pro-AM SxS win. He had heavy pressure from Krajicek for much of the race but kept him from getting a clean run. Krajicek was in position for the runner-up spot with just a few turns remaining before he pulled over after losing power. That put round four winner Tyler Remmereid into second and points leader Bill Berger into third.
570 SxS: Ellah Holtger started third but took the lead before the mandatory restart. She didn't miss the mark during the race's second half and held off a hard-charging Grant Dresel for her first win of the season. Dresel, who won in round five, moved into the runner-up spot on lap eight before catching Holtger on the final lap. Bryce Powers finished third, and with Corbyn Wassenberg leaving the race early, he should enter round eight with the points lead.
Super Stock Truck: Points leader Scott Boulanger led Saturday's Super Stock Truck race but pulled into the hot pits early and gave way to Joe Maciosek, who would lead the rest of the race. It was Maciosek's first win since the opening round, but he made up the single point separating him from Boulanger for the overall lead. Ben Holtger returned to the podium with a second-place run at Dirt City. Nick Byng finished third, his second straight podium finish.
Sportsman SxS: The Sportsman SxS class was the first race of the day, which meant they were responsible for slinging any mud off the track after heavy rains fell on Friday. Tyler Wusterbarth was up to the challenge, starting second before dipping into the lead and driving to his first win of the season.
There was an impressive, back-and-forth battle for the runner-up spot on Saturday. Trent Peetz and Lucas Houle went door-to-door on the tight Dirt City racetrack, with Peetz holding the advantage by .070 of a second at the finish line for second place. It was the third straight podium for both Peetz and Houle.
1600 Single Buggy: There was a bit of bumping and banging in the second half of the 1600 Single Buggy race on Saturday, but John Fitzgerald was locked in as he drove to his third win of the season.
Colton Berns led the first two laps around Dirt City before Fitzgerald found the front of the line. Round five winner Berns would finish second, his fourth straight trip to the podium. Round one winner Travis Trelstad has finished in the top five in every race this season, including his third place on Saturday in Lena.
170/200 SxS: Points leader Tanner Thibeault set the quickest lap of the 170/200 SxS race on Saturday, and after starting sixth, he drove to his first win of the season. William Holtger led the first four laps before crossing the finish line in second, his third trip to the box in 2023. Ashton Dreher now has two podium finishes this year. Dreher started 11th on Saturday, working into the third position on lap four.
Mod Kart: Carter Vanden Heuvel broke through at ERX with his first Mod Kart win, and he now has a winning streak after a strong showing in Lena. Vanden Heuvel and Zack Wirhanowicz were in a tight race for the lead, but Wirhanowicz found a berm late in the race that allowed the race leader some breathing room.
Avery Hemmer and Porter Inglese were able to navigate around the upturned car and crossed the finish line with only .215 of a second, separating second and third place. Hemmer's runner-up finish was her fifth straight podium. Inglese only moved into contention with two laps remaining, but the points leader pushed hard for his first podium since his round five win at ERX.
Short Course Karts: Jacobi Tullberg started second but finished first in Dirt City. The win marked Tullberg's first Short Course Kart podium and first class win of the season.
Five-time class winner Race Visser was closing in on his sixth win of the season but crossed the line in second, just .304 of a second behind Tullberg. Wesley Vande Voort was close, ending the race .271 behind Visser for his fifth podium in 2023.
Youth SxS: Ryker Remington took the lead early and drove to his third Youth SxS win of the season. In doing so, Remington also took over the points lead from Libby Nielsen, who finished fifth at Dirt City. Layne Peterson finished second for his fifth straight podium. Carter Jutila started fifth and held off Livy Hentges for third, his first podium of the season.
1600 Light Buggy: Taylor Roloff was looking to unseat the Schulz brothers winning streak in 1600 Light Buggy, but Connor Schulz made a late move stick on his way to his third win of the season. Roloff led Schulz around the Dirt City track for most of the race, but Schulz was never more than a second away from the lead position. Roloff would stay equally close for the final turns, finishing on the podium for the first time this season.
Points leader Colin Schulz, who had won three straight coming into the weekend, gained control of the third spot on lap nine for his eleventh straight trip to the podium dating back to last season.
Stock Truck: Cory Holtger continues to knock out wins in Stock Truck. Holtger started second but took the lead on lap four and had a race-long fight with Kyle Ambroziak. But Ambroziak suffered a flat tire on the final lap, giving Holtger his fourth win of the season.
Brian Peot and Tyler Mullins were locked in a tight race, first for the final podium spot and then the runner-up position after Ambroziak's flat. At the line, Peot found himself ahead of Mullins by 9/10ths of a second for his fourth podium of the season
Up next for AMSOIL Championship Off-Road, presented by the U.S. Air Force:  Round eight at The Dirt City Motorplex Off-Road National in Lena, Wis., on Sunday, July 30.
With a subscription, you can watch all 14 rounds of the AMSOIL Championship Off-Road season plus live on FloRacing. For more information on how you can follow along this season, click here.