Lena, Wis. ~ When racing began just after the first cup of coffee on Sunday morning in Lena, Wis., it marked the start of the second half of racing for the 2023 AMSOIL Championship Off-Road, presented by the U.S. Air Force season.
The racing was tight and, at times, physical on Saturday. Heavy rains created a scramble to get the track into excellent racing conditions, and with more than 250 cars hitting the Dirt City Motorplex, it was rough and tumble. Close-quarter contact and opportunistic driving were the norm in round seven.
Round eight, meanwhile, was met with dry skies and blue grooves. Fast, technical racing highlighted the day, and drivers went looking for wins while keeping an eye on the ultimate prize, a 2023 short-course championship.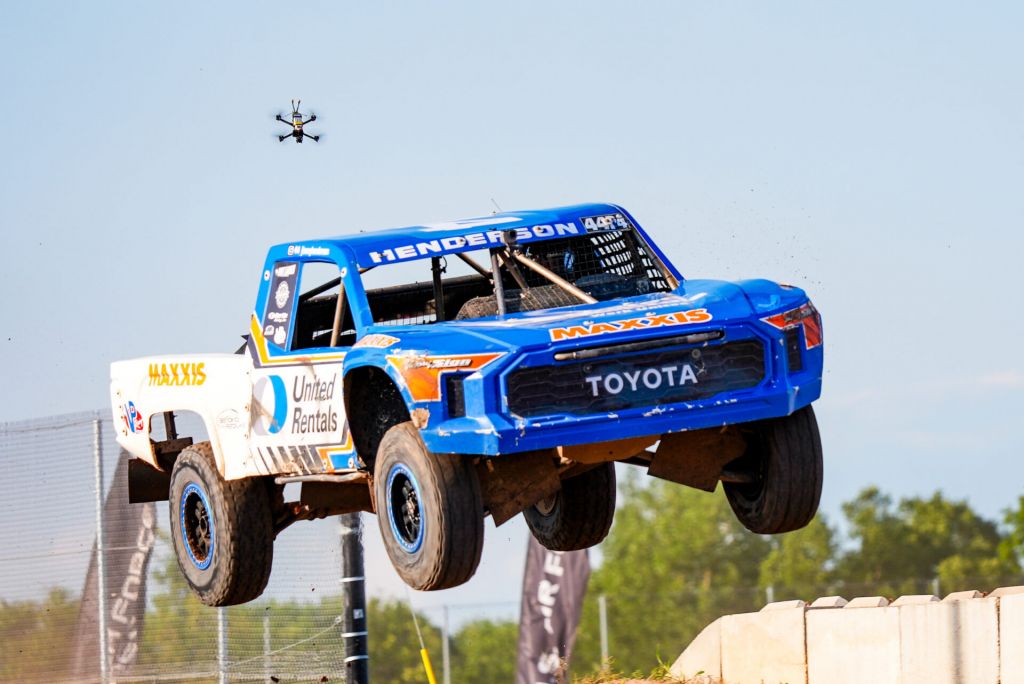 Henderson Heating Up After Dirt City Victory
After Jimmy Henderson won his first two career Pro 4 races in Crandon, he started to believe he was a championship contender. After a dominant Dirt City win on Sunday, he has the rest of the field feeling it too.
Henderson led the field off the start with Cole Mamer in tow. The pair were so close early that Mamer's truck likely gained a couple of hundred extra pounds from the roost Henderson was blowing into Mamer's cab.
But eventually, the defending champion CJ Greaves would enter the mix, and he got around Mamer on lap five, setting up a second-half showdown with Henderson. With Mamer on his heels, Greaves went to work catching Henderson, but the race leader never budged. Then, with four laps remaining, incidental contact was made, and Greaves came out of it with a cut tire, forcing the points leader into the hot pits. That gave Henderson a significant amount of breathing room as he drove to his third win of the season.
"We made a great call on the rear shocks, and it paid off big today," said Henderson. "We had all the traction that we were missing yesterday. It was an awesome race with me and Cole and me and CJ. We had some awesome battles door to door, inside-outside, and you know, we're learning each other and learning to trust each other so we can have those awesome battles."
With Henderson out front, Mamer held down the second spot for his fourth podium of the year. When he watches the race, he will be happy to see he was all alone as there was a hardnosed battle for the final podium spot behind him.
Johnny Greaves had moved into third, but Adrian Cenni and Kyle Chaney weren't letting him walk away with it. The three drivers were nose-to-tail over the final three laps, with Greaves and Cenni repeatedly swapping spots and Chaney looking for any opening the two were willing to give. With the turns becoming fewer and fewer, Cenni kept his truck in front of the pesky pack, reaching the podium for the fourth time this season.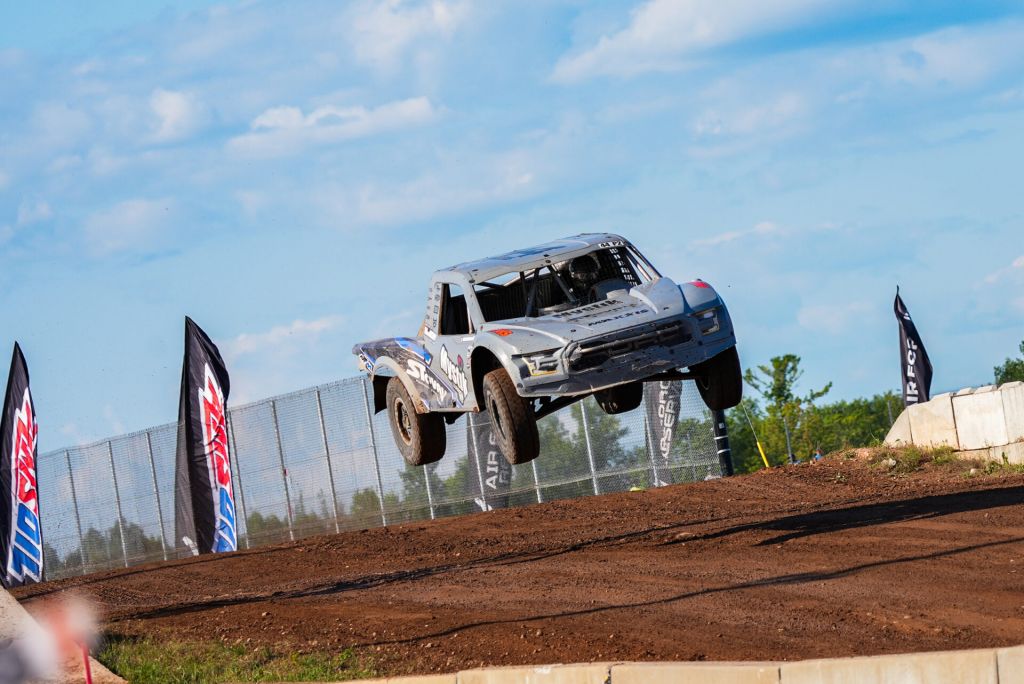 Thomas On Target in Pro 2
There are days when a racer gets out front, doesn't miss a beat, and all the rest of the field can do is battle it out for second place. That was the case on Sunday, as Mickey Thomas was unbeatable in Pro 2 at Dirt City.
Thomas was near perfect all race long. The round two winner was quick off the starts and smooth through the turns, which became more and more difficult as the track deteriorated with each passing lap. It was also a bit of déjà vu in round eight for Thomas, who also picked up the round eight win in 2022 at Dirt City.
"It was a good track to be out front on," said Thomas. "We had a rough day yesterday, so this felt really good to come out for the team and get a win. I was trying to hit my marks, stay smooth, and not get a flat tire because it was pretty gnarly out there. But we came through with the win, and I'm looking forward to Bark River."
Cory Winner started the day three points ahead of Thomas in the Pro 2 standings, with Ryan Beat just seven back. The win for Thomas will put him out front but Beat and Winner had good Sundays to keep the championship chase close.
With smoke trickling from his rear right tire, Beat held off Winner in between opportunities he had to catch Thomas for the runner-up spot. Winner, meanwhile, kept closing in on Beat but also had a tremendous race-long dogfight with Johnny Holtger for third. It looked like a close finish was in store, but Holtger bumped a tractor tire on the last lap, giving Winner some clean air to reach the podium.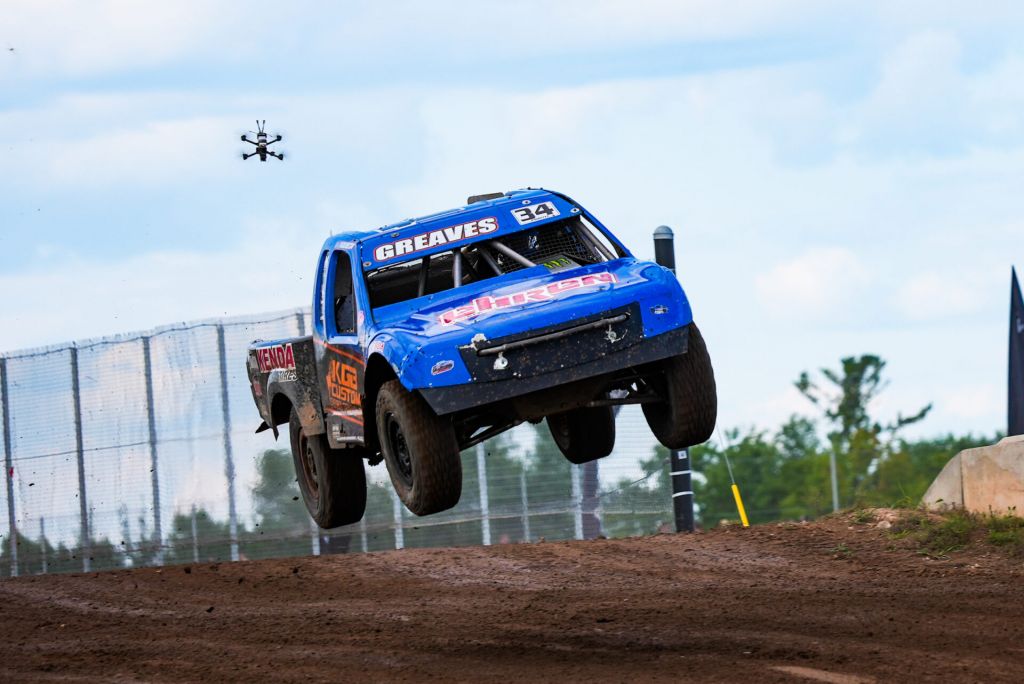 Kyle Greaves Finishes Comeback in Pro Lite 
Off-road, short-course truck racing is full of adrenaline and excitement. But there are also moments of pause when a truck hits hard off a wall or flips on a berm. One of those moments occurred on Saturday when defending Pro Lite champion Kyle Greaves hit a tractor tire and flipped on his lid. Upon first glance, it looked like his weekend might be over, and the truck would take weeks to get race ready again.
It took his crew less than 24 hours to put the puzzle back together, and maybe better than ever. Greaves did the unthinkable; a day after a big crash, he returned to the track and took home a nearly dominant win. The points leader accelerated away from the field off the start and never looked back, picking up his third win in his past four races.
"I definitely didn't think I was hopping back into the truck," said Greaves. "My team took the truck to the shop and cut it apart, and when I got there, it was welded together. This (win) is all for them. That was a rough one to come back from, but you know, without them, I would have been able to do it."
While Greaves was out front early, it was a crazy race behind him as the top five sorted themselves out. Round seven winner Brody Eggleston and runner-up Trey Gibbs picked up where they left off on Saturday. They were able to distance themselves from the next group of contenders, with Eggleston stretching out his second-place lead late for his fifth podium of the year. Gibbs, who has won twice this season, drove smoothly to the finish for third.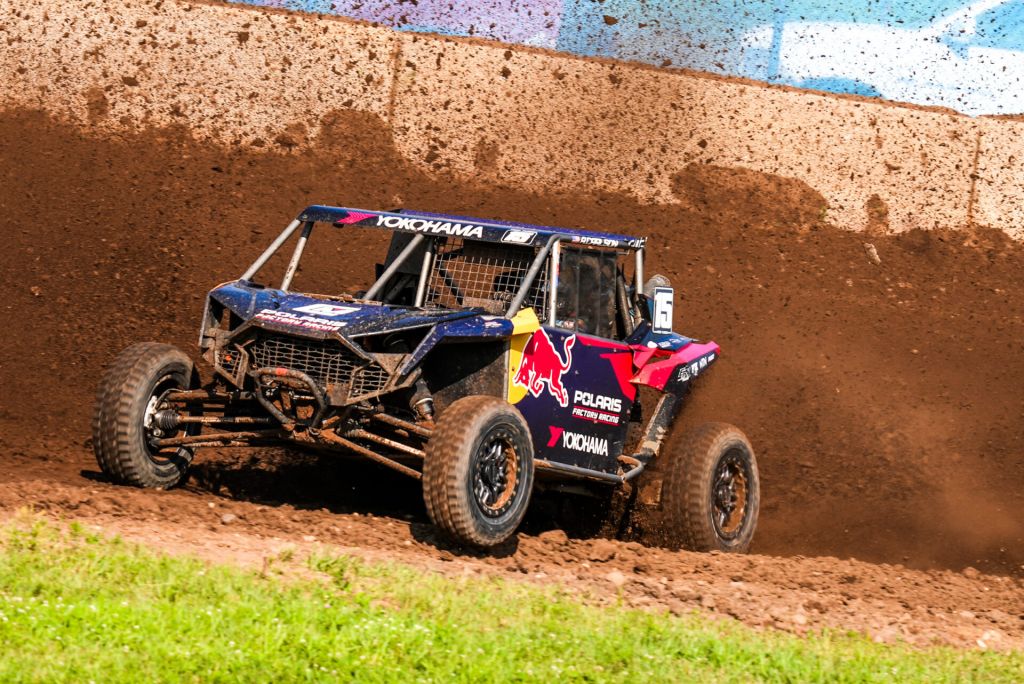 Carlson Back On Top in Pro Turbo SxS
Andrew Carlson put a tough weekend of Pro Turbo SxS racing at his hometown track (ERX) behind him as he relished in a track set-up at Dirt City that fit his hard-charging style.
Rodney VanEperen was first quick off the start and was whipping his Yamaha hard into every turn as he was going for his first win of the year and his first podium. He looked the part on Sunday, but Carlson didn't give him an inch of breathing room. They were one-two at the midpoint before Carlson pushed his Polaris into the lead. After that, Carlson found a lot of forward momentum as he picked up his second win of the year.
As for Hot Rod VanEperen, he tried to settle into second but had his hands full with Saturday winner and current points leader Kyle Chaney. Chaney had worked his way into third just before the halfway mark. He threw the kitchen sink at VanEperen before a pair of spins cost him the spot and allowed VanEperen to pull away and Robert Loire to take over the final podium position.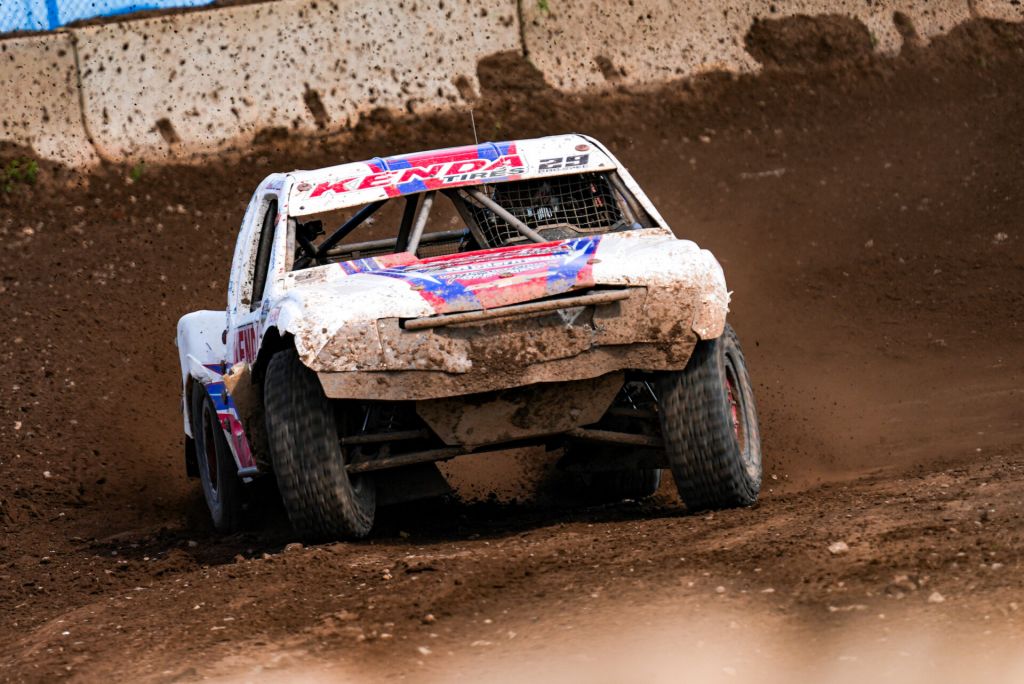 Pro Spec Victory for Rayford
Coming into Sunday, only two points separated Chad Rayford and Nick Visser in the Pro Spec standings. Only a few truck lengths separated them at the finish of round eight.
Rayford muscled into the lead off the start, sneaking past Gray Leadbetter and Chris Van Den Elzen on the first lap. He would hold the point for the entire race, even with a heavy charge from Leadbetter and then Visser late. Visser put together an impressive second-half surge, catching Rayford and pushing him to the end. Only two truck lengths separated the top two spots at the finish line.
Dylan Parsons has been closing in on his first career Pro Spec podium and finally closed the deal on Sunday. He snuck past Van Den Elzen late in the race and ran uncontested in third over the final laps.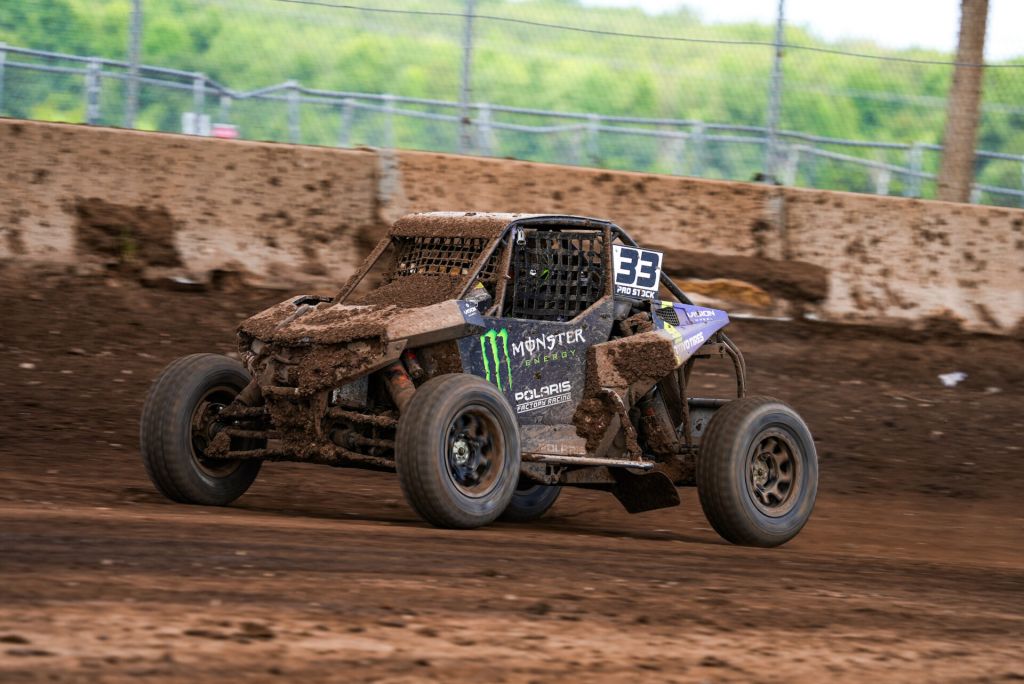 Greaves Sweeps Pro Stock SxS
CJ Greaves was patient for the first half of the Pro Stock SxS race and lightning quick in the second as he took home the weekend sweep and his fourth straight class win.
Jake Jorgenson led the field to the mandatory caution, but Greaves was on the throttle off the start and railed around the race leader for the top spot. He pulled Owen VanEperen around the track with him as the two pushed extremely hard over the next six laps. Greaves would hold off VanEperen at the line (.314 difference) for his sixth win. VanEperen put together a strong performance at Dirt City, finishing second both days.
Hometown driver Dylan Marquardt started on the pole and moved around the top four until the race's final lap. He slipped past Jorgenson on the last lap for his second podium in 2023.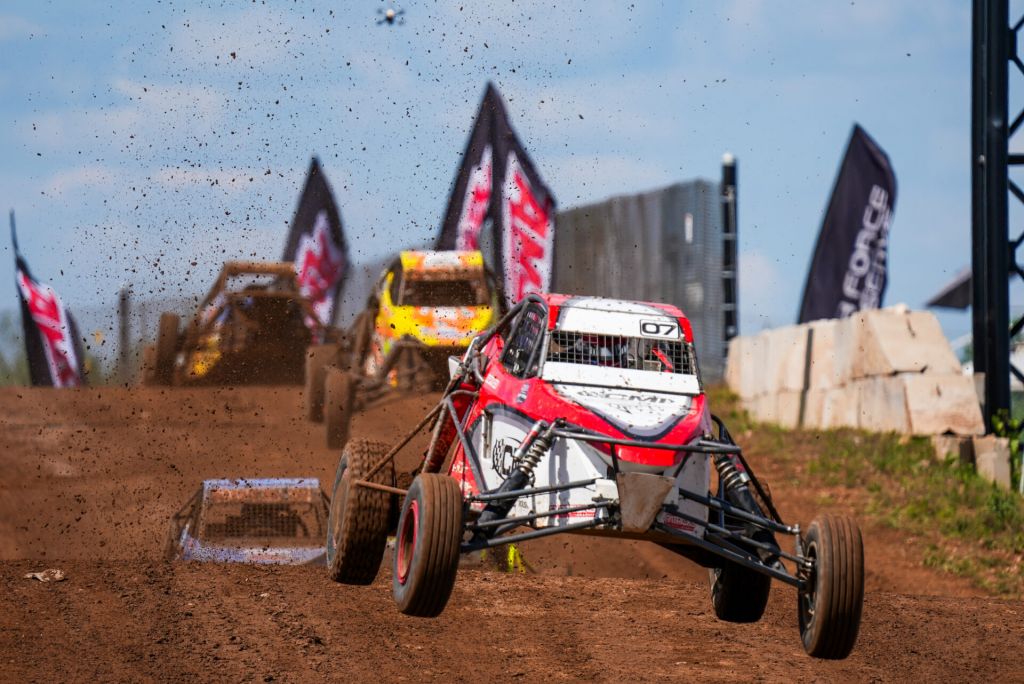 Pro Buggy Win for Job
Larry Job was running near the front on Saturday, but the round four winner lost tire pressure and dropped to fourth on the final lap. On Sunday, the Nevada resident put the right pedal down and kept his Pro Buggy out in front of the field from start to finish, picking up his second win in the process.
Billy Buth also fought a flat on Saturday, and much like Job, he found redemption on Sunday. The top four had a tight finish, with the points leader, Buth finishing .231 behind Job. Michael Meister ran the race's fastest lap and found his way past Mark Steinhardt on the last lap before finishing a half second behind Buth. Steinhardt was fourth, just a car length behind Meister.
Pro-AM SxS: After starting his rookie season with three straight wins, Kolton Krajicek finally picked up his fourth Pro-AM SxS win on Sunday. Krajicek got into the lead on the first lap and never looked back, grabbing the win and his first podium since round three in Crandon.
Jesse Greaves and David Gay will head to Bark River with a boost of confidence. Both men succeeded in Dirt City on Sunday, each getting their best finish of the season and first podium of the year. Greaves locked down the runner-up spot, while Gay powered past round four winner Tyler Remmeried with three laps to go for third.
570 SxS: Round one winner Ryker Remington led Sunday's 570 SxS race from start to finish as he notched his second win of the year. Corbyn Wassenberg was looking for his fourth win of the season but fell short after crossing the line less than a second behind Remington. Madisyn Winistorfer earned her first podium finish after getting past round seven winner Ellah Holtger for third.
Super Stock Truck: It was another wild ride in Super Stock Truck, but while a familiar face found the winner's circle, it was a pair for first timers that filled out the podium on Sunday.
Ben Holtger and Braden Beauchamp would go door-to-door for most of the race, but a Beauchamp pulled off to the side of the track with under a minute remaining on the clock. That put Holtger in the lead, and he drove it home for his third win.
Aaron Holiday and Brad Barglind put together their most complete races of the season, and each moved up a spot after Beauchamp dropped out. Holiday would cross the line in second, just ahead of Barglind, with each man grabbing their first podium of the season.
Sportsman SxS: Trent Peetz took over the race lead on lap four and pulled away for his first Sportsman SxS win. Peetz also closed the points gap (13 points) on Lucas Houle after Houle crashed early in the contest.
Tyler Wusterbarth picked up his first win of the season on Saturday and followed it up with a second-place finish on Sunday. Kadin Piontek started eight on Sunday and moved into the third spot on lap eight for his first podium of the year.
1600 Single Buggy: Fitz was again fantastic on Sunday, taking home the weekend sweep of the 1600 Single Buggy class. Also known as John Fitzgerald, the points leader went wire-to-wire for his fourth win in 2023. Michael Seefeldt continues to knock out podium finishes, driving to his sixth after finishing second on Sunday. Connor Schulz nabbed his first 1600 Single Buggy podium this year after making a late pass on Travis Trelstad for third.
170/200 SxS: Round seven winner Tanner Thibeault made it a weekend sweep in 170/200 SxS on Sunday. The points lead was fifth off the line but grabbed the lead on the first lap and never looked back. Four-time class winner Raymond Deininger worked through the field from a 14th start position to finish second. Axel Dreher earned his first podium of the year by climbing into third after starting tenth.
Mod Kart: Carter Vanden Heuvel is on a roll in Mod Kart. Vanden Heuvel took the lead from Tristian Hinton on lap seven and put the loud pedal down, driving to his third straight victory. Hinton kept pace with the race leader, finishing second for his third consecutive trip to the podium. Hunter VanZile made a last-lap pass on Zack Wirhanowicz for third.
Short Course Karts: Race Visser kept a firm grip on his overall points lead in Short Course Karts this weekend. After finishing second on Saturday, Visser went wire-to-wire for his sixth win this year. Finley Holtger started seventh on Sunday but raced into the runner-up spot on lap four as she picked up her second podium of the season. Wesley Vande Voort crossed the line in third, holding off Caleb Bell by .724 of a second at the finish.
Youth SxS: Ryker Remington took over the Youth SxS points lead on Saturday and then took home the weekend sweep on Sunday. Remington led from start to finish for his fifth win of the 2023 campaign. After missing the first two rounds, Layne Peterson has podiumed in six straight races, including a second on Sunday. Three-time class winner Libby Nielsen finished third.
1600 Light Buggy: Colin Schulz came into the weekend with four 1600 Light Buggy wins, two ahead of his brother Connor. After sweeping the weekend, Connor evened up the win column and took ahold of the points lead.
Jake Schilleman led for the first half of Sunday's race before giving way to Schulz on lap seven. He would battle Greg Stingle for the runner-up spot before finding some space over the last two laps. It was Schilleman's third podium of the season and Stingle's second trip to the box after finishing the 2022 season with eight top threes.
Stock Truck: It was a wild finish to Sunday's Stock Truck race, including some post-finish line drama, but for the fourth straight race, Cory Holtger stood atop the podium.
Holtger made it a weekend sweep by working his way to the front early and holding off battles with Kyle Ambroziak and Tyler Mullins for his class-leading sixth win. Mullins put late pressure on Holtger, and the two crossed the finish line nearly door-to-door. They made contact as they landed off the final tabletop jump, and Holtger spun and flipped. Holtger was okay, and both drivers called it a racing incident.
Ambroziak finished third and is second behind Holtger in the points standings.
Up next for AMSOIL Championship Off-Road, presented by the U.S. Air Force:  Round nine and ten at the Bark River International Raceway in Bark River, Mich. on August 12-13.
With a subscription, you can watch all 14 rounds of the AMSOIL Championship Off-Road season plus live on FloRacing. For more information on how you can follow along this season, click here.