onX Offroad, a leader in off-pavement adventure navigation, will serve as the official map partner of the California 300, coming to Barstow, California October 4-8, 2023 with an estimated 25,000 off-road and recreational enthusiasts are expected to watch over 400 race teams in 40+ classes go door to door. Attendees can download the onX Offroad App to access the official race course, designated spectating areas, and vending sites. The onX Offroad Team will also be on-site, offering tutorials and sharing how onX Offroad can help attendees get the most out of their time in Barstow and fuel their adventures in the California desert.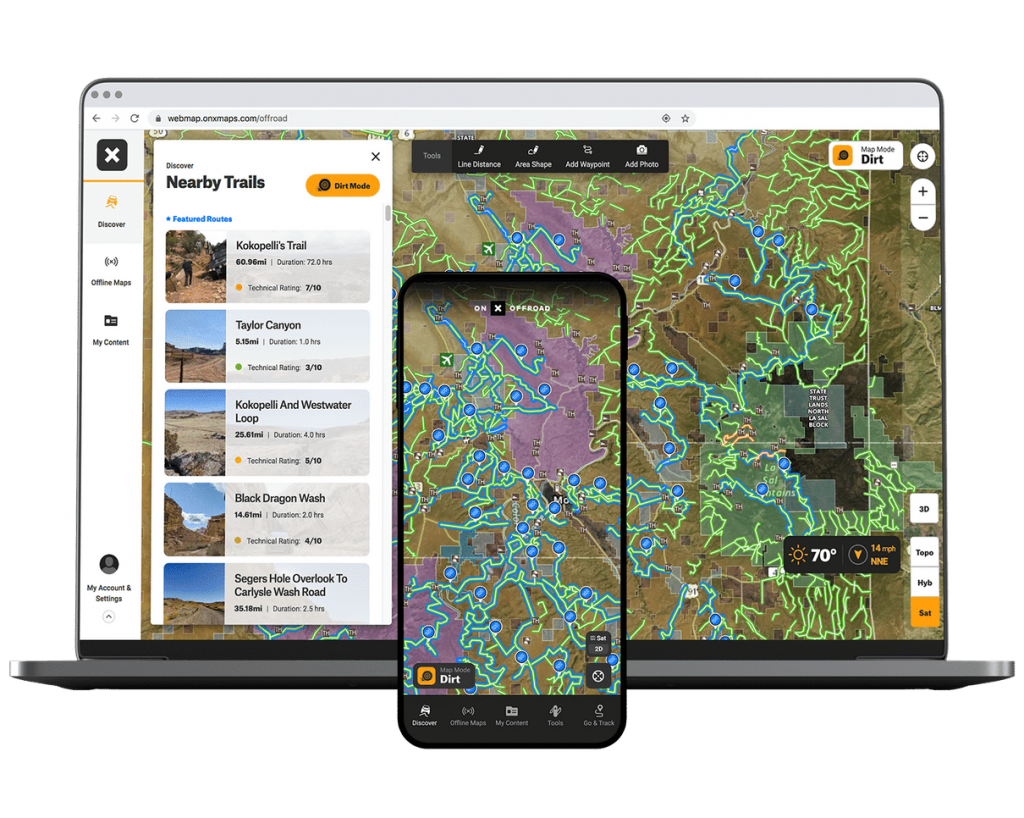 "onX Offroad has been a critical tool to build our course and even this year," said California 300 CEO, Matt Martelli. "The App allows us to mark courses and obstacles and see the boundaries of BLM and private land so we stay in designated OHV areas. It also gives us the ability to designate spectating areas for better viewing and safety. We're stoked to use onX Offroad to help improve the attendee experience  at all of our events, beginning with the California 300."
"The California 300 is poised to become the next iconic desert race," said onX Offroad General Manager, Rory Edwards. "The team at onX Offroad is proud to supply racers, spectators, and organizers the mapping tools they need to excel in the harshest desert conditions – silt, sand, rocks, three foot whoops, and break neck speed. From racer route planning, to spectator zones, and to check out all the latest on the course information be sure to download the onX Offroad App for all the action when the rubber hits the sand."
Plan your adventure with Route Builder. Routes snap automatically to roads and trails, allowing you to click two points, and have onX draw a route between those two points.
onX's dirt off-road app quickly turns into your winter adventure planning tool with the tap of a button.
onX Offroad is the leader in off-road maps and GPS technology, empowering powersports and overlanding enthusiasts to explore 615,000+ miles of motorized trails and 852 million acres of public land. Built for off-roaders, by off-roaders, the company strives to create the most complete, current, and accurate mapping app available on the market.
Details regarding racer registration, sponsorship packages, exhibitor vending, spectator tickets, camping and parking passes for the California 300 are live on OffRoadRacer.com.
About The California 300

The California 300 is a world-class, off-road desert race built to showcase the best off-road racers in the world. The multi-day event will be held October 4-8, 2023 in Barstow, CA and will feature a desert cleanup, multiple days of prerunning, a public poker run, an off-road festival, and two days of spectacular off-road racing on a fast, technical, and punishing 75-mile race course. An estimated 25,000 off-road and recreational enthusiasts are expected to watch over 400 race teams in 40+ classes go door to door, while Mad Media's live stream coverage will be beamed to over 500,000 viewers worldwide. The California 300 is brought to you by the team that has rebuilt The Mint 400 into one of the most successful desert off-road races in history.