Crandon, Wis. ~ For the past 54 years, the center of short-course, off-road racing has been held in upstate Wisconsin, in the small, quiet town of Crandon, Wis. World Champions are crowned in Crandon. Points championships are won and lost on the famed track's final turns. Big paydays and legendary moments are made at the Big House.
All that was in play on Saturday as AMSOIL Championship Off-Road, presented by the U.S. Air Force, held its final, full day of racing of its 2023 season. The Sportsman classes were geared up, ready for the end of a competitive year and the chance to get both a points title and a World Championship ring. The Pro classes still have a whole weekend of racing in Oklahoma later this month, but a win on Saturday is equally as necessary for the points as it is for prestige, as a win at Fall Crandon will be remembered forever.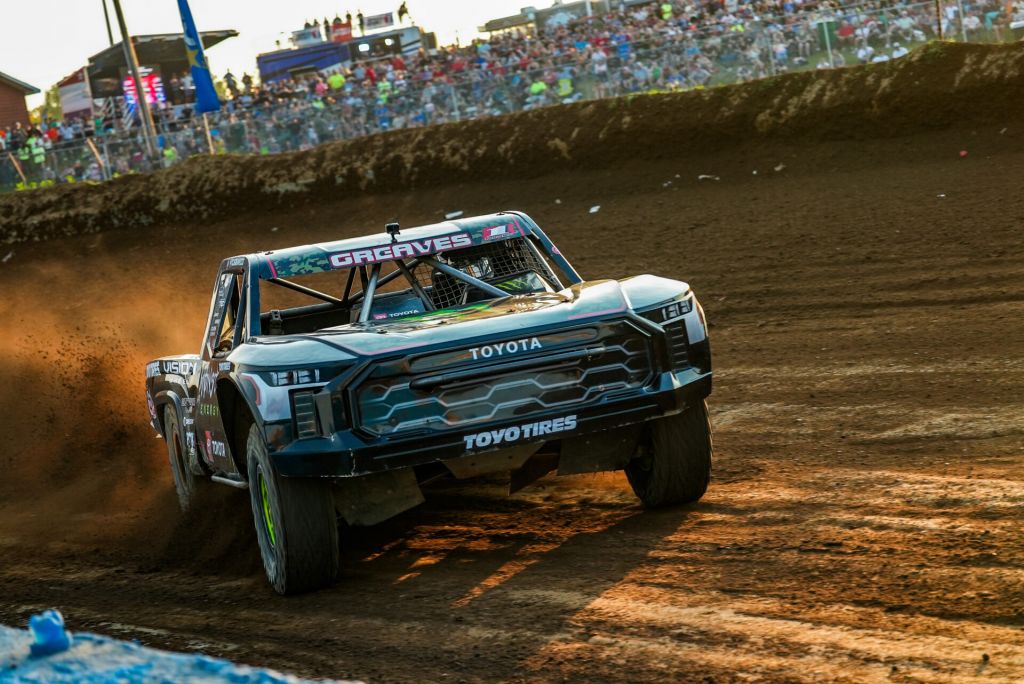 CJ Greaves Storms to Sixth Pro 4 Win
The rest of the season will be a dogfight in Pro 4, especially at the top of the standings, where CJ Greaves came into Crandon with a 25-point lead over Jimmy Henderson. The pair have been near equally following the first weekend when Greaves gained a 33-point advantage over Henderson.
Henderson has been a more consistent points driver since round two, but Fall Crandon and Greaves has been nearly historical at the Big House. On Saturday, which will be the only Pro 4 race of the weekend that counts towards points, Greaves was near perfect. He hauled in the hole shot and hit his marks lap after lap, driving to his class-leading sixth win of the season. Greaves attributed the success to all the hard work done off the track in preparation for this weekend's festivities.
"We came out and did a bunch of testing and basically threw a whole new set-up at the truck," said Greaves. "Hats off to all my crew. We had a problem in practice and broke two trannies right off the get-go. Then, my transmission came apart again in qualifying. Everybody that's been working on the truck, thank you guys. I know it's a lot, and that's what it takes."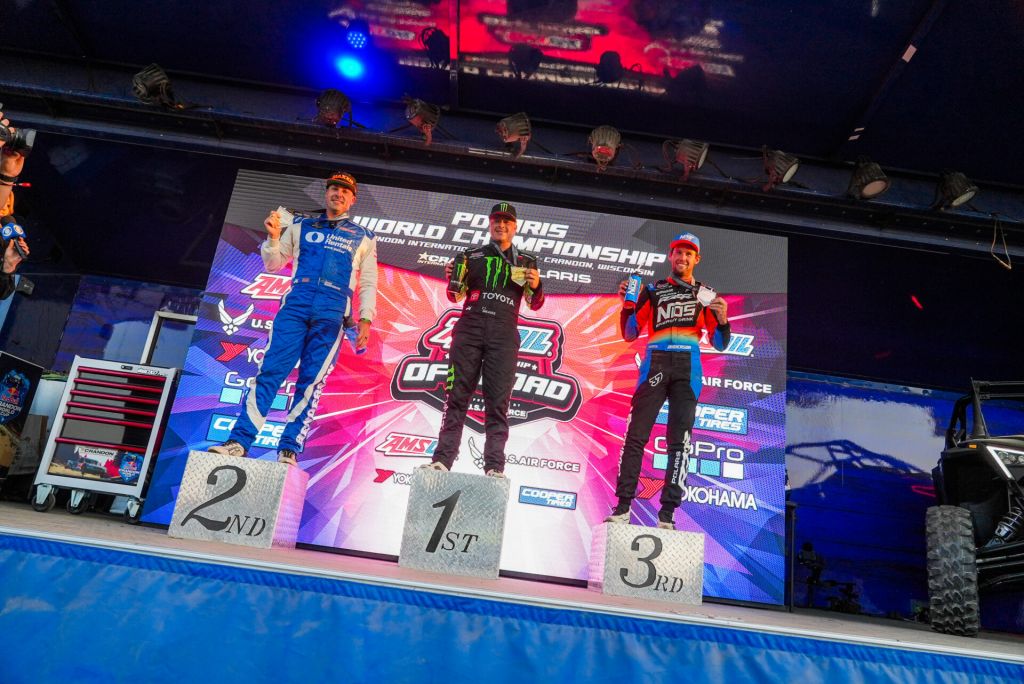 Henderson gave it a max effort on Saturday in his quest to catch the points leader. He started dead last after qualifying but worked his way into early top-five positioning. His first test came in a showdown with Johnny Greaves, and later with RJ Anderson for second. He continued to charge after the race leader from the runner-up spot but had to settle into second as the final turns came into play.
Anderson had a good, clean run for the contest's first half. He and Greaves jockeyed for position before the mandatory caution. He would fall behind Henderson after the restart and had moments of pause when his transmission briefly stuck in gear. The round-six winner kept pushing, finishing third.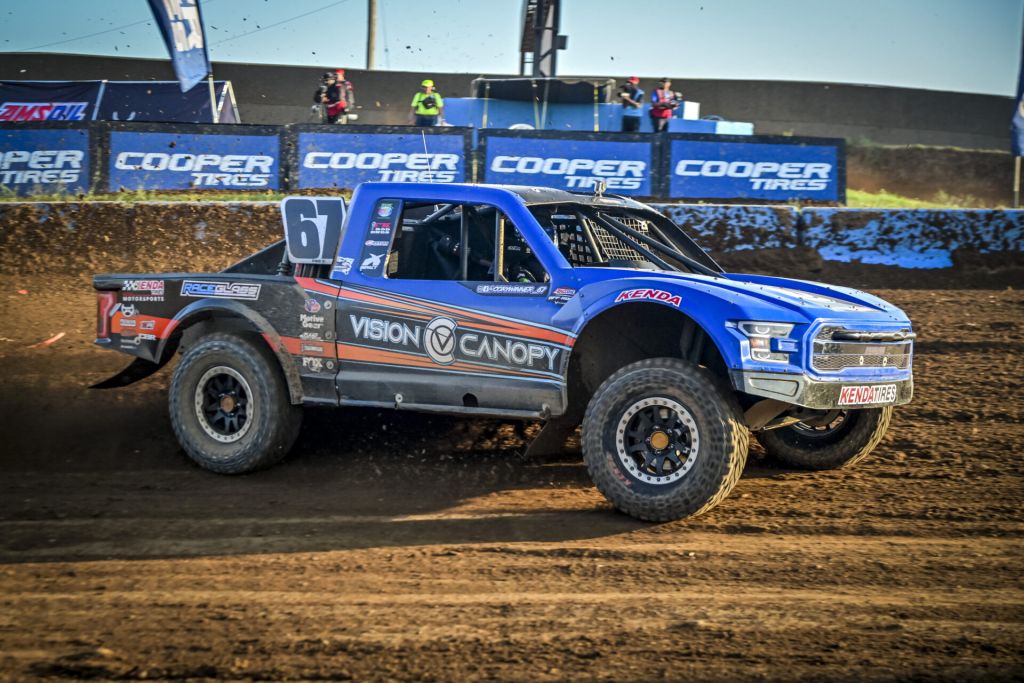 Another Win for Points Leader Winner
Pro 2 driver Cory Winner may be the most consistent driver in short-course racing. He built an eight-point lead coming into Crandon over Mickey Thomas by finishing in the top three in eight of the first ten rounds while finishing fourth and sixth in the remaining two contests.
His two have also helped, and he picked up number three on Saturday while increasing his lead by 11 points. It was another impressive run for Winner at Crandon. He used an inside starting position on the land rush and snuck under defending class champion Jerett Brooks in turn one. He had clean air in front for the remainder of the race and was briefly challenged by Brooks, Ryan Beat, and Keegan Kincaid at different points throughout the race, although the pressure was never heavy enough to give the points leader pause.
"I knew (my starting position) was a good spot, and everything here at Crandon depends on that start," said Winner. I got right next to Jerett going into turn one, and I knew that I had to clear him. I just committed and got by him and then just had to run smooth lines. We made a big swing on set-up before the race, and it worked out.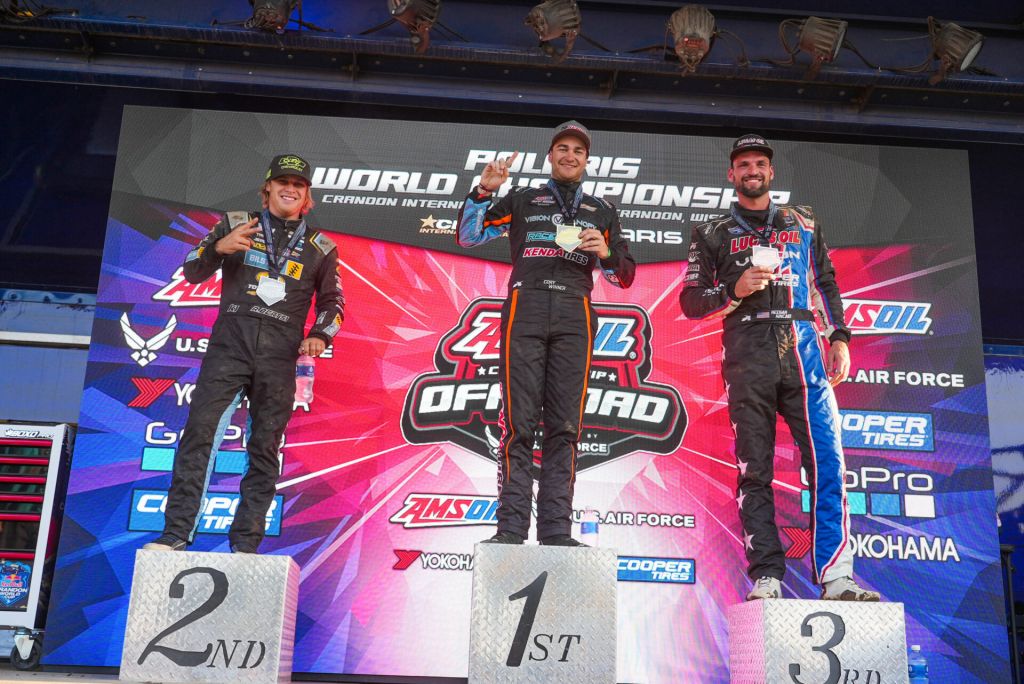 Brooks' return to competition this season looked good until it came to a rolling stop. He pulled off the track while in second place on lap seven. That put Kincaid into second and Beat into third. Those two drivers would dice it out over the next several laps, with Beat gaining the advantage. Beat couldn't track down Winner, but the three-time victor grabbed his seventh podium of the season and is unofficially tied with Thomas for second overall.
Kincaid is historically fast at Crandon, and the hometown kid found lines that only an experienced Big House driver would dare try. Several times, he pulled close but could not lock down the second spot on the podium, instead finishing third for his fourth podium trip in 2023.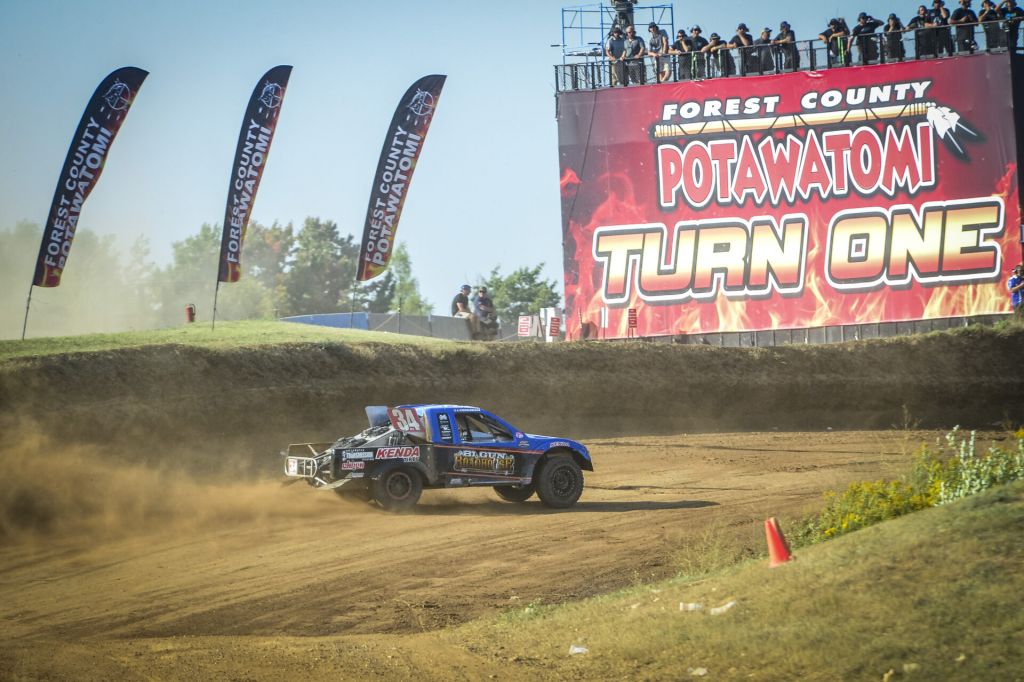 Kyle Greaves Great Again at Crandon
Some races are won by milliseconds. Some are won by several truck lengths. Kyle Greaves won Saturday's Pro Lite race at the start.
The points leader was sharp on Saturday, shooting off the starting line like a bullet from a chamber. He was in front of the field several truck lengths from the green flag to the checkers. He increased his points lead on Trey Gibbs (4th) and picked up his seventh win of the season in dominant fashion.
"We were able to start fifth, but I got a little shake down beforehand to make sure I was ready for this," said Greaves. "Man, to come out with that start, those Kenda RTs really grabbed that Crandon dirt and got me a good start."
Aside from Greaves, Brody Eggleston has been one of the fastest trucks in Pro Lite in the second half of the season. Eggleston pressured the race leader several times but would settle into the runner-up spot, his fifth podium in the past six contests.
Madix Bailey started buried in seventh, but he jumped into third after the restart and held off Gibbs for the final podium spot.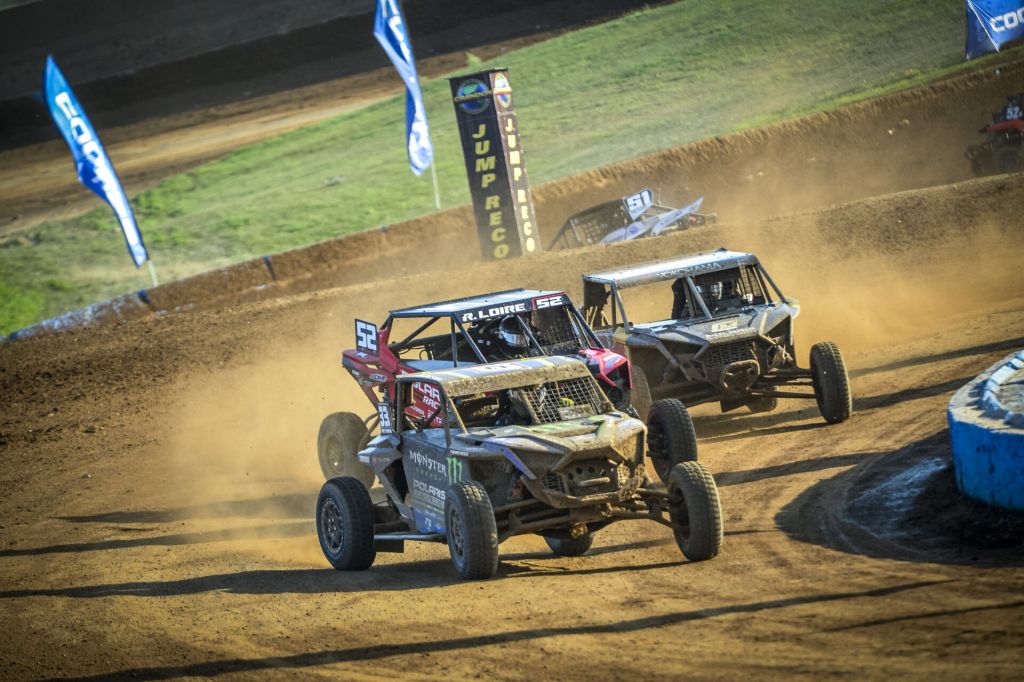 Greaves Gives Polaris a Podium Sweep at Crandon
CJ Greaves opened the season with a weekend sweep at Antigo and has been looking for his third victory ever since.
He earned number three on Saturday, outlasting another pair of Polaris teammates for the victory. Greaves didn't get ahold of the lead until lap seven when he got around Robert Loire. Greaves held off Loire and Andrew Carlson over the final three laps.
Carlson would finish second, using early race patience before making late moves to put him in contention for a race win. He would cross the line just 3/10ths of a second behind Greaves for second.
Loire crossed the line 6/10ths of a second behind Carlson for his sixth podium of the season.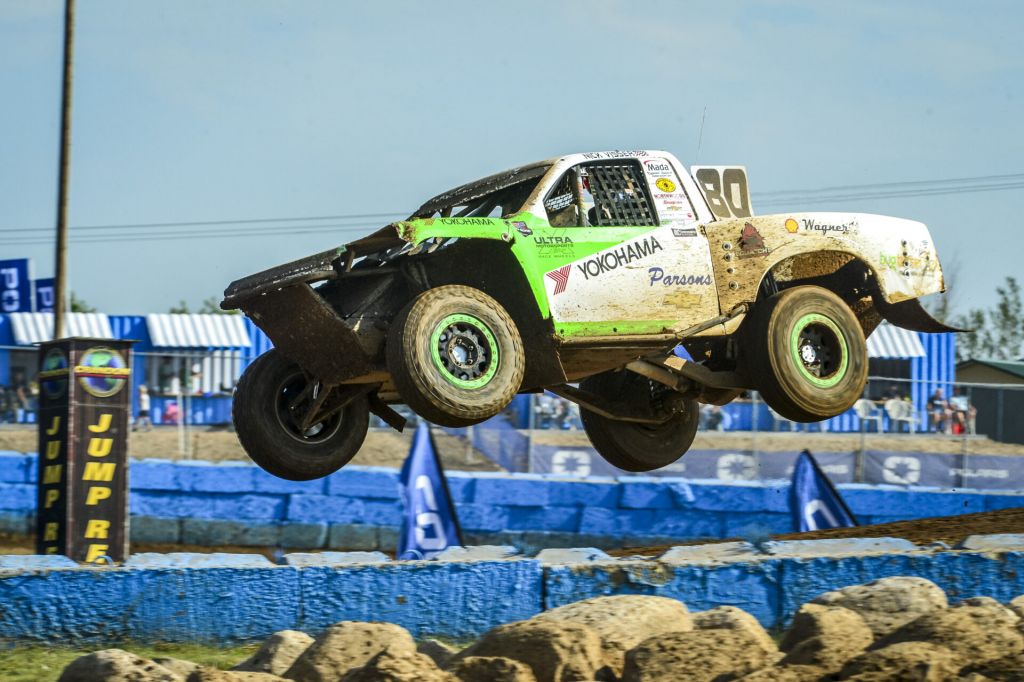 Visser Vaults to Top of Pro Spec
Chad Rayford was on a tear on Saturday, leading the Pro Spec field from the start and stretching out to a five-second lead. But the points leader wouldn't finish what he started, having to pull off the track with two laps remaining.
That meant an opportunity was available for either Nick Visser or Chris Van Den Elzen. Both drivers had swapped positions throughout the first ten laps, with Visser having the advantage. That proved rewarding as Visser moved into the top spot and drove to his fourth win of the season.
Van Den Elzen wasn't far off the pace behind Visser as he drove to his best finish of the year in second. Cory Podolski had locked down the fourth-place spot with a great run and moved into third after Rayford pulled off. It marked his best season finish and first Pro Spec podium.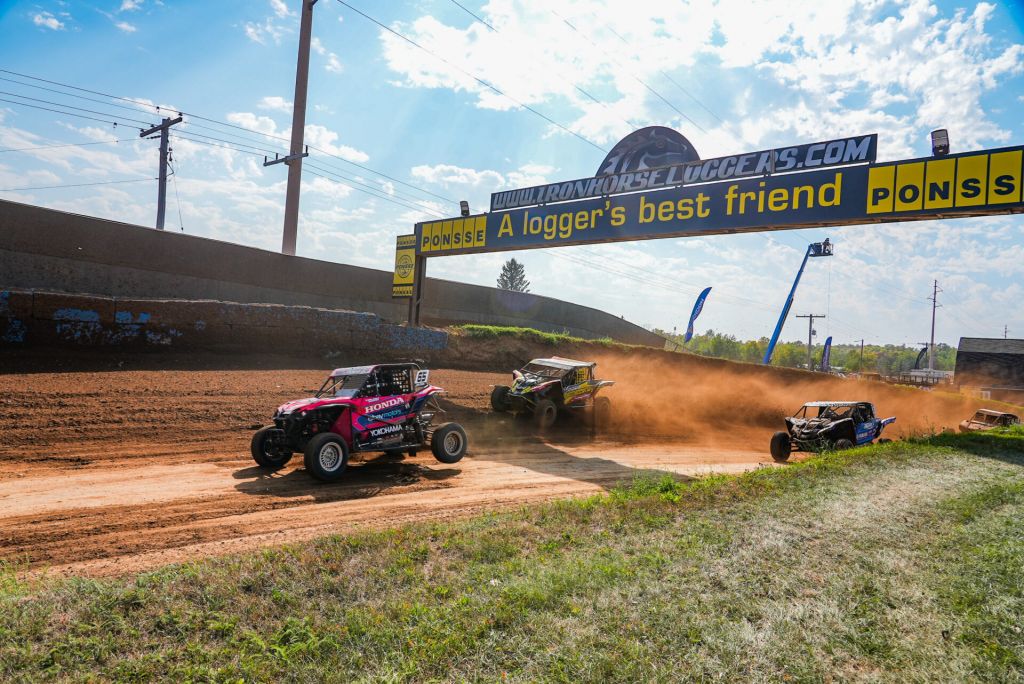 Mason, Jr. Ends Greaves Win Pro Stock Win Streak
CJ Greaves had a six-race win streak coming into Saturday's Pro Stock SxS race, and for ten laps, it looked like Lucky number 7 was in his grasp. But luck ran out right before the start of the final lap when Greaves pulled to the high side of the turn in a puff of smoke.
Greaves was ahead of a pack of four cars by more than seven seconds. That pack was very tight, however, and it was led by David Mason, Jr. One round after picking up his first Champ podium, Mason picked up his first Champ win, holding off Josh Luketic at the line by .575 of a second. It was Luketic's highest finish of the year. Owen Van Eperen, who started ninth) was only half a second behind the runner-up, finishing on the podium for the fourth time in the last five races.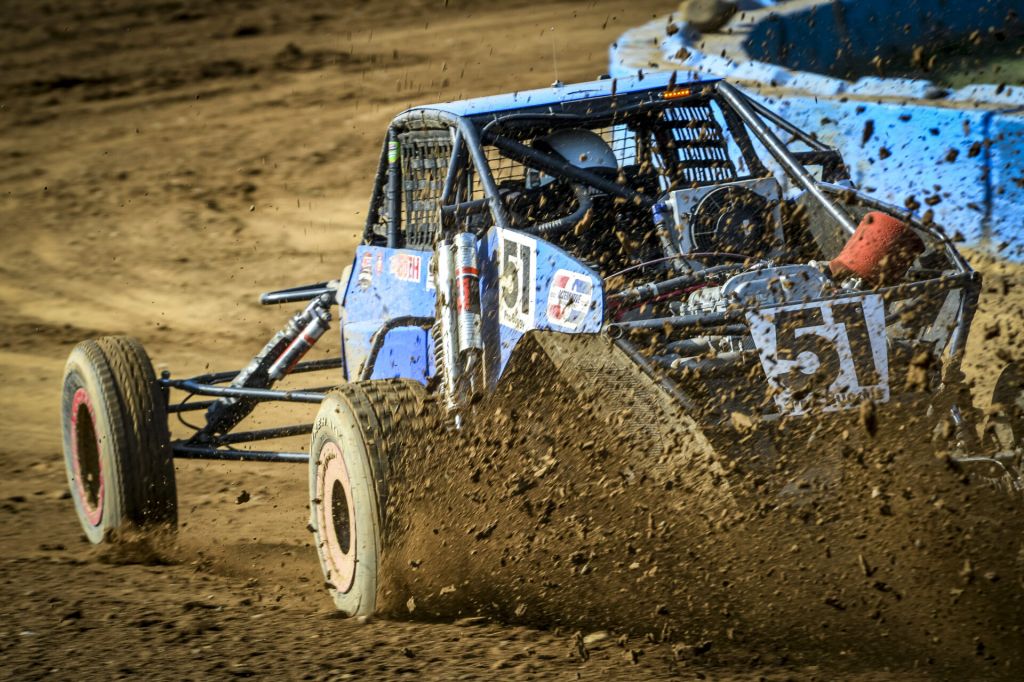 Buth Keeps Momentum in Pro Buggy Win
For the first part of Saturday's Pro Buggy race, the worst place to be was out front. Points leader Mark Steinhardt took the first crack at it, but two laps in, he spun the car right before the finish line. That allowed several cars to pass, including round seven winner Larry Job.
Job looked smooth out front, but veteran Michael Meister charged to second place and put pressure on Job. A few laps later, Job stalled in the gravel pit turn, and Meister ducked underneath for the lead. But a flat rear tire would put Meister into the hot pit and give Billy Buth the top spot. Buth took advantage, driving to his first win of the season and the overall points lead.
Mike Kirkham also picked up valuable points, moving into second after Meister dropped off. He was followed to the line by Cole Bernloehr, whose third-place finish was his first career Champ Off-Road podium.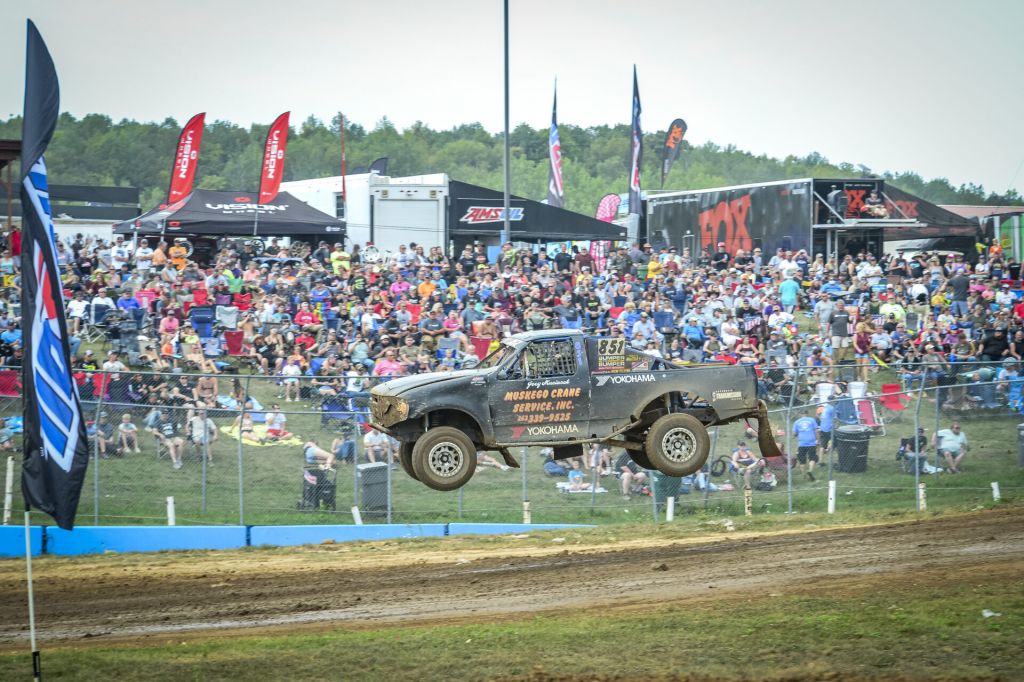 Super Stock Truck: Four drivers entered the day with a chance to win the Super Stock Truck championship, but like it has been all season long in the class, it was a dramatic end to the 2023 campaign.
Ben Holtger had control of the class for most of the season and entered the day 19 points ahead of Joe Maciosek. The duo would line up next to each other and come through turn one next to one another. But before the first lap would finish, Holtger had to pull into the hot pit with a flat rear tire. He got back on the lead lap but was out of contention for the race win and the championship.
That's primarily due to the drive Maciosek put together for the win of the World Championship. Once in the lead, he didn't miss a mark, driving to his third win and the class title.
Scott Boulanger would finish second, and Mitch Dorr would overcome an eighth-place start to finish third.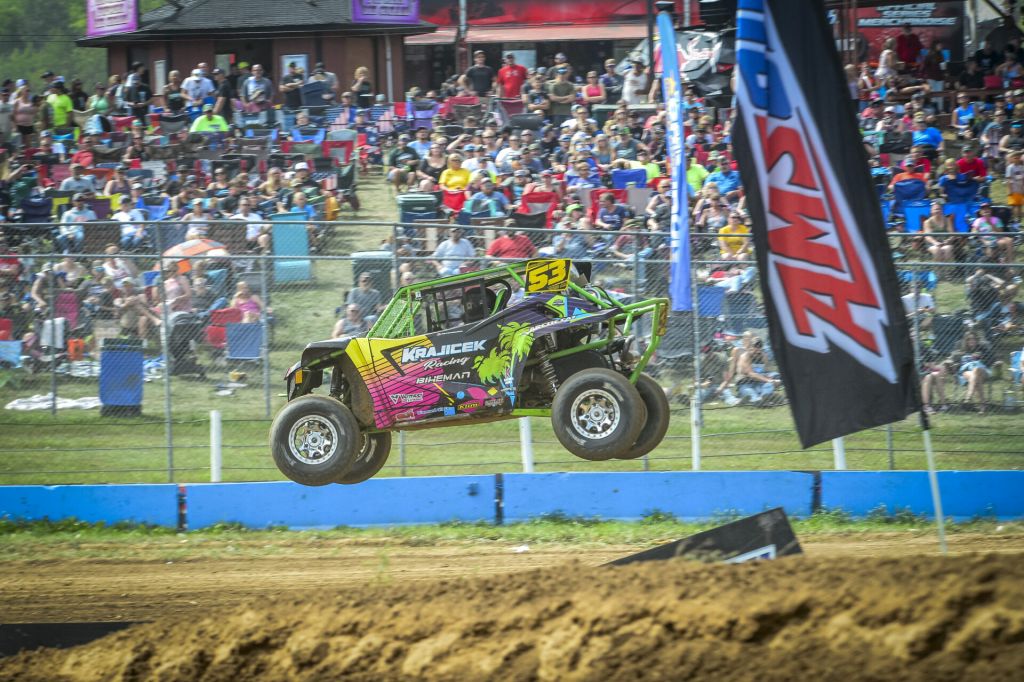 Pro-AM SxS: There was a lot of action leading up to the final turn of Pro-AM SxS, but nothing could overshadow the last 200 feet of Saturday's contest.
Kolton Krajicek was poised to take home his seventh win of the season, but he would do so by the slimmest of margins. That's because Tyler Remmereid was digging deep over the last lap and nearly stole the win at the line. Krajicek drifted just wide enough to let Remmereid in, but Krajicek had just enough momentum to take the by less than a tenth of a second.
With Remmereid in second, Kyle Sharkey was all alone in third for this third podium of the season.
As for points, Krajicek's win almost helped his cause, but Bill Berger was the model of consistency all season, finishing with three podiums and a 12-point championship.
Stock Truck: Kyle Ambroziak needed to win, and Cory Holtger needed a lousy day at the office to make the final decision in Stock Truck supremacy.
Ambroziak did his part, leading from wire to wire for his third straight win. But Holtger was also mistake-free, finishing second and securing the 2023 class championship. Holtger making a mistake was unlikely as the defending champ missed only one podium this year, the season opener in Antigo, when he finished fourth.
Brian Peot held off Diesel Shanek early before driving to his sixth podium finish of the year in third.
Sportsman SxS: Bryce Carlson and Brayden Kernz had a tight battle for most of the Sportsman SxS race on Saturday and were joined late in the contest by Trent Peetz.
Round 10 winner Carlson and Kernz were out front together when Peetz caught them just before the white flag. Peetz would put pressure on Kernz but could not get around the runner-up before finishing third. Carlson, meanwhile, would stay out front and pick up his second win of the season.
Peetz would also take home the season points title. He entered the day with an 11-point advantage over Lucas Houle. Peetz's third-place finish and Houle's 11th would secure the title.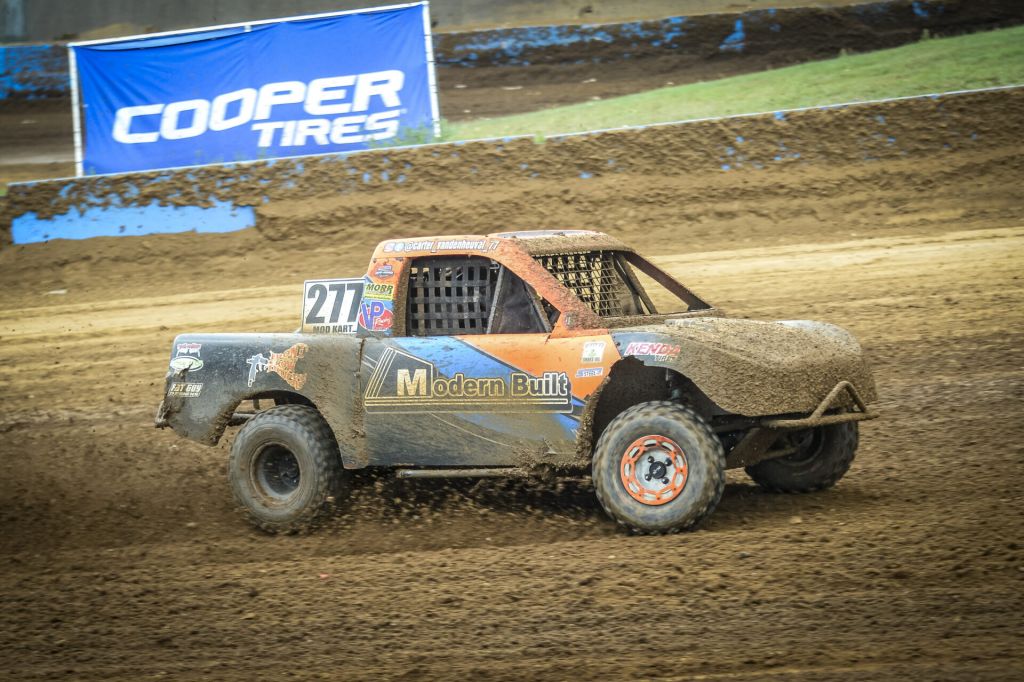 Mod Kart: Porter Inglese used a three-win start to the season and a two over the past four rounds to secure the 2023 Mod Kart title.
Carter Vanden Heuvel had an outside shot at the championship on Saturday, thanks to winning five of the final seven races. That included Saturday's World Championship race, where he went from third to first in a single turn after the top two cars spun out in separate incidents.
Inglese put together a good race of his won in the finale, moving into second on lap four after starting sixth. Avery Hemmer capped off an outstanding season, finishing third and securing the runner-up spot to Inglese in the points race.
1600 Single Buggy: Hope and heartbreak melded into one in Saturday's 1600 Single Buggy race. John Fitzgerald entered the day with a 14-point lead and needed to finish sixth or better to secure his second straight title.
Fitzgerald was in control of Saturday's World Championship race for the first two laps before he crawled to an unfortunate stop and out of the race. That opened up the door for two drivers. The first was Connor Schulz, who moved into the lead and drove to his first career class win. He was followed closely by former class champion Dylan Parsons and Colton Berns. Parsons would edge Berns by .005 of a second for the runner-up spot.
The second door that opened after Fitzgerald's stoppage was for Michael Seefeldt. Seefeldt ran as high as third and went into management mode after lap two. He would finish ninth, good enough to snatch the points title away from Fitzgerald.
1600 Light Buggy: Sibling rivalries are never easy, and things are magnified even more when you have to race against your twin brother in a 1600 Light Buggy. Things became even more pronounced as Colin and Connor Schulz entered the year's final day separated by five points after Connor won his second straight race on Friday night.
The day would end even tighter, one point separating the two. Connor got the lead after passing Vincent Jaeger on lap two, and Colin moved into third shortly after. But Connor was unbeatable on Saturday, picking up his seventh win of the season and the World Championship ring. As for the points championship, Colin did what he had to do by finishing second and securing the title.
Taylor Roloff charged late for the final podium spot, slipping past Evan Hockers for third.
570 SxS: Corbyn Wassenberg turned a seven-point championship lead into a 15-point title by finishing second in Saturday's 570 SxS race.
Out front, it was a great, late-race effort by Bryce Powers to win his first win of the season. Powers sat third behind Ellah Holtger and Wassenberg until the final turns when the front two cars made contact and opened the door for Powers to get into the lead with one lap left. Round five winner Holtger would drop to third behind Wassenberg.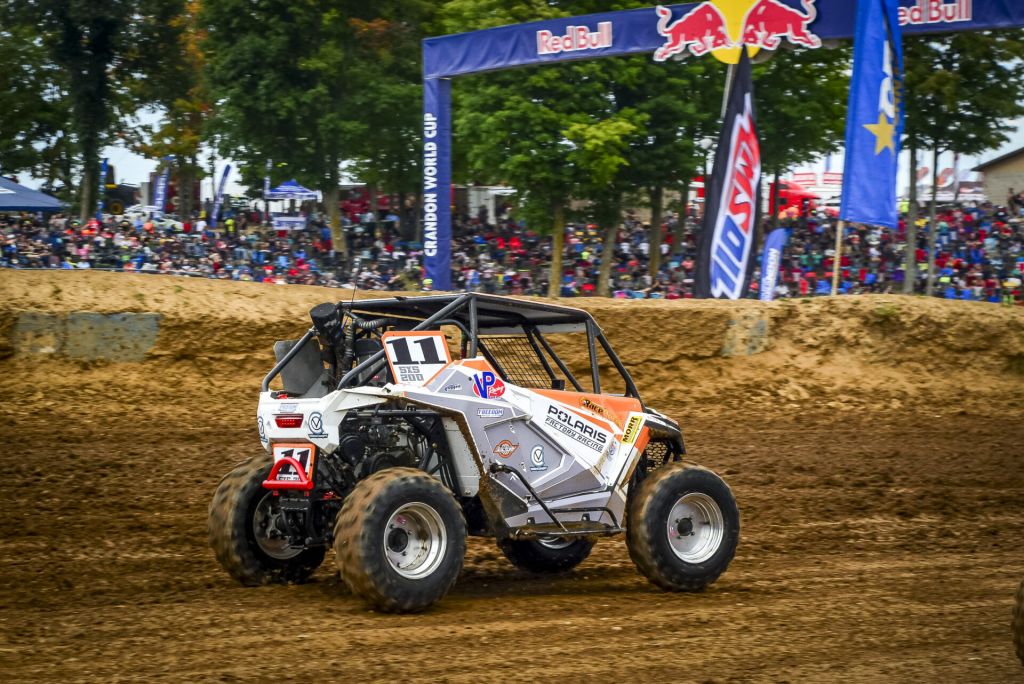 170/200 SxS: Ryan Deininger needed to make up 14 points to overtake Tanner Thibeault in the 170/200 SxS points race. Deininger did his part. He finished off a weekend sweep and picked up his sixth win of the season. But Thibeault finished third, securing the points title, mainly due to his two wins and nine podium finishes this season.
Axel Deher was wicked quick on Saturday, swapping positions routinely with Thibeault, including a final lap pass for second. It was Deher's fourth podium finish over the last five races.
Short Course Karts: It was a great end of the season for Wesley Vande Voort, who took home the weekend sweep (and a World Championship ring) after winning Saturday's Short Course Kart race.
While Vande Voort led from the start, Lincoln Mandsager had to fight off a pack of fast cars to finish second. That included points leader Nick Visser and Camden Paitl. Mandsager would hold the runner-up spot, but Paitl made a late pass on Visser as the group navigated around a stalled competitor. Paitl would hold on to third, and Visser would secure the overall points championship over Mandsager.
Youth SxS: It was a weekend sweep for Libby Nielsen, who went wire to wire for her fifth Youth SxS win of the season. Nielsen held off Layne Peterson, who also podiumed on Thursday, for the World Championship win.
Ryker Remington got into third on lap seven, helping him secure the points championship. Remington held a 41-point advantage coming into the day, thanks to his six wins in 2023.
Up next for AMSOIL Championship Off-Road, presented by the U.S. Air Force: The final rounds of Pro racing will be held on September 23-24 at MidAmerica Outdoors, in Jay, Oklahoma.
With a subscription, you can watch all 14 rounds of the AMSOIL Championship Off-Road season plus live on FloRacing. For more information on how you can follow along this season, click here.