It's time to head back to the dunes for motorsport's toughest test of endurance racing, the one and only Dakar Rally! The Red Bull Desert Wings squad preparing to push themselves to the limit at the 2023 Dakar include serial champions as well as fresh-faced talents looking to make their mark on the sands of Saudi Arabia.
The most fierce opponent anyone will face at the Dakar is the route itself – there will be nothing easy about the fourth edition of the rally to be hosted by Saudi Arabia. A Prologue Stage gets things underway on December 31 in Yanbu on the shores of the Red Sea. Then comes 5,000 racing kilometres spread over 14 timed special stages before the chequered flag falls at Dammam on the Arabian Gulf on January 15.
It's the longest Dakar route since 2014, loaded with more dunes and potential pitfalls than we've witnessed since the rally's relocation to the Middle East. Here are the racers and their machines ready to step up to the challenge of representing the Red Bull Desert Wings at the 2023 Dakar…
When looking at the contenders in the T1 Car Class the only place to start is Nasser Al-Attiyah (QAT). Alongside co-driver Mathieu Baumel (FRA), the Qatari won the Dakar in 2022 and also the inaugural FIA World Rally-Raid Championship. Al-Attiyah returns to Saudi Arabia behind the wheel of his Toyota GR DKR Hilux T1+ aiming for a fourth Dakar win.
"We're ready to defend our title. It would be incredible to win again." – Nasser Al-Attiyah
Also using the Toyota Hilux T1+ will be the race crews of Giniel De Villiers (ZAF)/Dennis Murphy (ZAF) and Lucas Moraes (BRA)/Timo Gottschalk (DEU). The two drivers are at opposite ends of the experience spectrum with 2009 Dakar winner De Villiers gearing up for his 20th Dakar while Moraes will make his debut at the rally in 2023.
"To compete in this event in the top category is, for a rally driver, like reaching Formula 1." – Lucas Moraes
Sébastien Loeb (FRA) finished as runner-up to Al-Attiyah at both the 2022 Dakar and the subsequent World Rally-Raid Championship. The record nine-time WRC title holder now returns in his BRX Prodrive Hunter plus co-driver Fabian Lurquin (BEL) with their eyes firmly fixed on taking the top prize this time around.
"On the Dakar, like for the rest of the season, we were in the running. In terms of pure performance, we can rival Nasser." – Sébastien Loeb
Team Audi Sport have overhauled their electrically-charged prototype for their second trip to Saudi Arabia. Looking to fight for victory in the Audi RS Q e-tron E2 will be the three-time Dakar winning race crew of Carlos Sainz (ESP) and co-driver Lucas Cruz (ESP).
"The objective has to be to fight for the victory." – Carlos Sainz
Joining El Matador Sainz in Team Audi Sport is Monsieur Dakar himself Stéphane Peterhansel (FRA) with co-driver Edouard Boulanger (FRA). 14-time Dakar champion Peterhansel once again links up with Sainz plus Mattias Ekström (SWE)/ Emil Bergkvist (SWE) in Audi's three-pronged assault on the 2023 Dakar.
"I've driven many concepts in the desert but the Audi is simply sensational in the dunes." – Stéphane Peterhansel
Laia Sanz (ESP) is a legend in the desert thanks to her remarkable performances on two wheels, including a Top 10 finish. She continues her switch to four wheels by racing the upcoming Dakar in Astrana's T1 buggy with co-driver Maurizio Gerini (ITA).
"I'm going back to the Dakar for the second time in a car with the aim of trying to improve on last year's result." – Laia Sanz
Another Dakar stalwart who has progressed from two wheels to four is Kuba Przygoński (POL). Przygoński maintains realistic ambitions of parking his MINI on the overall podium alongside co-driver Armand Monleon (ESP).
"We're really looking forward to the Dakar because we'll be able to see our car's potential compared to the others." – Kuba Przygoński
Spearheading the bike race over the dunes of Saudi Arabia is defending Dakar and FIM World Rally-Raid Championship winner Sam Sunderland (GBR). The British biker represents Red Bull GASGAS Factory Racing as he targets a third Dakar victory.
"The 2023 race is looking to be one of the toughest ever and I'm under no illusion as to what that means." – Sam Sunderland
Also riding with Red Bull GASGAS Factory Racing is Daniel Sanders (AUS) who scored fourth place overall on his Dakar debut in 2021 to finish as the highest placed rookie. After an injury hit season, Sanders is getting back up to speed just in time for biggest race of the year.
"My plan is to take it day-by-day and hopefully build things up as the event goes on." – Daniel Sanders
Red Bull KTM Factory Racing are still to taste Dakar bike race victory in Saudi Arabia, which is all the more remarkable considering that they won 18 consecutive editions of the rally before its relocation to the Middle East. Leading the charge to put the KTM 450 Rally bike back on top is two-time Dakar winner Toby Price (AUS).
"The terrain in Saudi Arabia makes the rally very fast, and some stages are a sprint to the finish." – Toby Price
Also in the saddle for Red Bull KTM Factory Racing at the next Dakar are Matthias Walkner (AUT) and Kevin Benavides (ARG). Both of these riders already have one Dakar victory on their resume and will be fighting to add a second on the sands of Saudi Arabia.
"It's not a big deal to have more stages at Dakar 2023. It's just more time to lose or to gain, depending on your position." – Matthias Walkner
Among the bike race podium contenders there's also Štefan Svitko (SVK) on KTM machinery. A runner-up to Price in 2016, Svitko has proved he has what it takes to run with the best.
"The Dakar is not just about adventure like it was twenty years ago. Today it's a sprint marathon." – Štefan Svitko
Mohammed Balooshi (ARE) and Camille Chapelière (FRA) will both be onboard Husqvarna FR 450 RALLY bikes at the 2023 Dakar. Balooshi remains one of the fastest bikers in the Middle East region while Chapelière will looking to continue his improving run of results at his third Dakar participation.
"In 2022 I finished second in the Rally2 category and my main aim this time is to win it." – Camille Chapelière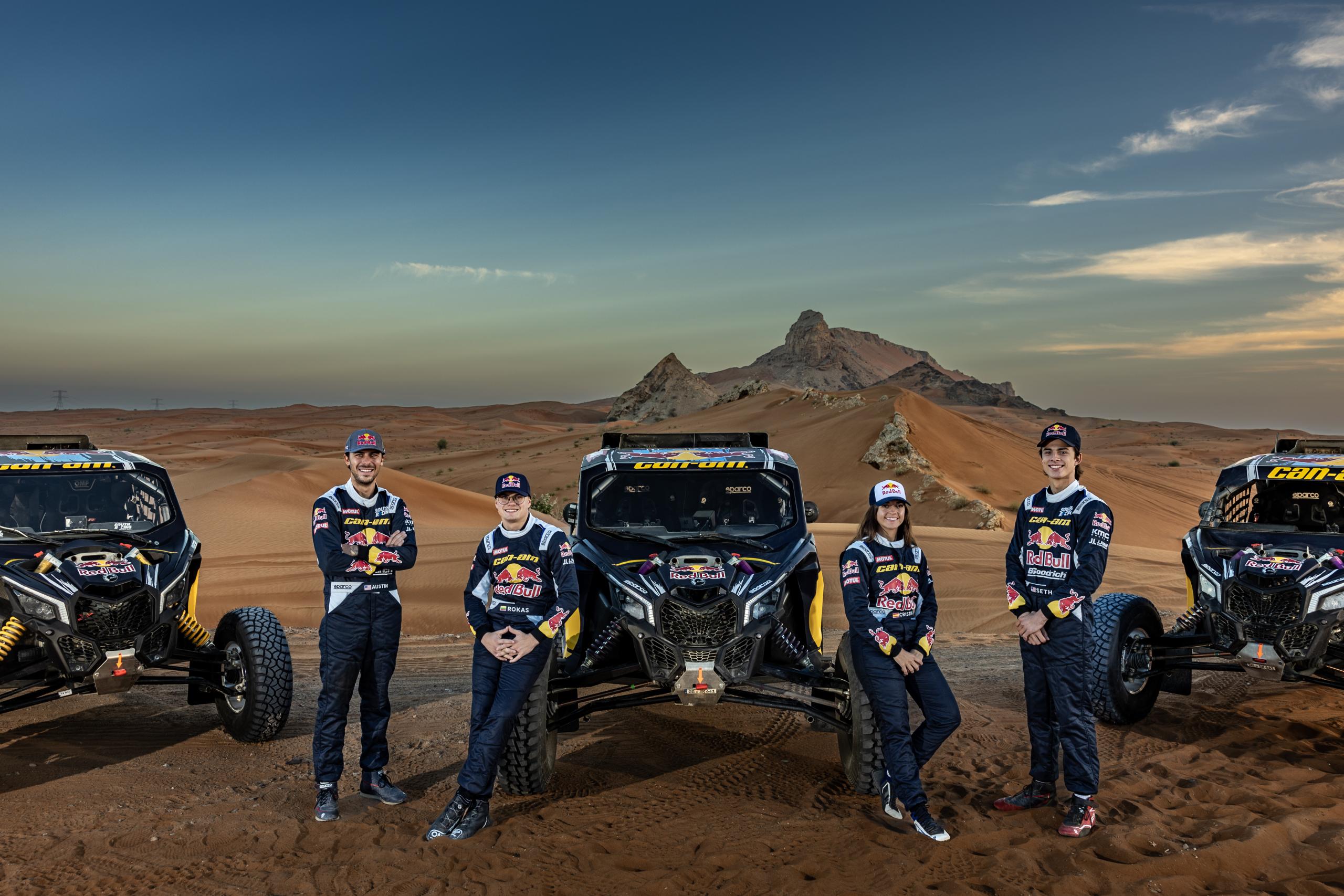 Over in the Side-by-side category of the 2023 Dakar a new collaboration between the Red Bull Off-Road Junior Team and Can-Am is set to really shake things up. In the Red Bull Off-Road Junior Team USA presented by BFGoodrich we find 20-year-old Seth Quintero (USA) racing a Can-Am Maverick T3 alongside co-driver Dennis Zenz (GER).
"I think we've got a really good base and a good shot at winning Dakar this year." – Seth Quintero
Joining Quintero in driving the team's Can-Am machine is Austin 'AJ' Jones (USA) and his co-driver Gustavo Gugelmin (BRA). Jones was the overall winner of the T4 race at the last Dakar and finished second the year before. The third Red Bull Off-Road Junior Team USA presented by BFGoodrich crew of Mitch Guthrie (USA) and co-driver Kellon Walch (USA) will take charge of a T3-M by MCE5 vehicle. This machine is key to the team's ambition of developing a hybrid vehicle inline with the latest FIA regulations for the 2024 Dakar.
Mitch Guthrie: "We've done a lot of preparation with a new co-rider, new car and new team. I'm feeling as prepared as ever to go there and compete at the Dakar Rally."
"We won in Saudi Arabia in 2022 so hopefully we can win again." – AJ Jones
Representing the Red Bull Can-Am Factory Team in Saudi Arabia are three more race crews with a great shot at victory. Cristina Gutiérrez (ESP) and co-driver Pablo Moreno (ESP) take charge of a Can-Am Maverick for the first time at the Dakar.
"The changes have been big, but I don't mind change. We're going to have some fun for sure." – Cristina Gutiérrez
Reigning Dakar T3 champions Chaleco López (CHL) and Juan Pablo Latrach (CHL) are now team-mates of Gutiérrez. Also part of the Red Bull Can-Am Factory Team are the crew of Rokas Baciuška (LTU)/Oriol Vidal (ESP) as they look to top last year's third place result when they join the start line of the T4 category in 2023.
"Everything is in place for me to fight for top spot at the Dakar." – Rokas Baciuška
Elsewhere in the T3 pack there's Guillaume De Mevius (BEL) and co-driver François Cazalet (FRA) plus three-time quad race winner Ignacio Casale (CHL) and navigator Alvaro León (CHL) in what promises to be a fascinating contest.
"If I didn't know we could win the Dakar I wouldn't have signed up this year." – Ignacio Casale
The fourth edition of the world's toughest rally hosted by Saudi Arabia will feature 5,000 racing kilometres spread over 14 challenging stages. It all starts on December 31, 2022 and the chequered flag will fall on January 15, 2023 in Dammam on the shores of the Arabian Gulf.
Athlete Quotes:
Nasser Al-Attiyah: "It really was a great Dakar last time, without any problems. I was also delighted to win the world championship after the Dakar success. I think we're ready to defend our title. It would be incredible to win again."
Giniel De Villiers: "We're ready for the rally, and I look forward to this new challenge. The race will be two days longer, so it will return to normal conditions."
Lucas Moraes: "It's a real dream to be able to compete in the Dakar. To compete in this event in the top category is, for a rally driver, like reaching Formula 1. This race will be a great challenge and I am very excited to start working with my team."
Sébastien Loeb: "On the Dakar, like for the rest of the season, we were in the running. In terms of pure performance, we rivalled Nasser Al-Attiyah and Mathieu Baumel. That's a good thing. To beat them, you have to have a perfect race."
Carlos Sainz: "This year, we were able to put in the kilometres on the Dakar itself and the Morocco Rally in October, so we're better prepared. The objective has to be to fight for the victory."
Stéphane Peterhansel: "I've driven many concepts in the desert but the Audi is simply sensational in the dunes. The electric drive with its good torque perfectly suits my driving style."
Mattias Ekström: The first part of the rally to come looks to be in the areas where I have some experience, but when it comes down into the Empty Quarter and there's only sand, that's a new region for me. So I think that will be very exciting."
Laia Sanz: "I'm going back to the Dakar for the second time in a car with the aim of trying to improve on last year's result and I think we have the vehicle to do it."
Kuba Przygoński: "We're really looking forward to the Dakar because it'll be our first time with this car so we'll be able to see its potential compared to the others. For sure the target for the Dakar is the podium."
Sam Sunderland: "The 2023 race is looking to be one of the toughest ever and I'm under no illusion as to what that means. My mindset is a little different now – my plan is to go out there and enjoy it."
Daniel Sanders: "It's a little daunting with the Dakar being my first race back after a season off, but my plan is to take it day-by-day and hopefully build things up as the event goes on. It's a long race, but the goal is to definitely be well in the fight at the finish."
Toby Price: "The terrain in Saudi Arabia makes the rally very fast, and some stages are sprints to the finish. The atmosphere is always excellent, and I am happy with the team. I'm excited about 2023!"
Kevin Benavides: "The Dakar will be longer, and they say it will be harder. The truth is that I hope so because 2022 was a tremendously fast Dakar with almost no navigation. Obviously, I will try to fight to be in the top. That's always the goal."
Matthias Walkner: "It's not a big deal to have more stages at Dakar 2023. It's just more time to lose or to gain, depending on your position. But with the other new rules and regulations, it's like a completely new race."
Štefan Svitko: "The Dakar is not just about adventure like it was twenty years ago. Today it's a sprint marathon. When I finished second overall in 2016, I was 39 minutes behind the winner, this year a 15-minute penalty for the engine change made me lose five positions."
Camille Chapelière: "My main goal at the last Dakar was to get into the Top 20 and I finished 19th. In 2022 I finished second in the Rally2 category and my main aim this time is to win it."
Seth Quintero: "2023 is going to be a very busy and fun year for all of us. I think we've got a really good base and a good shot at winning Dakar this year. With AJ coming onboard and having Mitch here it's nice to have a full American team."
AJ Jones: "I'm definitely looking forward to going back to the Dakar and back to Saudi Arabia. We won there in 2022 so hopefully we can win again. I've been really, really lucky to be around great people, a great team and a great navigator. That's all a huge part of the success that I've had so far."
Mitch Guthrie: "We've done a lot of preparation with a new co-rider, new car and new team. I'm feeling as prepared as ever to go there and compete at the Dakar Rally."
Cristina Gutiérrez: "I can see lots of great things happening with this team. The changes have been big, but I don't mind change. We're going to have some fun for sure."
Rokas Baciuška: "We know we'll get good service in the bivouac and on the road the Can-Am is the best that there is. Everything is in place for me to fight for top spot at the Dakar."
Guillaume De Mevius: "The goal will be to win the T3 category. We have shown that we are capable of driving at the front and that the car is reliable. I think we will have a chance to win."
Ignacio Casale: "When Yamaha invited me to try their UTV the feeling was incredible. It all depends on us, because if I didn't know we could win the Dakar I wouldn't have signed up this year."