The Mint 400 Car/Truck racecourse to equal four, 107-mile laps at the biggest race in the sport!
Saturday afternoon Unlimited Race will compete for a full 428 miles.
Saturday morning Limited Race will compete for four laps, with a Grand Prix finish.
Select Friday afternoon classes will race four laps.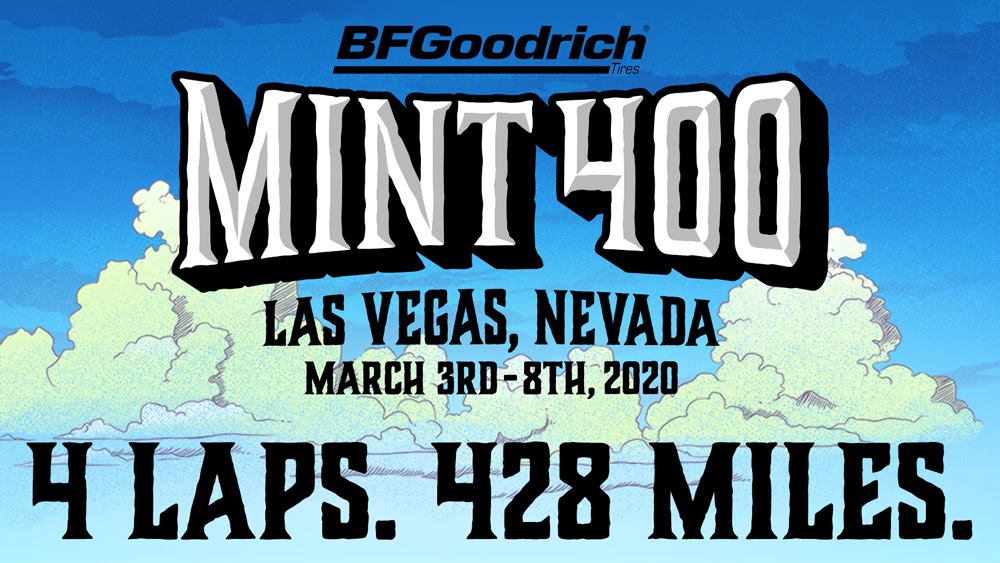 The Mint 400 announced their new race format today, for the 2020 BFGoodrich Tires Mint 400. For the first time since 2014, four laps will decide the champions of the biggest contest in off-road racing, giving racers the opportunity to compete across 400+ miles at The Great American Off-Road Race. The Mint 400 racecourse is known as the toughest proving grounds in off-road racing and this year's race format will add to the prestige of conquering it.
"This year's Mint 400 course is going to separate the men from boys and the women from girls," commented Mint 400 CEO, Matt Martelli. "Year after year, our racers have asked for a full 400 miles, so we're excited to add a fourth lap to the already challenging race. This will give our racers more mileage, and add another lap of action for our spectators."
The last time The Mint 400 racecourse was four laps, Andy McMillin wheeled Steve Sourapas' #6 Unlimited Truck to the finish line in six hours and fourteen minutes, over fourteen minutes faster than #21 Tavo Vildosola who came in second. Given the recent advances in truck design and technology, the 2020 Mint 400 promises to be one of the most exciting in recent history.
All race pertinent information, including pit maps, racecourse GPS files, and qualifying information, will be made available at www.themint400.com/racerinfo in the coming weeks.
Courtesy of The Mint 400